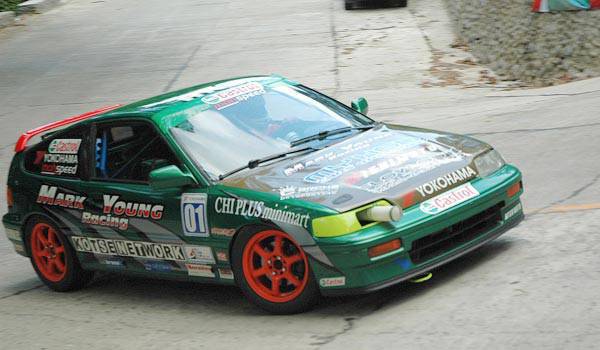 True motorsports fans who can appreciate racing outside of the high-tech racetracks of Formula 1 and Le Mans, should know what hillclimbing is. In a nutshell, it is a form of racing that features driving up a steep hill (hence the name). If "Monster Tajima" rings a bell, that's because he's the most iconic hillclimber in the world, having broken the seemingly impossible 10-minute barrier at Pikes Peak.
Well, in case you don't know it yet, the Philippines is also home to quite a number of competent hillclimbers. There is even a group called the Hill Climb Club of the Philippines, which organizes a national hill climb series that's open to enthusiasts of this motorsport discipline. In fact, the club already held on July 3 the opening round of this year's series at the historic Bacsil Ridge in the outskirts of San Fernando, La Union. The organizers proudly announced that "close to 40 hillclimbers" participated in the first round of the 2011 Castrol Edge Hill Climb Series.
ADVERTISEMENT - CONTINUE READING BELOW ↓
As expected, national champion Carlos Anton submitted the best time by clocking in at one minute and 31.18 seconds through the two-kilometer twisty uphill course with an altitude change of 106 meters between start and finish.
"Our decision to move the event by one week from the original June 26 date due to typhoon Falcon, proved right as not a single drop of rain fell on race day," said the organizers in a statement. "Intermittent periods of heavy rain several days leading to the previous weekend had caused rock slides along this section of road leading to Bacsil Ridge."
Drivers from Benguet predictably dominated the event, although equally skilled competitors from San Fernando led by Pancake Pimentel and Umesh Raimalan mounted a firm challenge. The opening round had 12 drivers from La Union, twice the tally from the province in previous years.
The second round of the series is scheduled for August 7, 2011.
ADVERTISEMENT - CONTINUE READING BELOW ↓
Recommended Videos
2011 Castrol Edge Hill Climb Series Round 1 results
Group 5: Carlos Anton, 1:31.18; Dennis Aoyong, 1:39.18; Yuan Carlos, 1:49.15
Group 4: Alfie Concepcion, 1:35.20; Umesh Raimalan, 1:41.15; Jay Calano, 1:44.15
Group 3: Jimson Balmeo, 1:40.30; Jhon Guintu, 1:41.18; Jet Ramos, 1:42.37
Group 2: Frankie Domingo, 1:42.14; Edmund Dupo, 1:42.92; 1:48.25
Group 1: Pancake Pimentel, 1:51.70; Relie Chia, 1:52.62; Patrick Gallano, 2:00.29
Group S: BJ Frondoso, 1:50.20; Robert Imson, 2:04.13
Historic Class: Ronnie Manalo, 1:47.25; Eko Adan, 1:49.31; Chip Tabanda, 1:51.00
[gallery]969[gallery]