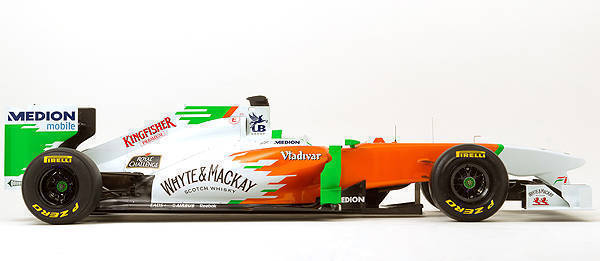 Force India is only on its fourth season yet it is already battling it out with midfield mainstays who've been in Formula 1 for years. For the 2011 season, the team is looking to improve on last year's performance with the VJM04.
The VJM04 is the first car created under the team's new technical director, Andrew Green who, along with rest of the team, had to face major challenges presented by the 2011 rule changes.
"Everything is different, but visually a lot of it is subtle," said Green. "The most obvious visual change is that we've gone away from a conventional roll-hoop to a blade. This gives us a small packaging improvement compared to a more conventional style. The engine cover is different, in-line with the abolition of the F-duct system. But there are a lot of differences under the skin that people won't necessarily notice."
Team principal Vijay Mallya believes this year's package will top the 68 points and seventh overall finish the team achieved in the 2010 season.
ADVERTISEMENT - CONTINUE READING BELOW ↓
"We have an experienced technical team that has the ingenuity, flexibility and drive to adapt to the new wave of rule changes, and we also have the tools and resources in our partnerships with McLaren Applied Technologies and Mercedes-Benz High Performance Engines to aim even higher," Mallya added. "Not to mention the very special event, and one that I personally can't wait for, the inaugural Indian Grand Prix. What better place would there be to reach some of those aims than on our home soil?"
ADVERTISEMENT - CONTINUE READING BELOW ↓
Recommended Videos
[gallery]772[gallery]