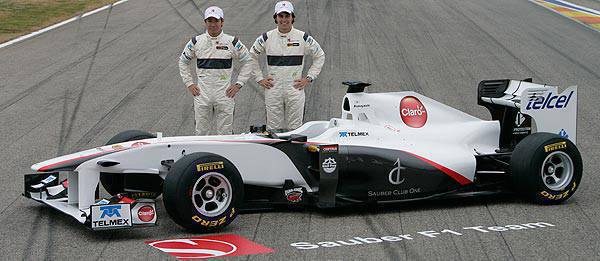 After running the C29 for most of the 2010 season without any livery, Sauber F1 Team has managed to sign new sponsors to adorn its race car for the 2011 Formula 1 season.
Sauber engineers developed the C30 based on learnings from the shortcomings of the C29, making the car more reliable and aerodynamically efficient, able to tackle slow corners and kerbs better while tuning the suspension to be more flexible.
"In the concept definition of the new C30, we considered these findings accordingly," said technical officer James Key. "Because some regulations related changes, especially the tires, can be studied only in driving, it was important to build first, a generally predictable car, and secondly, one that gives us enough flexibility to the racetrack and in the development of new knowledge to respond."
Like last year and the previous nine years before BMW bought into and subsequently abandoned Sauber, the team will use many Ferrari components, particularly the 056 engine and the Kinetic Energy Recovery System.
ADVERTISEMENT - CONTINUE READING BELOW ↓
"We want to regularly finish in the points and improve our position in the FIA Formula 1 World Championship," added team principal Peter Sauber. "2010 was the 41st year in our corporate history and one of the most difficult. But we improved in the second half of the season. In parallel we have been able to secure the season in 2011 as entrepreneurs. This is in difficult economic times and is also something that we can be proud of."
[gallery]752[gallery]
ADVERTISEMENT - CONTINUE READING BELOW ↓
Recommended Videos