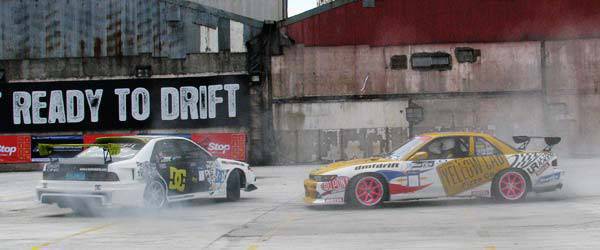 The 2011 season of the Lateral Drift Pro-Am Championship series will kick off this weekend at the Clark International Speedway.
This season, six of the nine rounds will take place at the Speedway as the track has proven to be popular both to the drifters and to the spectators, said Lateral Drift Production's Ronnie Trinidad.
"The location may be a bit far from Metro Manila but we're always surprised by the turn out of the crowd every time we hold a leg at Clark," said Trinidad. "That, plus the drifters love it because they can go all out on the track since it's safer both for them and for the spectators."
Though this season sees the pull-out of long-time series sponsor Glade Sport, Trinidad said that PLDT has opted to increase its sponsorship through the telecommunication company's myDSL product.
Despite holding a majority of its rounds in Pampanga this season, the Lateral Drift series is making itself more accessible to the public by staging two night races at McKinley Hill, Fort Bonifacio, in Taguig City and one at the Quirino Grandstand in Manila.
ADVERTISEMENT - CONTINUE READING BELOW ↓
Those who are bringing their cars to the Clark International Speedway during the entire run of the Lateral Drift series may join Sunday track days at the venue. An invitational drag race shoot-out will also be staged at the track's drag strip on April 16, June 25 and September 10.
Mark your calendar for the 2011 Lateral Drift Pro-Am Championship series.
Round 1: April 16 – Clark International Speedway
Round 2: April 17 – Clark International Speedway
Round 3: April – Quirino Grandstand, Manila
Round 4: May 22 – McKinley Night Race
Round 5: June 25 – Clark International Speedway
Round 6: June 26 – Clark International Speedway
Round 7: July 30 – McKinley Night Race
Round 8: September 10 – Clark International Speedway
Round 9: September 11 – Clark International Speedway
ADVERTISEMENT - CONTINUE READING BELOW ↓
Recommended Videos