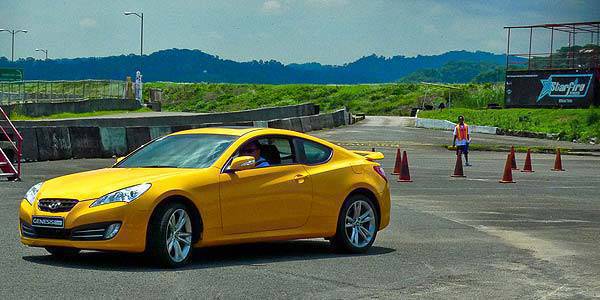 Motoring program Auto Extreme ushered a new chapter in its history with the eighth anniversary celebration of the show through out-of-the-box competition among mediamen.
With members of the motoring media partnering with representatives from Lexus, Hyundai, Toyota and Chevrolet as participants, Auto Extreme host Ardie Lopez had everyone joining activities skewed towards the show's long-time sponsor Castrol GTX's Car:diology campaign.
The metro's start-stop traffic was simulated with drivers having to steer clear of life-sized, full-body caricatures of some of the media participants which moved from side to side like pedestrians when the cars approached. An eating contest then ensued with the teams devouring long rolls of double-chocolate fudge cakes as simulated engine sludge at the shortest possible time. A relay race followed where the manufacturers had the chance to drive their cars at speed before performing simulated oil-change procedures at the shortest intervals possible. In the final challenge, teams had to shoot their own version of Auto Extreme's TV intro with the members acting as host, cameraman, director and script writer.
At the end of the day, Team Lexus came out on top closely followed by Team Toyota with Team Chevrolet taking third place. Though Team Hyundai placed last, they basked in the satisfaction that their Genesis Coupe was the track favorite as even Castrol Philippines general manager Mars Sota requested for a few hot laps around the Subic International Racetrack in it.
Continue reading below ↓
Recommended Videos
The Auto Extreme Media Face-off ushers the program's return as a bigger and better show starting at 10 p.m. on July 27. The show will be aired by Solar Sports (channel 70 on SkyCable, and channel 34 on Destiny Cable).