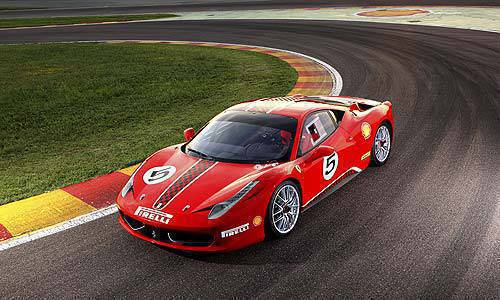 Ferrari has unveiled the racetrack-ready variant of the 458 Italia barely a year after it launched its latest supercar.
The 458 Challenge is equipped with the 458 Italia's 4.4-liter V8 engine but modifications have been made to the gear ratios and calibration of its dual-clutch F1 gearbox to generate a higher torque at lower revs. The 458 Challenge also brings to the track the E-Diff electronic differential used in the 458 Italia--a first for Ferrari's track-only cars. Another first in the 458 Challenge is the F1-Trac traction control system that monitors the car's grip for maximum high-performance road-holding.
Along with the anti-lock brake system (ABS), the F1-Trac and the E-Diff settings can be selected via the manettino switch on the steering wheel-- another first for the Ferrari Challenge series. This allows the driver to switch from either wet or dry configurations, depending on the track's condition. In high-grip instances, it makes it possible for the driver to select CT-OFF to deactivate the F1-Trac traction control.
Besides the technical wizardry, the 458 also went on a crash diet for the Challenge series. Ferrari's engineers concentrated particularly on reducing the bodyshell panels' thickness and on using lightweight materials like Lexan and carbon fiber.
Continue reading below ↓
Recommended Videos
Completing the 458 Challenge package are a specific suspension setup with solid aluminium bushings, stiffer springs, single-rate dampers, center-nut-equipped 19-inch racing wheels, larger dimension Pirelli slicks, a ride height lowered by 30mm, and new-generation Brembo CCM2 brakes like the one used in the 599XX.
All these allow the 458 Challenge to improve the car's Fiorano lap time to just one minute and 16.5 seconds--two seconds faster than lap time of its predecessor, the F430 Challenge.
"With the new 458 Challenge, Ferrari is offering its sportier clients--professional and gentlemen drivers alike--a car that is extremely responsive, with great performance and superb handling," Ferrari said in a statement. "This mid-rear V8-engined berlinetta will allow Ferrari Challenge participants to enjoy to the full the exhilarating cut and thrust of the race weekends on the world's leading circuits, as well as the passion that has always been an integral part of Ferrari's one-make championship."