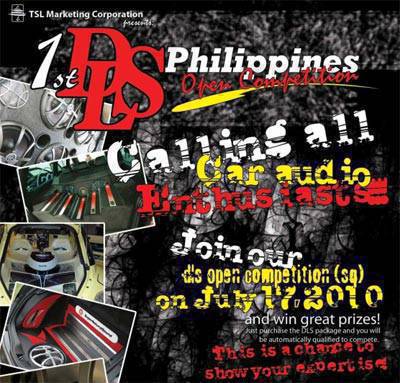 The first-ever DLS Philippines Open Competition will take place on July 17 at Tiendesitas in Pasig City to showcase the DLS sound system brand from Sweden.
The competition will focus primarily on the sound quality produced by a setup consisting of a standard installation package which includes a JVC KDR-705 head unit and a DLS amplifier CA-31.
"Judging will be based on how well the installation overcomes the problems of vehicle acoustics and makes the music sound like the original without noise and distortion," said DLS and partner TLS Marketing Corp. in a statement. "There will be two competition categories--the classic category with the standard DLS package and the ultimate category with any existing DLS set-up."
The first DLS Philippines Open Competition will also be the best venue for motoring enthusiasts to learn how to install competition-level car audio.
Learn more about the DLS competition when you visit www.dlscaraudioph.multiply.com or "Like" the DLS Car Audio Philippines page on Facebook.
Click here to check out TopGear.com.ph's calendar for a list of other exciting motoring events happening this weekend.