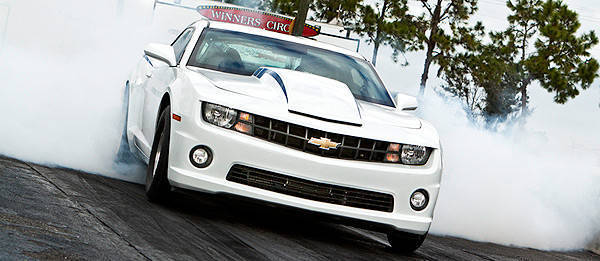 Chevrolet will put into limited production a purpose-built Camaro drag-race car, which the American carmaker first showed off as a concept at the 2011 Specialty Equipment Market Association (SEMA) Show in November 2011.
At the SEMA Show, Chevrolet showed off its COPO Camaro concept that pays homage to dealership-built, special-order Camaro drag-race cars sold by the carmaker in the 1960s. Fast-forward to the present and Chevrolet has confirmed it will make 69 purpose-built Camaro drag-race cars "designed to compete with the quickest in (the) National Hot Rod Association's (NHRA) Stock Eliminator and Super Stock classes," which typically run a quarter-mile race in the nine-second range.
"The COPO Camaro is going to shake up the sportsman drag racing ranks this summer and give Chevy fans a great new reason to cheer on the Bowtie," said Jim Campbell, General Motors' vice president of performance vehicles and motorsports in the US. "COPO builds off the strengths that have made the Camaro the best-selling sports car in America. And while it was developed strictly for the drag strip, the COPO Camaro is infused with the same performance pedigree that every Camaro shares."
ADVERTISEMENT - CONTINUE READING BELOW ↓
The new COPO Camaros will be built using factory body-in-white structures produced in Chevrolet's plant in Oshawa, Ontario, which is the same facility that manufactures regular-production Camaros. These are the same body-in-white body shells available to all racers under Chevrolet Performance part number 19243374.
ADVERTISEMENT - CONTINUE READING BELOW ↓
Recommended Videos
The COPO Camaro will come with a sequenced build number matched to the engine but without a vehicle identification number, which means it cannot be registered for use on public roads.
Three racing engines are available for the COPO Camaro: a naturally-aspirated 7.0-liter V8 and two 5.3-liter V8s that come with either a 2.9- or 4.0-liter supercharger. The engines will also be paired to a Powerglide automatic transmission that has been specifically designed for drag racing. For the collector, a special-package offering the purchase of all three engines with the COPO Camaro--including one installed in the car at delivery--with each engine serial number matched to the car is also available.
ADVERTISEMENT - CONTINUE READING BELOW ↓
The COPO Camaro is designed based on NHRA racing specifications including a solid axle and a full-chrome moly roll cage. Inside, most of the standard sound deadening and power accessories--as well as the rear seats--have been deleted in order to optimize weight for NHRA racing. Also included is a pair of racing bucket seats, a safety harness for the driver, a competition floor shifter and Chevrolet performance gauges.
COPO stands for Central Office Production Order and was Chevrolet's special-order system used by dealers to build high-performance models in the 1960s.