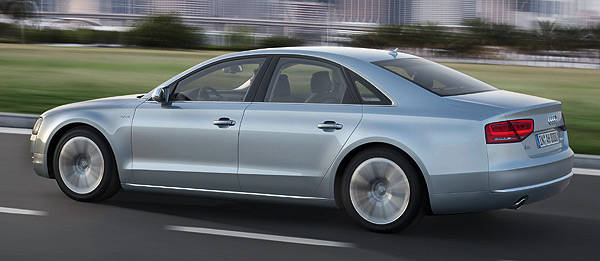 Audi is now getting into the full-size luxury sedan hybrid market by announcing that it will be producing a hybrid variant of the A8 later this year.
According to the German carmaker, the A8 hybrid will have the power of a six-cylinder model while exhibiting the fuel consumption of a four-cylinder car. This is possible as the A8 hybrid will be powered by a 2.0-liter petrol engine and an electric motor to produce a combined output of 245hp and 481Nm of torque and yet run an average of 15.625 km/L.
With both petrol and electric motors running, the A8 hybrid can go from a standing start to 100kph in 7.7 seconds and reach its 235kph top speed, yet produce just 148g/km of carbon dioxide emissions. On electric power alone, Audi claims the A8 hybrid can travel up to 100kph or go as far as three kilometers at a constant speed of 60kph with zero emission.
The permanent magnet synchronous motor, which is powered by a lithium-ion battery located in a crash-proof area in the boot, is mounted in the space usually occupied by the torque converter in front of the modified eight-speed tiptronic transmission. A multi-plate clutch that operates in an oil bath then connects or disconnects the electric motor and the petrol engine as the highly comfortable and fast-shifting hybrid transmission guides the torque to the front wheels.
Continue reading below ↓
Recommended Videos
The A8 hybrid's driver has three modes to choose from to ensure that the car is running efficiently: EV, which gives priority to the electric drive; D, which monitors both the petrol and electric motors; and S, which is designed for sporty driving.
Besides the obvious hybrid badges, the A8 hybrid can be distinguished from the regular A8 through its stock 18-inch alloy wheels that have been designed to resemble that of turbine blades. Arctic Silver is available as an exclusive paint finish while three-zone automatic air conditioning, LED headlights and the Bose sound system all come as standard.
[gallery]1018[gallery]