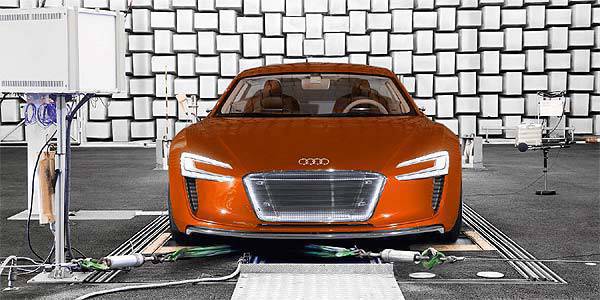 With electric cars running quiet at speeds of up to 25kph, Audi acousticians are now working on how to break the e-tron's silence on the road.
The move is expected to reduce the risk of accidents, which may be caused by vehicles running in absolute silence. Quiet cars pose a threat to pedestrians and motorists who are not visually aware of an oncoming electric vehicle.
"The obvious approach would be to work on the basis of the familiar sound of a combustion engine," said Christian Schüller, head of brand development and corporate identity for Audi. "On the other hand, we want to underscore that an electric or hybrid Audi is an innovative product. We also want to make our Vorsprung durch Technik audible in the era of electric mobility."
For Audi's acousticians who are currently hard at work on the sound characteristics of the Audi e-tron (see photo of an e-tron undergoing sound check above), it's not only a matter of safety but also of how the Audi of the future should sound.
"The sounds used for space ships in films are reminiscent of car sounds, yet are also very different, making this a rather interesting approach," said Ralf Kunkel, head of acoustics at Audi.
Continue reading below ↓
Recommended Videos
Though the Audi e-tron and the German carmaker's future electric cars won't sound like an airplane with jet engines or a space ship from a science fiction film, the sound "will be new and unusual" with the Audi RSQ from the movie I, Robot as an indicator of how an Audi might sound in the future.
Photo from Audi