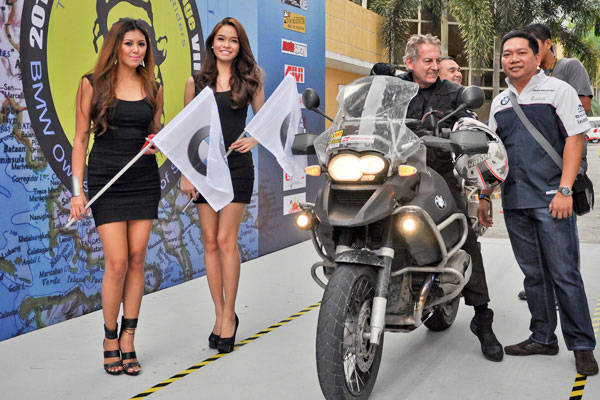 Asian Carmakers Corporation, the Philippine importer and distributor of BMW cars and motorcycles, has handed out the awards to the top finishers in the recent 2012 BOSS Ironman Challenge, which featured a grueling 1,200km loop around Luzon that the participants needed to finish in 24 hours. Out of the 250 car drivers and motorcycle riders who joined the challenge, only 160 successfully finished.
The event is organized annually by BMW Owners Society of Saferiders (BOSS), the only motorcycle club in the Philippines recognized by the BMW Clubs International Council. It began in 2006 as a motorcycle event, but eventually allowed car owners to participate.
This year, the route started at the Balintawak Home Depot with several checkpoints through Bulacan, Nueva Ecija, Nueva Viscaya, Isabela, Cagayan, Ilocos Norte, Ilocos Sur, La Union, Baguio, Pangasinan and Tarlac, before finally ending in Stotsenberg Hotel in Clark, Pampanga. Organizers insist this event is not a race--in spite of the fatal accidents involving competitors in previous years.
ADVERTISEMENT - CONTINUE READING BELOW ↓
"BMW is proud to support the 2012 BOSS Ironman Challenge, and we hope all the participants had a joyful riding experience," said ACC executive director Glen Dasig. "It is a commendable event that provides the opportunity for riders and drivers to test their skills and endurance while keeping safe riding and driving in mind."
According to 2012 BOSS Ironman Challenge VII committee chairman Teng Sorreta, "there are neither trophies given nor rankings announced, but to successfully be named a BOSS Ironman is a priceless feat. It's a display of endurance and impeccable riding/driving techniques."
From the press statement: "Although the event is not a race, there is an unspoken satisfaction in being able to arrive at the final stop the earliest. This year, first to finish in the car category was Elbert Cuenca with a diesel-powered BMW X1, with a time of 14 hours and 19 minutes. In the motorcycle category, Joey Almeda, Enteng Gonzales, Max Kienle, Hubert Soriano and Nani Pascoguin arrived early at Stotsenberg Hotel. The first four riders were on a BMW R1200 GS Adventure, while Pascoguin rode a BMW S1000 RR.
ADVERTISEMENT - CONTINUE READING BELOW ↓
Recommended Videos
The event, by the way, welcomes non-BMW cars and motorcycles.
The following fun awards were given to exceptional participants of this year's event:
LONG DISTANCE AWARD: Victor Espina Jr. and Luis Alfonso Fran Jr., for riding all the way from Ormoc, Leyte, to participate and finish
IRON FAMILY AWARD: The Tuscano Brothers, for having the most family members participate and finish
BIGGEST AUTOMOBILE GROUP AWARD: The Strada Club Pilipinas, for having the biggest automobile group to participate and finish
LONELY DRIVER AWARD: Raymond Figuerres Jr., for being the only participant without a passenger or navigator in the automobile category to participate and finish
IRON COUPLE AWARD: Rami Villavicencio and Guinevere Villavicencio, and Guillermo Nadunop and Mary Ann Nadunop, for participating and finishing as husband and wife
GROUP OF 20 AWARD: CLUB PK, led by president Jotle Viray, for successfully starting and finishing as a group of 20
Check out the 2012 BOSS Ironman Challenge photo gallery here.