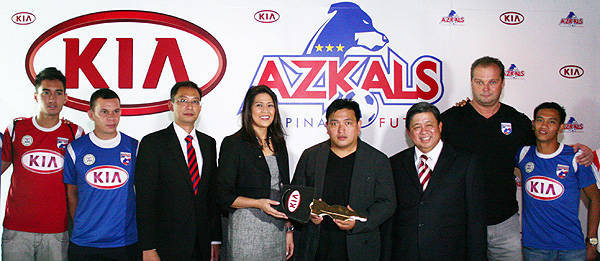 The Philippine Azkals football team has renewed its partnership with Columbian Autocar Corporation, the exclusive distributor of Kia vehicles in the country, keeping the Korean car brand as its official transport provider.
The partnership began in May 2011, stemming from Kia's desire to support the talented athletes who had been representing the country in local and international football competitions. Through 2011, CAC was present in the Azkals' matches, and several of the players even expressed their support for Kia on various occasions. In December 2011, team veterans were also given their very own Kia vehicle. After a year of exciting collaborations with the team, CAC extended its contract for a second year as the Azkals' official transport provider.
CAC's partnership with the Azkals fall in line with Kia's aggressive sports marketing strategy as the Korean carmaker will be one of the major sponsors of the 2014 FIFA World Cup in Brazil. As one of the official FIFA partners, Kia will be supplying vehicles from its model lineup that will be used during FIFA events. Kia is also boosting its brand recognition through a number of marketing activities and advertisements at the stadiums during the games.
ADVERTISEMENT - CONTINUE READING BELOW ↓
ADVERTISEMENT - CONTINUE READING BELOW ↓
Recommended Videos