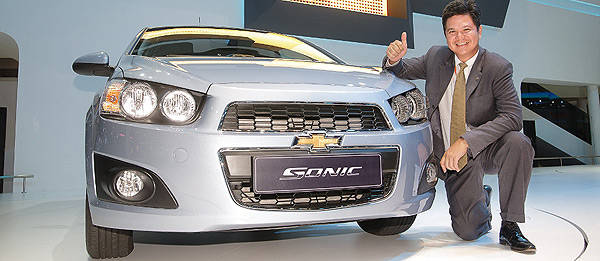 Chevrolet has unveiled the all-new Sonic subcompact, which will be on public display at the 2012 Bangkok International Motor Show.
According to Chevrolet, the Sonic has achieved an iconic status in the United States, Canada, Japan, Middle East and European markets in 2011, "thanks to its chic, modern exterior backed by an equally peppy performance and responsive handling." Another factor to the Sonic's popularity was that Chevrolet reportedly refrained from building it purely on the criteria of affordability despite the requirements of its target market.
"Most people in our target market, place affordability and cost-of-ownership as their top priority. Sometimes this means sacrificing what they really want in a car--design, interior comfort, handling and build quality," said Antonio Zara, vice president of sales, marketing and aftersales for General Motors Thailand/SEA and Chevrolet Sales Thailand. "The Chevrolet Sonic gives you a real car, one that you would want to drive out to show to your friends and one you will not hesitate to park in front of an uptown club. It is developed to fulfill the lifestyle requirements of young urbanites, with serious considerations for exterior and interior design in addition to comfort and quality. The Sonic is the first car you want to have."
ADVERTISEMENT - CONTINUE READING BELOW ↓
Powertrain, drivetrain and other detailed technical specifications of the Sonic will be revealed near its launch date later this year.
ADVERTISEMENT - CONTINUE READING BELOW ↓
Recommended Videos