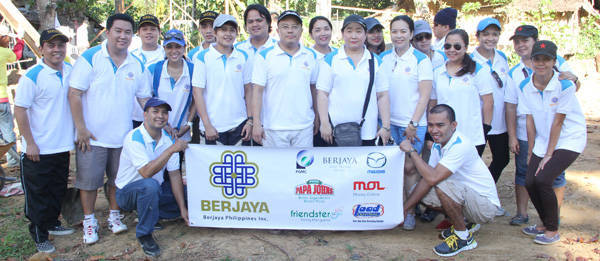 Berjaya Auto Philippines, the country's distributor of Mazda vehicles, recently joined its fellow subsidiaries under the Berjaya Philippines Group in constructing 30 houses as part of Gawad Kalinga's 2013 Bayani Challenge. Consider this part of the company's thrust to rebuild the Mazda brand in our market.
The Berjaya Philippines Group volunteers, composed of 27 employees from subsidiaries Mazda, Papa John's, Friendster, Money Online, Philippine Gaming Management Corporation, LoadCentral, and Berjaya Makati Hotel, spent two days assisting in the construction of the houses at the Puerto Galera project site.
Last year, during the Gawad Kalinga Bayanihan Expo, Berjaya Philippines pledged P100 million to Gawad Kalinga as its contribution to rebuild homes destroyed by natural calamity, and to build homes for the poverty-stricken and for families living in danger-prone areas.
So far, a portion of the commitment has funded the reconstruction of 100 houses destroyed by Typhoon Pablo in Compostela Valley, as well as building houses in Lantauan, Basilan. Besides Puerto Galera, the GK Bayani Challenge aims to build 270 houses in eight other locations:
* Santo Tomas, Isabela
* Masinloc, Zambales
* Mobo, Masbate
* Sapad, Lanao Del Norte
* Sumilao, Bukidnon
* Esperanza, Sultan Kudarat
* Del Carmen (Siargao), Surigao Del Norte
* Malitbog, Southern Leyte
"We feel that it is immensely important that we give back and support the communities where we do business," said Berjaya Auto Philippines chief executive Steven Tan. "Contributing money is a good start, but it adds meaning for us to put aside our weekend, bring ourselves here, and physically do whatever we can to build these communities. Some of us carry the gravel for the concrete, some paint the steel struts, some of us mix the concrete, and some cut the wires that tie the steel bars together. And to do all these in such spectacular surrounding makes this weekend such a wonderful experience."
ADVERTISEMENT - CONTINUE READING BELOW ↓