Top Gear Philippines' August issue is all about helping you purchase a car so here's a list of the best deals in town this month.

Nissan

Seemingly taking a page off of a fastfood store's marketing handbook, Nissan Motor Philippines is offering its customers a bigger vehicle for the price of a compact Japanese sedan with its Upsize Your Ride promo.
Instead of paying P940,000 for a 1.8-liter compact sedan Nissan is offering the Grand Livina multipurpose vehicle as a better-equipped and more affordable alternative at P908,000.
Nissan is also offering the 2.5-liter 4x4 X-Trail for P1.195 million, a bargain compared with shelling out the same price for a 2.0-liter front-wheel drive sedan.
Continue reading below ↓
Recommended Videos
Nissan also adds freebies to purchases this month, including a three-year Land Transportation Office (LTO) registration, chattel mortgage, and a one year comprehensive insurance package.
Nissan's promo runs until September 30, 2009.
Suzuki
Suzuki is turning up the heat on promos by offering various kinds of freebies.
Alto mini-hatchback and the Grand Vitara 2.4-liter sport-utility vehicle buyers get free three-year LTO registration, window tint, floor mats and seat covers.
Buyers of the cute and sporty Swift hatchback get a free P5,000 gas card and a three-year LTO registration, while those getting the SX4 compact sedan get both plus free window tint, floor mats and seat covers.
Freebies for the purchase of APV compact MPV depend on the variant. Purchase of the mid-level GLX and the automatic transmission-equipped, top-of-the-line SGX entitles one to a P5,000 gas card and the three-year LTO registration. Purchase the manual transmission-equipped SGX comes with P5,000 gas card, free window tint, free floor matting and seat covers and a three-year LTO registration.
Suzuki's promo runs until August 31.
Ford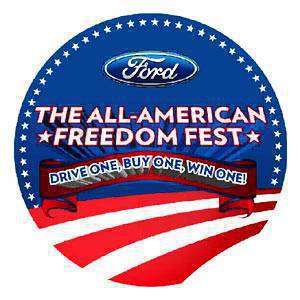 The first draw of Ford Group Philippines' Buy One, Drive One, Win One is scheduled on August 15 where the lucky winner will get to take home a 1.8-liter Ford Focus Trend four-door sedan.
Still up for grabs for those who bought a new Ford vehicle by August 31 are a brand new Ford Ranger 2.5-liter 4x2 Trekker pickup while those who buy one by September 30 get the chance to bring home the newly launched Ford Everest 2.5-liter 4x2 SUV.
Ford's All-American Freedom Fest runs until September 30.
Honda
Honda Cars Philippines continues to soldier on with its Limited Offer deal, minus the CR-V.
The offer is available for pre-facelifted variants of the Civic, with the P35,000 savings on the purchase of the 1.8S and 1.8V variants applicable as either a cash discount on the financing scheme or to purchase car accessories.
Accord buyers of the 2.4S and 3.5V variants get a discount of at least P30,000. Like the Civic, these discounts can be used as a discount on their financing plan or they may use it to cover the purchase of free car accessories, the three-year LTO registration and a one-year comprehensive insurance plan.
Honda's offer runs August 31.
Toyota
Toyota Motor Philippines has extended its Rainy Day Promo until end-August to accommodate new car buyers who are eager to get their hands on the top-selling Vios subcompact sedan and the Innova MPV. The promo remains the same with both models still being readily available through Toyota Financial Services' (TFS) lease-to-own and easy-to-own plans.
Aside from the low downpayment of P66,400 for the Vios 1.3 E and P79,300 for the Innova J, Toyota offers a three-year LTO registration and gives out gas cards to buyers who avail of the TFS deals.