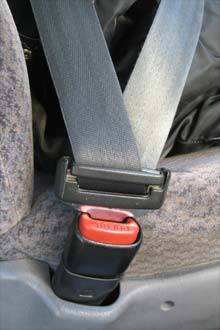 A bill seeking to protect children while in a moving vehicle has been filed at the House of Representatives.
House Bill 319 or the Children in Motor Vehicle Safety Act of 2010 was filed by Rep. Susan Yap of the 2nd District of Tarlac.
"There is no legislation worldwide which focuses on the use of child restraint systems. An enactment of a law regarding safety standards of children in motor vehicles will be a great leap in the safeguarding of our children," Yap said in a statement.
Yap's bill:
- prohibits children aged 12 years old and below from sitting in the front seat of a moving vehicle
- discourages leaving anyone below 18 years of age inside a motor vehicle without supervision when the engine is running or when the key to the vehicle is within the passenger's reach
- does not allow children to travel on board vehicles without seat belts and/or a child-restraint system
- requires the Bureau of Product Standards and Department of Trade and Industry to formulate procedures and standards for safety devices in motor vehicles
Continue reading below ↓
Recommended Videos
If approved, violators of the face a jail term of six months and a fine of not less than P5,000.
"It is but a reminder that for every child we may save, we are doing our future a big favor," Yap said.
The bill does not cover school service and public utility vehicles like jeepney, bus, and taxi. Don't you think they should be required to have safety features for kids as well?
Photo from SXC.hu