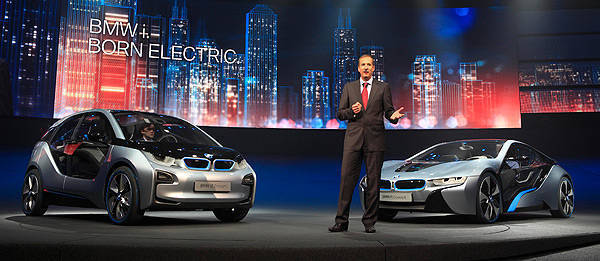 BMW has just unveiled what the i3 Concept and i8 Concept will look like just five months after the German carmaker announced the creation of BMW i, its sub-brand "for sustainable, premium mobility."
"We are marking another milestone in the history of the BMW Group. As chairman of the board and an engineer myself, I am very proud of this project," said Norbert Reithofer, chairman of the board of management of BMW AG. "As the world's leading premium car manufacturer, our aim is to offer customers purpose-built electric-drive cars as well."
Specifically developed for the urban environment, the i3 Concept is powered by a zero-emission electric drive and has a driving range of approximately 150 kilometers while its four seats and 200-liter luggage compartment make it suitable for everyday use. The i3 Concept also boasts of BMW's innovative LifeDrive architecture that features a carbon passenger cell, which is equivalent to weight savings of between 250 and 350 kilos compared to a conventional electric car.
"This vehicle will mark the launch of the first volume-produced car featuring bodywork largely made of carbon," said Klaus Draeger, BMW AG's board member responsible for development. "It's a revolution in automotive design."
Powering the i3 Concept is a 125kW electric motor (equivalent to roughly 167hp), allowing it to run the zero-to-100kph sprint in under eight seconds before it reaches an electronically-governed top speed of 150kph. Its rear-wheel drive orientation ensures that the i3 Concept displays the kind of dynamic handling the German carmaker has always been known for.
Continue reading below ↓
Recommended Videos
The i3 Concept also has an optional range extender known as REx which is a small petrol engine that drives a generator that maintains the car's battery charge level, allowing it to continually run on electric power.
The i8 Concept, meanwhile, is a hybrid sports car, with its plug-in hybrid drive having an output of 260kW (nearly 349hp) and a maximum range of 35 kilometers in full electric mode. For more dynamic driving or out-of-town trips, its 220hp turbocharged three-cylinder petrol engine kicks in, pushing the i8 Concept to run from zero to 100kph in less than five seconds before it reaches its electronically-limited top speed of 250kph. What's surprising is that the i8 Concept does that while consuming less than three liters of fuel for every 100 kilometers.
Providing the electric power for both the i3 and i8 Concepts are specially-developed lithium-ion battery cells. For the i3 Concept, its battery can be recharged in six hours using a standard power socket but if a high-speed charger is used, an 80 percent charge can be achieved in just one hour. For the i8 Concept, its battery can be fully recharged in two hours using a standard power socket.
"The BMW i8 Concept is the sports car for a new generation--pure, emotional and sustainable," Draeger added.
BMW hopes to launch the production model of the i3 in 2013 with the production model i8 following a year later in 2014.
[gallery]995[gallery]