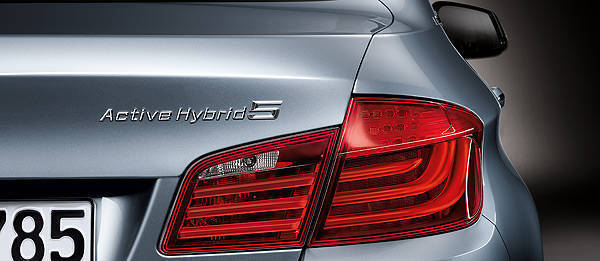 BMW has developed a hybrid variant of the 5-Series sedan. Known as the BMW ActiveHybrid 5, the German carmaker says it's "the most powerful and efficient full hybrid in its segment."
Powering the ActiveHybrid 5 is the same 306hp, inline-six cylinder BMW TwinPower Turbo engine used in the BMW 535i. Paired to it is a 55hp electric motor powered by a high-performance lithium-ion battery and an eight-speed automatic gearbox.
With this powertrain package, the ActiveHybrid 5 can accelerate from zero to 100kph in 5.9 seconds, have an average fuel consumption of between 15.625 to 14.285 kilometers per liter and emit between 149 to 163 grams of carbon dioxide per kilometer.
To fully exploit the potential of BMW's ActiveHybrid technology, the ActiveHybrid 5 uses a host of innovative functions to ensure that its drive system runs efficiently. The lithium-ion high-performance battery is charged when the car is coasting or braking, with the electric motor acting as a generator feeding energy into the high-voltage battery. Under acceleration, the electric motor works as a boost, assisting the petrol engine by generating a dynamic burst of power and giving the sedan's sporty driving experience a noticeably sharper edge. Also, while coasting at speeds of up to 160kph, the combustion engine can be switched off and fully decoupled, combining comfortable driving with optimum utilization of the kinetic energy.
The ActiveHybrid 5 is also equipped with a hybrid auto start-stop function that doesn't compromise on comfort when the vehicle is stopped in traffic for longer periods. After the internal combustion engine shuts off, the automatic climate control simply runs off the lithium-ion battery. When the driver releases the brake, the vehicle will restart on either the electric motor alone or both the electric motor and the petrol engine depending on the high-voltage battery's current charge level and on how much power the driver wants.
ADVERTISEMENT - CONTINUE READING BELOW ↓
Another innovation being pioneered in the ActiveHybrid 5 further improves its efficiency by shutting the engine down not only when the vehicle is stationary or when driving in town, but also on overrun. Available at any speed up to 160kph, this coasting mode switches off the petrol engine and disconnects it from the drive shaft. From this point on, the BMW ActiveHybrid 5 continues moving silently, with zero emissions and with no engine braking effect. In coasting mode as with all-electric mode for urban driving, all safety and comfort functions remain fully operational.
According to BMW, the ActiveHybrid 5 broaches another market segment that takes the carmaker's hybrid development work a further step forward.
"As always, BMW ActiveHybrid technology is offered in a form which is optimally adapted to the requirements of the particular vehicle concept and market segment," BMW added in its statement.
[gallery]1059[gallery]