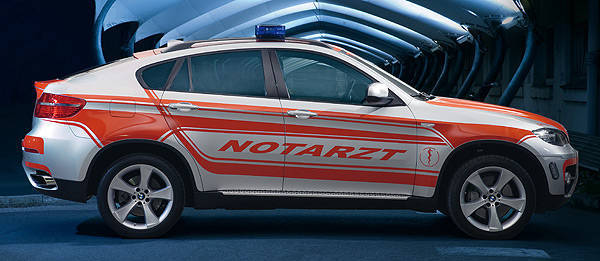 BMW isn't all about giving private vehicle owners a good time behind the wheel of what the brand calls its vehicles as "the ultimate driving machine." The German carmaker also happens to be a regular exhibitor at RETTmobil, the European trade fair for emergency services and mobility.
For the latest staging of the event, BMW supposedly drew on its decades of experience in developing and building emergency vehicles for both German and international fire and emergency services.
Besides offering state-of-the-art special purpose equipment, the current BMW vehicle range that have been modified to serve as emergency vehicles set standards that are the hallmark of the BMW brand. According to BMW, all of its emergency vehicles boast of "outstanding efficiency, superior power and performance and uncompromising safety, along with reliability unrivalled even by other premium-segment products."
According to BMW, the installation of special-purpose equipment on its emergency vehicles are engineered right from the start of the car's development process and its production takes place in parallel with that of regular production models to ensure "the highest standards of quality and functionality."
One such example is the integration of the special signal system into the same iDrive control system that is used on regular BMW production models. This allows the warning system to be operated intuitively using the iDrive, just like the navigation system and other comfort functions, through the Control Display in the instrument panel, the Controller and the specially configured direct selection buttons on the center console.
Continue reading below ↓
Recommended Videos
For the three-day event, BMW featured the 3-Series Touring paramedic vehicle, the 5-Series Touring paramedic vehicle, the 5-Series Touring covert vehicle, the X3 paramedic vehicle and the X6 paramedic vehicle.
If you were being rushed to the hospital, which BMW emergency vehicle would you like to ferry you?
[gallery]922[gallery]