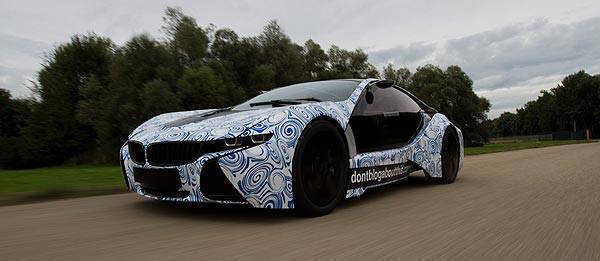 BMW has confirmed that it will build a hybrid sports car based on the Vision EfficientDynamics concept, which premiered at the 2009 Frankfurt Motor Show.
"With its wide range of completely or virtually production-ready components, this concept study met with an overwhelming response," BMW said in a statement. "There was a widespread desire to put the car on the road, and the realization of this desire is moving considerably closer."
Since its world premiere in Frankfurt, the Vision EfficientDynamics concept study has received several awards for its futuristic design and ground-breaking engine technology.
Measuring just four feet high, the 2+2-seater concept car's slippery silhouette isn't just for show as extensive aerodynamic measures have reduced its drag coefficient to 0.22. The same goes for its wing doors which make ingress and egress from both seat rows painless.
The BMW Vision EfficientDynamics concept study has a three-cylinder turbo diesel with a hybrid synchronous motor at the front axle and a full-hybrid engine at the rear axle which produce a combined output of 328hp. The innovative design of BMW's ActiveHybrid technology allows the car to put up performance figures similar to that of a sports car, with a sprint from zero to 100kph taking just 4.8 seconds while consuming just 3.76 liters for every 100 kilometers and emitting only 99 grams of carbon dioxide per kilometer.
Continue reading below ↓
Recommended Videos
The BMW Vision EfficientDynamics concept study is a plug-in hybrid that uses a rechargeable lithium-polymer battery specially designed for the hybrid sports car and can be fully charged at a conventional power socket in just two and half hours. Using the battery alone gives the car a range of around 50 kilometers with zero emission while its 24-liter diesel fuel tank extends the vehicle's range up to 700 kilometers.
[gallery]636[gallery]