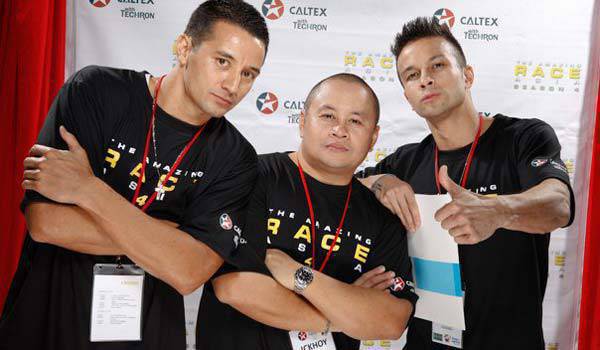 Fans of action-packed reality shows, rejoice! The Amazing Race Asia has started airing its fourth season, and multinational oil firm Chevron Philippines is proud to announce that its Caltex brand continues to be a major sponsor of the popular TV show. In a recent launch party in Batangas--which coincided with the company's participation in the global Coastal Cleanup campaign--Caltex presented to the media this season's two teams representing the Philippines. They are Jacinta 'Jess' James and Lani Pillinger ("Party Girls"), and Richard Hardin and Richard Herrera ("Friends").
The theme for TARA 4 is "The Ride Of A Lifetime." We're assuming this is because the challenges involve a lot of car, plane, boat, bus and train rides. In the first episode, which Caltex showed to the press at the launch party, the 10 teams were made to each drive a small Peugeot around Malaysia (the host country for this season). We couldn't quite catch the exact car model, but it could have very well been the Peugeot 206, which is sold in the Malaysian market as the Naza.
As we write this, three legs out of a total 11 have already been aired, with one team (Nadine Zamira Sjarief and Yani Hidranto from Indonesia) already eliminated. One Philippine team in particular--that of the two Richards (in photo with Chevron Philippines' Ickhoy de Leon)--is doing pretty well, finishing both the first two contests in second place. We have no idea what exactly they meant by it, but the two Richards proclaimed during the TARA 4 media party that they were going to "make the country proud." If they were indeed victorious (the show was filmed in June), they would be rewarded not only with the distinction of being the first Philippine team to win on the show (besting the second-place finish of Geoff Rodriguez and Tisha Silang in Season 3), but also with a cool cash prize of $100,000.
Continue reading below ↓
Recommended Videos
Show your support to the Philippine teams by watching The Amazing Race Asia 4 on the AXN channel every Thursday at 9pm.
Photo by Ickhoy de Leon