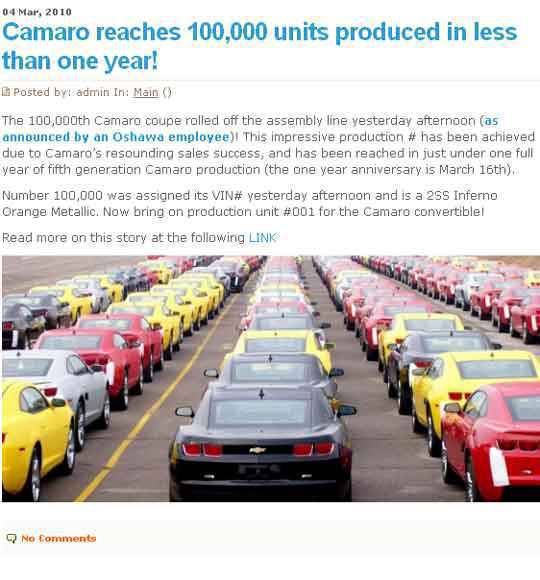 The 100,000th fifth-generation Camaro recently rolled off of the Chevrolet's assembly line in Ontario, Canada, Camaro5.com said.
The milestone was achieved just before the current Camaro celebrates its first year of production in March 16.
The 100,000th unit is a top-of-the-line 2SS Camaro in Inferno Orange Metallic.
When the Camaro was just a wildly popular concept car in the 2006 North American International Auto Show, General Motors vice chairman for marketing and communications Bob Lutz said GM could sell more than 100,000 of the car if it went into production. Lutz made the claim three years before the entire American car industry went into crisis in 2009, which left GM and its competitor, Chrysler, asking the US government for some financial assistance to keep both companies afloat.
Continue reading below ↓
Recommended Videos
The Camaro's production achievement at a time when the public is reeling away from muscle cars and SUVs in favor of small, fuel-efficient vehicles only means that matters of the heart sometimes take over what should be the  logical and practical choice.
Would you choose a muscle car like a Camaro over tiny, fuel-saving rides? Share your thoughts using our comment box below.