The Chamber of Automotive Manufacturers of the Philippines (CAMPI) received a special recognition for the group's continuous participation in the central bank's monetary policy consultations.

This means CAMPI provides economic and trade indicators to the central bank, which in turn decides on interest rates. Such rates are used as one of the basis of banks for pricing their loans, including those intended for car purchase.

"CAMPI assured the BSP (Bangko Sentral ng Pilipinas) of its continuing support in line with its vision of being a socially responsible automotive industry association in partnership with the Philippine government and other stakeholders in pursuit of economic growth through the development of a viable and self-sustaining local automotive industry," CAMPI said in a statement.

CAMPI tracks the performance of 18 car manufacturers and distributors in the Philippines. Its members include best-selling brands like Toyota Motors Philippines, Mitsubishi Motor Philippines and Honda Cars Philippines.

The group expects the industry to beat its 2008 sales of 124,449 units by selling as much as 130,000 vehicles this year.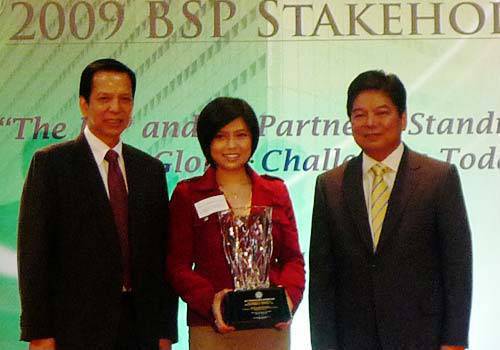 CAMPI president Elizabeth H. Lee accepted the recognition in behalf of the auto industry group from BSP governor Amando M. Tetangco Jr. and Monetary Board member Ignacio Bunye at the recent BSP Stakeholder Awards.

Read about the latest Philippine car sales data in Car sales up 4.4 percent or click here to learn how to get a car loan .
Continue reading below ↓
Recommended Videos