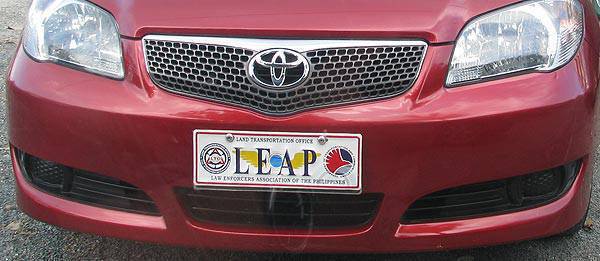 Motorists using unauthorized commemorative license plates may find themselves in jail if a bill filed at the House of Representatives is passed into law.
Solons Rufus Rodriguez from the second district of Cagayan De Oro City and his brother, Maximo Rodriguez Jr. of the Abante Mindanao party-list, filed House Bill 1172, which aims to punish motorists who use commemorative license plates to be exempted from following traffic rules.
"Commemorative plates, although not as blatant as sirens or wang-wangs, give the impression, to a lesser degree, that the owner of the vehicle wants others to know that he or she is better than others. It gives the subtle suggestion that the owner belongs to some privileged elite," the lawmakers said in a statement.
The bill defines a commemorative license plate as "a piece of duly issued plate for commemorating historical events, legitimate organizations and National Heroes valid for a limited period and installed at the front portion of the motor vehicle."
With commemorative license plates identifying the car owner as a Philippine National Police (PNP) officer, a Philippine Military Academy alumnus or as a lawyer, Rodriguez pointed out how some individuals use these plates to beat traffic laws like the Metropolitan Manila Development Authority's Unified Vehicular Volume Reduction Program, or as it is popularly known, the number coding scheme. The Rodriguezes also seek to ban local law enforcement agencies like the PNP and National Bureau of Investigation to sell and use commemorative license plates. The lawmakers said license plates bearing a government position such as "COUNCILOR," "PROSECUTOR," "SENATOR," or "MAYOR" should also be illegal.
Continue reading below ↓
Recommended Videos
"There are also some commemorative car plates that have some effect on lowly police officers or traffic enforcers that they would look the other way and refuse to apprehend traffic violators just because of what is on the commemorative plates, such as 'AFP,' or 'PNP-CIDG' or 'NBI,'" the lawmakers statement said. "Although there are legitimate commemorative plates that really honor an event or profession, these plates should be distinguished from other commemorative plates and should not be used to escape the arms of the law."
If the bill is approved, individuals caught using, selling or distributing illegal commemorative plates without the proper authorization may be imprisoned for six months and asked to pay a fine of P50,000.
Photo for illustrative purposes only