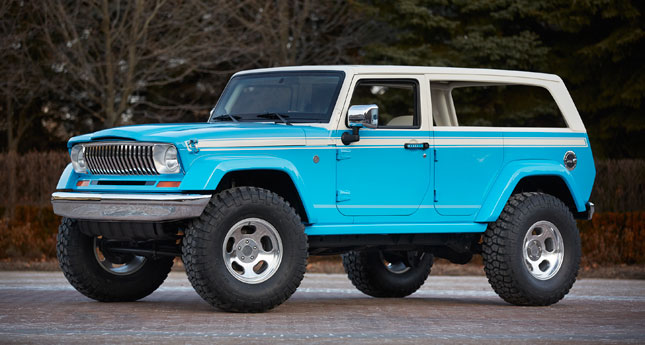 Jeep has made a name for itself by building some of the toughest off-road vehicles the world over. Since the very first Willys Jeeps manufactured for military use in 1941, the American brand has been a favorite of go-anywhere enthusiasts, and has even inspired what we now know as the SUV. Now, Jeep brings together its long heritage and looks forward with this bevy of concept vehicles presented at the annual Easter Jeep Safari this month.
The Easter Jeep Safari is an annual gathering of Jeep fans and off-road enthusiasts, who trek the toughest trails and explore the limits of their tough rigs. For the 2015 run, Jeep assembled no less than seven concept vehicles that combine both production design and prototype ideas to showcase Jeep's heritage along with the brand's future direction. The vehicles likewise incorporate a slew of Jeep Performance Parts and Mopar-designed accessories.
This year's list of concept vehicles included:
1. Jeep Chief - This is a nod to the original '70s Cherokee, along with a dash of West Coast sun and surf thrown into the mix. The Ocean Blue paint scheme is mixed with a white French Bread roof design, a razor-like grille à la Wagoneer, removable side panels, and classic '70s-style wheels.
Continue reading below ↓
Recommended Videos
2. Jeep Staff Car - This pays homage to the granddaddy of all Jeeps--the military service vehicle. The four-door Wrangler has an open-air configuration that is nothing but functional in design and execution. No-frills wheels, fender flares, a stretched canvas roof, and bench seats are proof of this basic motif.
3. Jeep Wrangler Africa - Want a true off-roader? This is the one for you. Another four-door Wrangler, the Desert Tan Jeep sports a high-clearance front bumper, complete with a winch, a power dome vented hood, a high-top roof design, and an extended body. Powering the Wrangler Africa is a modern 2.8-liter diesel mill, mated to an automatic gearbox. Extra mileage can be had with the side-mounted auxiliary fuel cans. Off-road functionality comes from a two-inch lift kit with Fox shocks, front and rear Dana 44 axles, and sway bars.
4. Jeep Grand Cherokee Overlander - If you think rustic Jeeps are the only concept vehicles, think again. There is likewise a Grand Cherokee in the mix. The Sage Green Overlander has a unique front end, a winch, flared wheel arches, skid plates front and rear, and 18-inch wheels. A two-person hard-shell rooftop and spray-in truck bed on the roof top it all off. Powering this beast is a 3.0-liter diesel V6.
5. Jeep Renegade Desert Hawk - The newest member of the Jeep family gets special decals, skid plates, Mopar accessories inside and out, and other Jeep Performance parts for that rugged off-road look.
6. Jeep Cherokee Canyon Trail - The Desert Tan paintwork is accented by Satin Black touches in various parts of the exterior, special decals, and other bits that enhance the rugged look. Special off-road gear give it the go-anywhere capability befitting the Jeep name.
7. Jeep Wrangler Red Rock Responder - This is the support vehicle that can practically traverse any type of terrain thrown at it. Its bright Vibrance Responder Red paint scheme is enhanced with rescue equipment such as side cargo boxes, fire extinguisher, first-aid kit, recovery kit, and snap-on tool bags, just to name a few.
Itching to go off-road now?