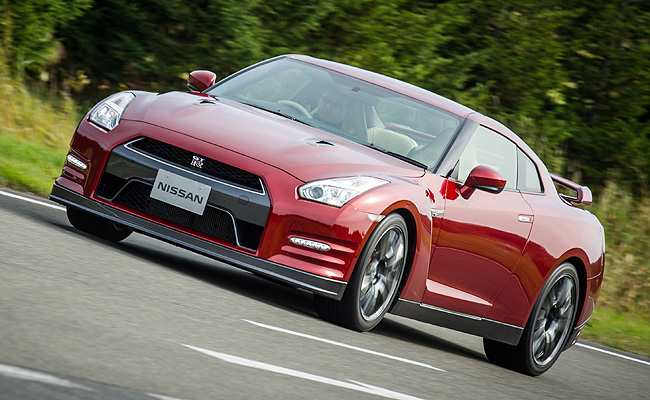 The 2015 Nissan GT-R is now on sale in its home market of Japan, and it's reportedly more refined than ever.
According to Nissan's engineers, more attention was paid to stabilize the GT-R's yaw rate and stability without sacrificing its renowned speed. As such, Nissan enhanced the GT-R's suspension and updated its drivetrain to improve vehicle traction. This was made possible by modifying the damper rates of the shock absorbers and the ECU settings, and reducing the amount of steering corrections necessary on rough roads, "adding a further sense of security in less ideal driving conditions."
In addition, the shim structure between the brake pads and the caliper pistons have also been modified, along with the brake pads themselves, to improve braking feel and achieve better overall braking control. The steering dynamic damper has also been optimized to reduce engine vibration at idle, while the engine and transmission management systems have been retuned.
Noise and vibration in the GT-R's cabin have likewise been significantly reduced. The clearance of the transaxle and the driveshaft as well as the bearings inside the flywheel, has reportedly been modified to reduce vibration and noise. Lastly, the material for the trunk carpet has been changed to improve sound insulation.
Continue reading below ↓
Recommended Videos
Incidentally, Nissan also revealed that the limited-edition 45th Anniversary GT-R (below) will be based on the 2015 model, and will go on sale in February 2015.
Limited to, well, 45 units, the 45th Anniversary model comes in Silica Brass, the same trademark color as the R34 Skyline GT-R M-Spec, which was touted as the "GT-R that satisfies the mature driver" when it was released in 2001, and will be available only in the Premium Edition trim level. To mark its exclusivity, it will feature an exclusive emblem on the lower part of the interior center cluster and an exclusive model plate number in the engine compartment.
Now, if only Nissan Philippines could bring in the long-overdue GT-R, our magazine cover would look extra awesome.