Euro NCAP has just released its latest round of results, including those for the upcoming Suzuki Jimny. And while bigger, more expensive cars like the VW Touareg earned their expected five stars, the Jimny's three star performance is a tad disappointing. It's important, however, to put that number into context.
NCAP is one of the most comprehensive safety testing regimes around, and the Euro NCAP site provides a wealth of detail on crash tests for specific models, including anecdotal information on why a particular car fared poorly. But that elusive five-star score is an ever-moving target.
Over the years, NCAP has added requirements such as pedestrian safety, electronic stability control, automatic braking, and the like to the score. The absence of some or all of these systems is worth a demerit of one star, whether or not other crash scores are good. Hence, vehicles that may have earned a five star rating in the past may not necessarily still merit the same score now.
ADVERTISEMENT - CONTINUE READING BELOW ↓
This year, aside from requirements for automatic emergency braking (AEB) in response to cars and pedestrians, Euro NCAP is now requiring automatic braking for cyclists. When the five-star Suzuki Vitara was tested in 2015, this was not a requirement. Without the 'safety pack'—referring to automatic braking and lane departure technology—the 2016 Toyota Hilux is downrated from a five-star vehicle to a three-star one.
As noted in the Euro NCAP report, the Jimny's AEB system works poorly in low light and cannot respond to fast-moving objects like cyclists, and can only detect pedestrians at short range—both much more difficult tasks than detecting larger four-wheeled vehicles. Along with a lane-departure system that doesn't feature lane-keeping assist, these deficits are likely worth a one-star deduction.
Beyond that, the Jimny tested suffered from a weak driver's airbag and some minor cabin deformation on the offset frontal test, which merited points deductions, even though the crash test dummy 'survived' both impacts relatively unharmed. That the deficits weren't more severe is an impressive feat for such a tiny body-on-frame truck! These are things that Suzuki can probably thresh out over the next few months. Note that Honda had the Civic retested after a disappointing four star performance and earned five stars on its retest.
ADVERTISEMENT - CONTINUE READING BELOW ↓
Recommended Videos
Now for the good news: The Jimny earned good marks for side impact and side pole impact tests. Eagle-eyed Jimny fans may have noticed new box-like reinforcement structures on the side of the ladder frame in press pictures, which likely help tie the body to the frame, adding more structural rigidity and safety to the tiny car. Obviously, they work. And child protection is rated as very good. Better than some higher scoring cars, even.
In the end, whether it retests or not, does this matter to local consumers? While we should always demand more safety tech from manufacturers, the penetration of these technologies into the 'affordable' segment of the market is very weak. None of the Jimny's competitors—not even the brand-new Ford EcoSport—offer automatic braking and lane-keeping assist in this market. Target buyers simply can't afford them yet.
As for Jimny buyers, all they can do is wait. We don't have a definitive timeline for the introduction of Suzuki's next-generation baby off-roader, and Suzuki may update the driver's airbag in the months leading up to its local release. Hopefully sometime before the end of the year.
ADVERTISEMENT - CONTINUE READING BELOW ↓
Fingers crossed.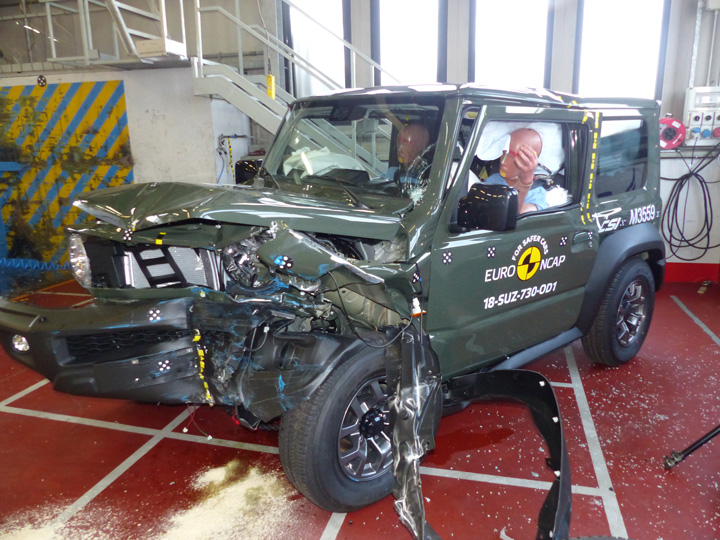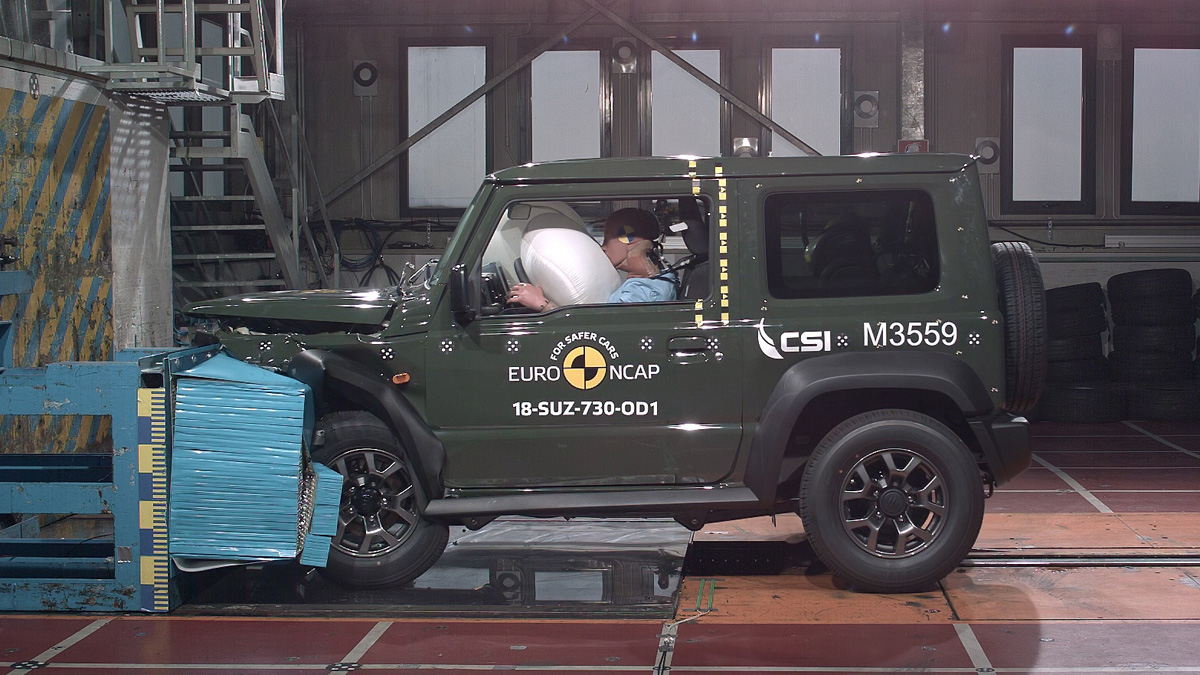 ADVERTISEMENT - CONTINUE READING BELOW ↓