With all the new cars in Mazda dealerships, it's awful hard not to feel sorry for the Mazda 2. Midway through its life cycle, it has been superseded by the new 3, CX-3, CX-30 and, well, let's say just about everything else in the Mazda dealership is newer. But that doesn't mean it's a bad car. Indeed, few small cars drive nearly as well as the 2. But it does dearly need an update to keep up with its siblings.
Well, this is it.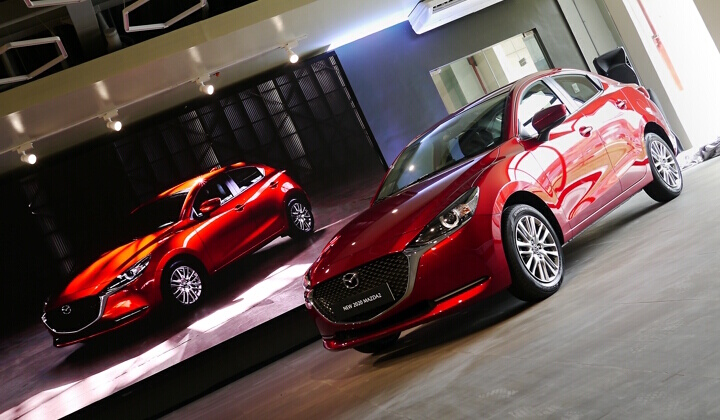 ADVERTISEMENT - CONTINUE READING BELOW ↓
The new Mazda 2 was supposed to launch next year, but according to Mazda Philippines president and CEO Steven Tan, the car came in quite early. A Christmas surprise for everyone. Especially the lucky dealers who have dibs on the first 50 units, after months in which the previous Mazda 2 stock was not replenished.
We'll get back to those dealers later. For now, let's take a look at what the new 2 has in store for us.
As this is a mid-cycle refresh, there are no major changes to the Mazda 2's sheet metal. Instead, there are minor changes to the bumpers. The front foglight inserts are now slim horizontal pieces integrated into the lower grille, while the rear are integrated into a slimmer rear diffuser on the hatch, and a black accent strip on the sedan. The latter loses the rear diffuser completely. Up front, you get all-new LED headlights flanking a new mesh-type grille that echoes the one on the new Mazda 3. The new package looks rather tidy in Soul Red Crystal, and is finished off with new multi-spoke 16" wheels shod in the same fuel-saving 185/60R16 Dunlop Enasave EC300+ tires as on the previous car.
ADVERTISEMENT - CONTINUE READING BELOW ↓
Recommended Videos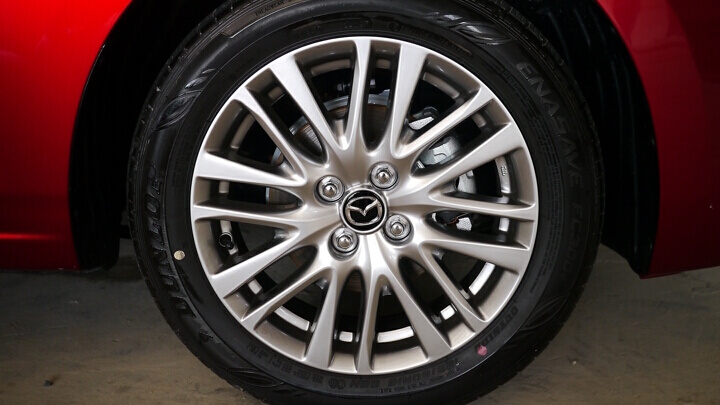 The interior hasn't changed so much, visibly. The design is still a restrained palette of silver, brushed metal and black, though some of the metallic cues have been toned down for a more harmonious look. The biggest notable change is the new seats. Brown and black fabric seats replace the former black and gray pieces, and feature several upgrades to increase passenger comfort. These include a hard felt liner on the lower backrest for better lumbar support, a spacer in the seat cushion for better thigh support, and an additional torsion bar support underneath for better booty support. Yes, like all new Mazdas, the 2 has an unhealthy obsession with the pitch of your posterior, purportedly for a more pleasant riding experience.
ADVERTISEMENT - CONTINUE READING BELOW ↓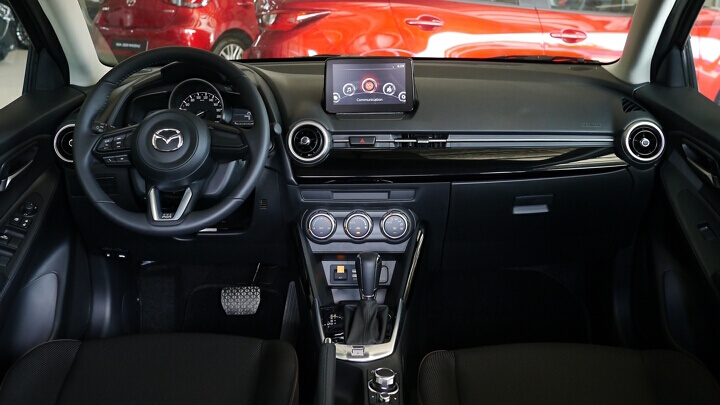 Aiding in this is the new G-Vectoring Plus system, finally making its way to the Mazda 2. As in other Mazda products, this reduces engine torque subtly in turns to counter the pitching motion as the weight transfers from side to side. Mazda's obsession with reducing ride discomfort goes even further than that. Both front and rear suspension dampers—or shock absorbers, if you will—feature new valves for better response, and the rear dampers get urethane top mounts, which should not only cushion shocks, but also reduce vibrations coming into the cabin. There's also extra urethane in the ceiling and extra sealing around the doors and hatch to reduce sound intrusion, as well.
ADVERTISEMENT - CONTINUE READING BELOW ↓
Sadly, there's no uber-powerful BOSE sound system to take advantage of the better noise isolation, but buyers will certainly be happy with the 7-inch Mazda Connect screen now that it boasts standard Apple CarPlay and Android Auto smartphone integration. No more looking for odd spots to prop up your smartphone while navigating through traffic. You'll get Google Maps or Waze straight on your dashboard. Other toys include standard cruise control, keyless entry and ignition, parking sensors, and rear camera.
Under the hood, the carried-over 1.5 SkyActiv boasts a tiny bit more power: 108hp and 141Nm, both up two ticks from before. More important, that peak torque comes in 800 rpm earlier at 4,000 rpm, which should improve real world performance by quite a bit.
The new Mazda 2 comes in only two variants: the Sedan Elite and the Hatchback Elite. At P995,000, they're a slight jump over the previous mid-grade V+ variants, but nowhere near as expensive as the previous Special Editions. Tan explains that 75% of buyers for the previous car went for the mid-range variants anyway, and with all the new products, there was much less floor space at dealers to showcase multiple variants of the 2.
ADVERTISEMENT - CONTINUE READING BELOW ↓
It does make sense. Buyers for brands like Mazda are looking to buy into the ownership experience, which means they want all the bells and whistles that Mazda offers. Penny-pinching fleet managers will likely go for something cheaper, which isn't Mazda's brand identity anyway. With its Mazda Premium strategy, its more focused on customer satisfaction, which ensures brand loyalty and future sales. Simply going cheap means that the customers you attract there will jump ship once something cheaper comes along.
But what about the special editions, you might say? Well, it's still early. Mazda may release special editions down the road, but for now, the Mazda 2 offers some of the best in-car tech around, with a driving experience that still stands out from the crowd. A fine point of entry for the Mazda Premium experience.