J.D. Power has released the results of its 2020 US Vehicle Dependability Study, and it's clear that vehicle owners are now finding that cars are becoming more reliable than ever.
The study measures the number of problems per 100 vehicles (PP100) that original owners of three-year-old cars have encountered in the last 12 months. There are eight major vehicle categories that cover 177 specific problems in total, and the lower the PP100 score of a car, the better its quality. The eight categories are:
exterior
features/controls/displays
seats
interior
driving experience
audio/communication/entertainment/navigation (ACEN)
HVAC
engine/transmission
In its 31st year, the study revealed that overall vehicle dependability has improved—though by a smaller margin than the 2018-2019 increase—by 1.5% from the past year. The average score of 134 PP100 in 2020 represents an improvement of just two points from 2019. Between 2018 and 2019, the average score registered a six-point improvement. The J.D. Power report does say that "despite the slowing rate of improvement, 2020 marks automakers' best performance in the history of the study."
ADVERTISEMENT - CONTINUE READING BELOW ↓
The 2020 study showed that in the US, the Lexus ES is considered the most dependable car with an all-time-best score of 52 PP100. When it comes to brands, Genesis ranks first with a score of 89 PP100. You can refer to the list below for a detailed view of the brands and their dependability scores: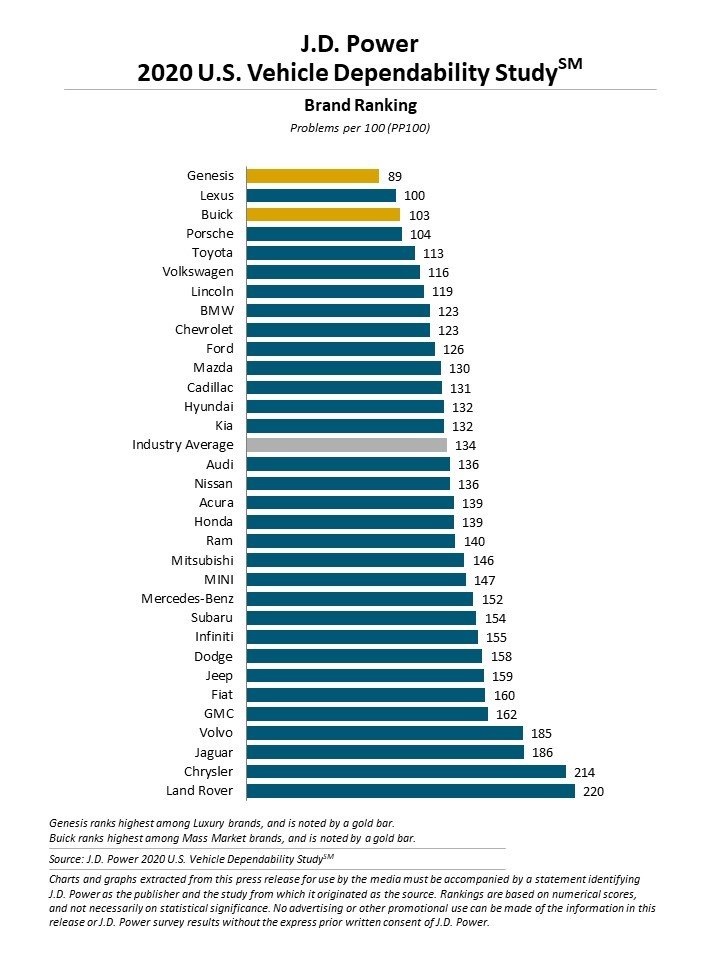 ADVERTISEMENT - CONTINUE READING BELOW ↓
Recommended Videos
The results of the study also showed that the dependability gains can be attributed mainly to crossovers and SUVs, which have a bit more problems than sedans do, but have closed the gap considerably in the past year. The numbers also show that the ACEN category is considered the most problematic among the eight, but also reflects the highest improvement.
"Despite the increased adoption of complex vehicle technology, dependability continues to improve. There's no question that three-year-old vehicles today are better built and more dependable than same-age vehicles were in previous years." said J.D. Power vice president of global automotive Dave Sargent. "However, the rapid introduction of technology is putting increased pressure on dependability, so it would not be surprising to see problem levels plateau, or even increase, over the next few years."
What brand do you think is the most reliable here in the Philippines? Tell us in the comments.
ADVERTISEMENT - CONTINUE READING BELOW ↓