You might be looking at the maddest series-production Lamborghini in a long time. This is the Huracan STO, and it's the closest we've yet got to a Lambo Super Trofeo or GT3 race car for the road (STO stands for Super Trofeo Omologata).
Which means, crucially, it's rear-wheel-drive. Where all of the crazed Superleggeras, Performantes, and SVs of recent years have stayed all-wheel drive, Lambo has binned the Huracan's front driveshafts for the STO while pouring in a load of tech from those track-honed specials that precede it.
Rear-wheel steering. Torque vectoring. Magneride suspension. A wealth of driving modes. Three-quarters of its panels are carbon-fiber, helping counteract any extra tech to ensure the STO weighs 43kg less than a Performante, while producing 53% more downforce.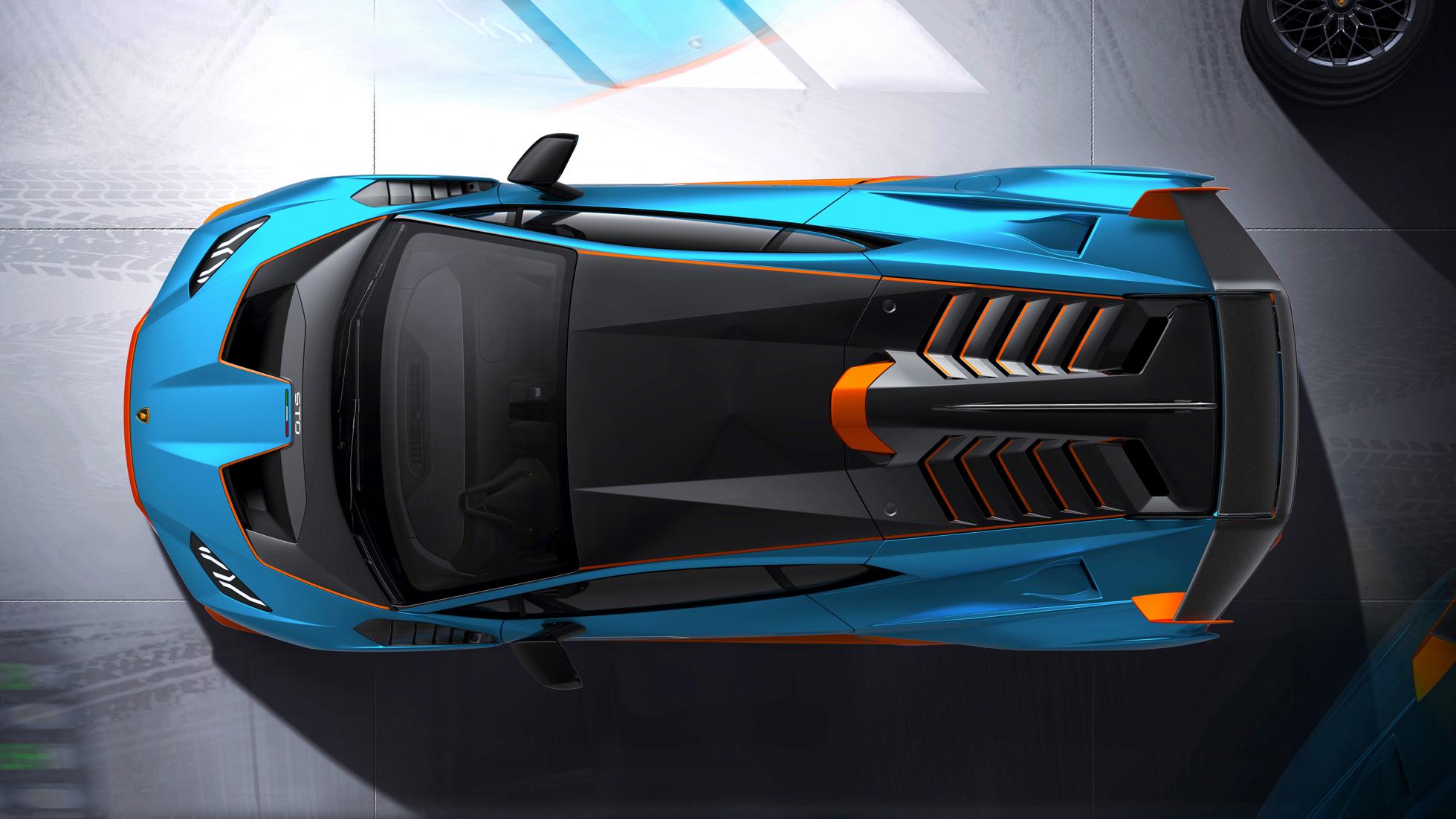 There's no mistaking its intent from the outside. The traditional frunk hood of the mid-engined supercar has gone, the front hood, wings, and bumper all bled into a single panel called the 'cofango.' Since you rightly ask, that's a portmanteau of the Italian words for hood (cofano) and fender (parafango). Yet more evidence it's a language with significantly more poetry to it than ours.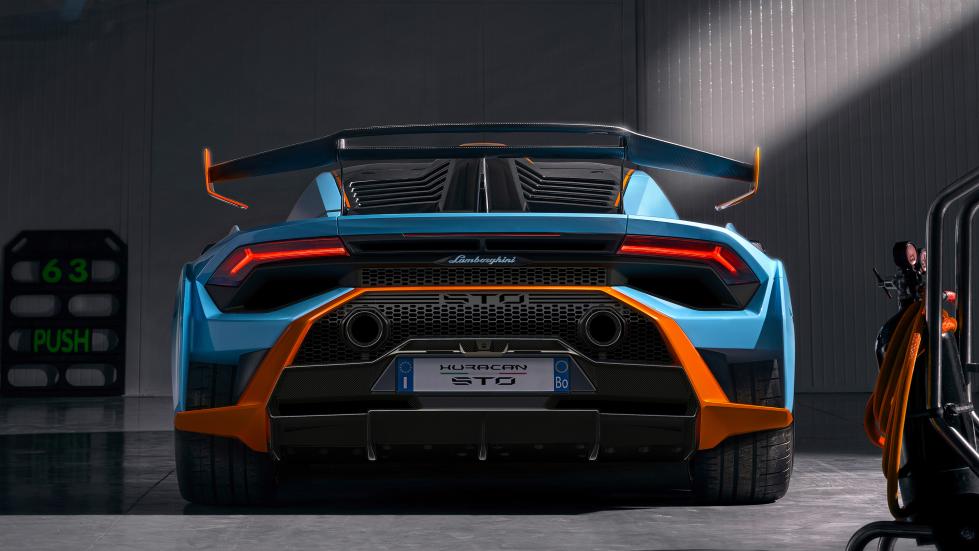 The cofango's benefits are numerous: it's lighter, it increases airflow for both engine cooling and aero, it solidifies the STO's link to the race paddock, and it sounds like a lost lyric from 'Bohemian Rhapsody.' The drama continues as you make your way around the car. The engine gulps in more air via a huge roof scoop and then there's the fin. This ought to help make the STO just as drivable as any AWD Huracan, creating more yaw stability during cornering by doing something with the surrounding air that our tiny little minds can't quite fathom.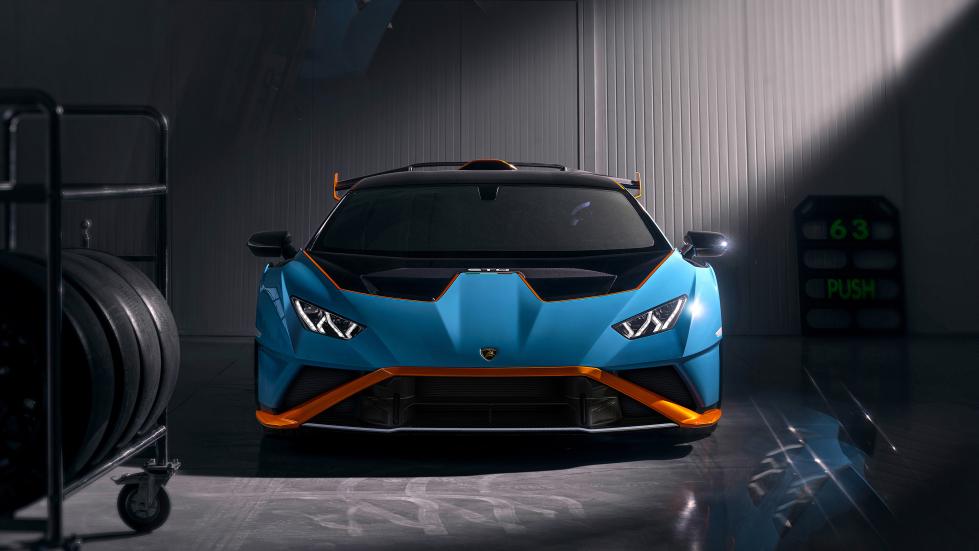 Ultimately, it makes the rear wing more effective at keeping the rear wheels stuck to the ground. It's manually adjustable, allowing a 13% variation in the car's aero balance. So if you'd rather the rear wheels didn't stick quite so much—and for your STO to loosen its shackles and be more of a hooligan—well, that's possible too.
We've not mentioned power yet. It certainly has some; Lambo's 5.2-liter V10 remains, still shorn of turbocharging for crisp response and an even crisper soundtrack. Here it produces 631hp and 565Nm, the latter down slightly on the Performante to reflect the fact it's being pushed through half as many wheels. But it's still more than enough given the diet the 1,339kg STO's been on—even the floor mats make way for something called 'carbonskin' while the windshield is, somehow, 20% lighter than before.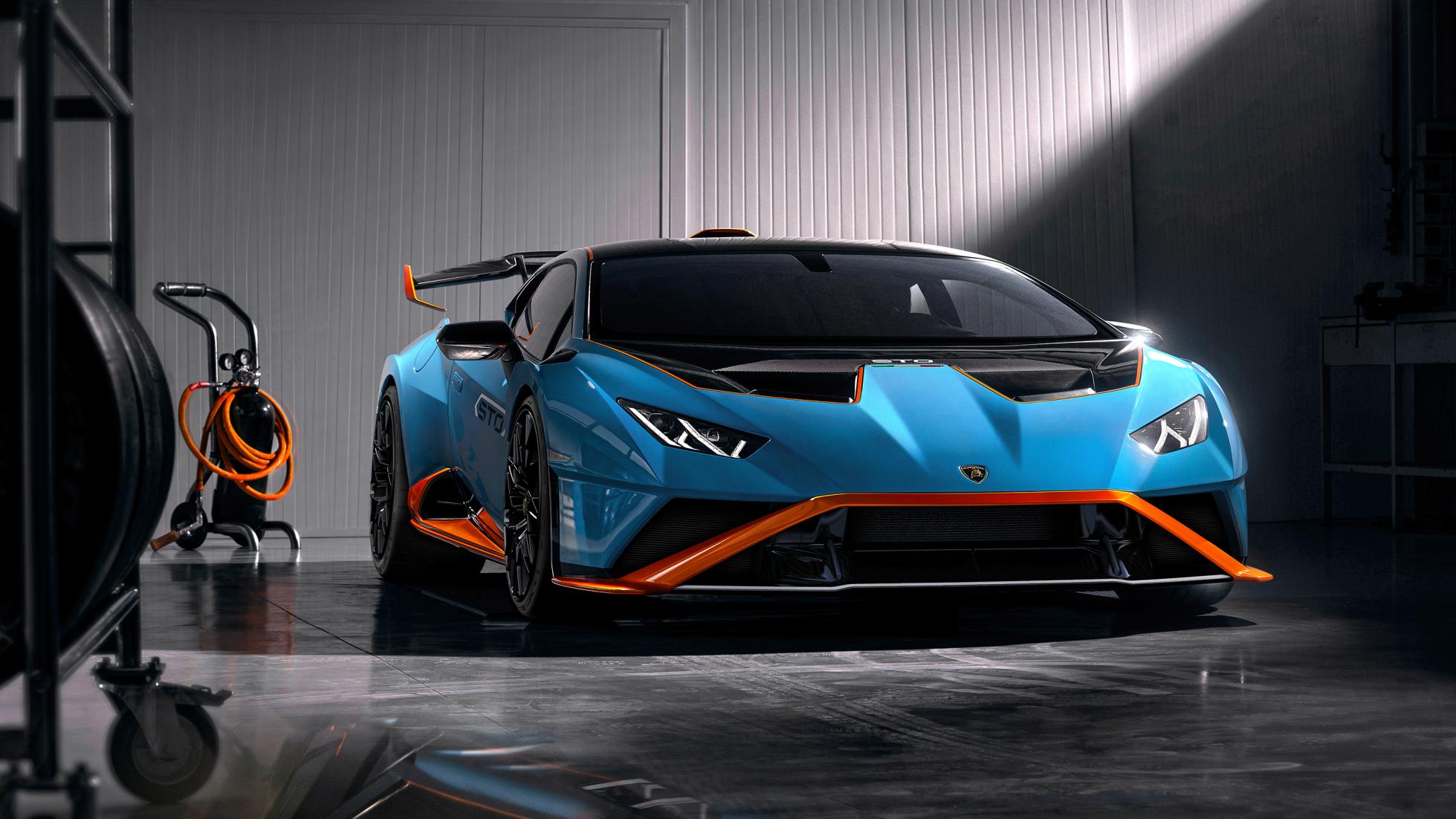 The STO costs £216,677 (about P13.8 million) before taxes. Which, believe it or not, represents good value. Its arch, racer-for-the-road rivals are the McLaren 620R (£250,000/P16 million before any of the must-have options) and Mercedes-AMG GT Black Series (£335,000/P21.4 million, gulp). 'Lamborghini in budget option shock.' Some classic TG maths for you right there…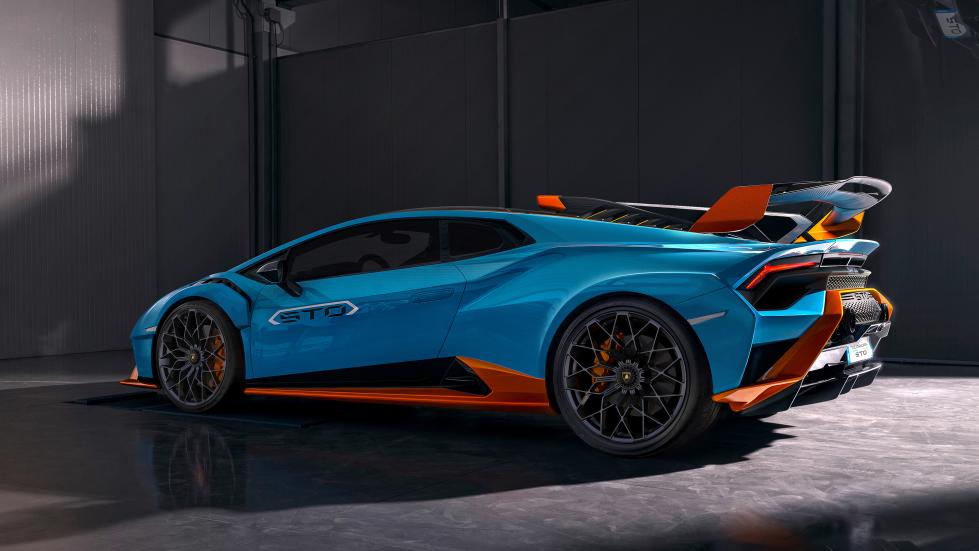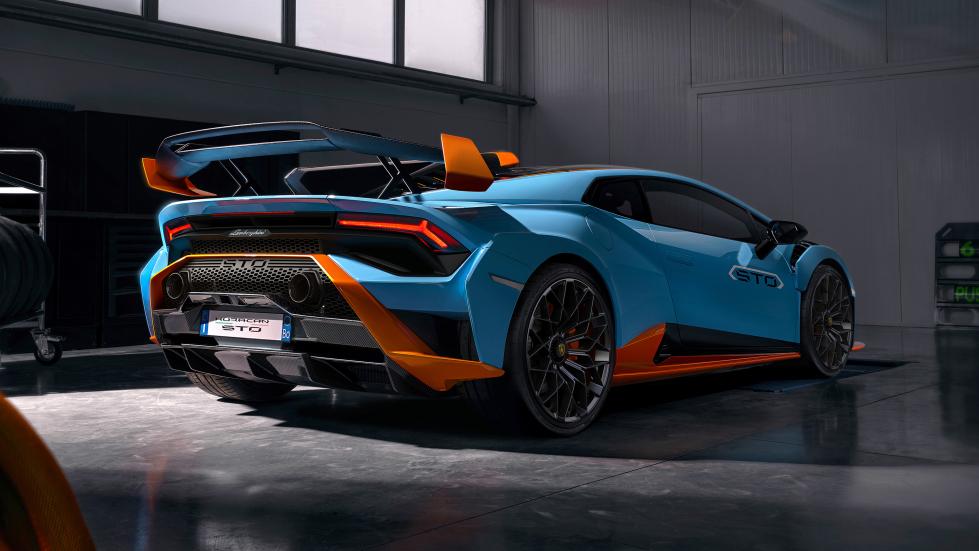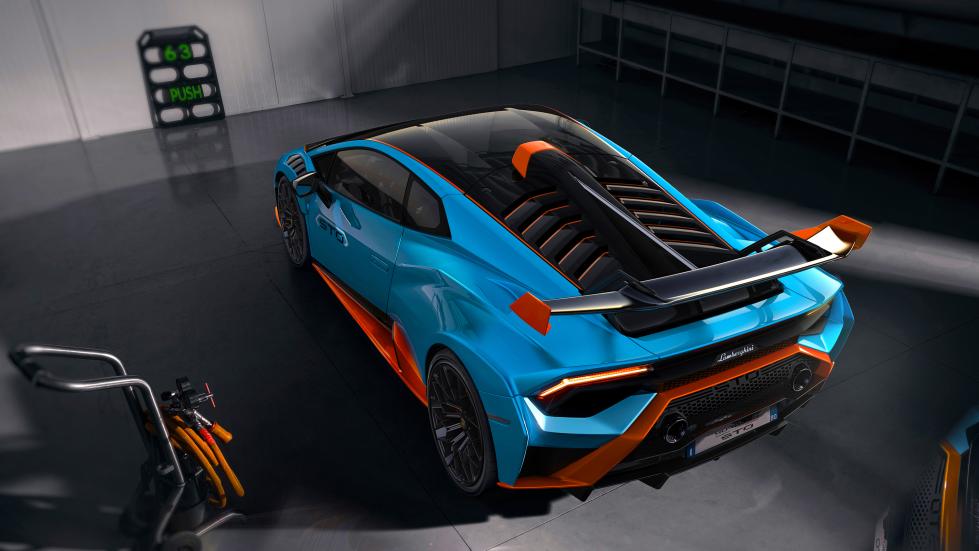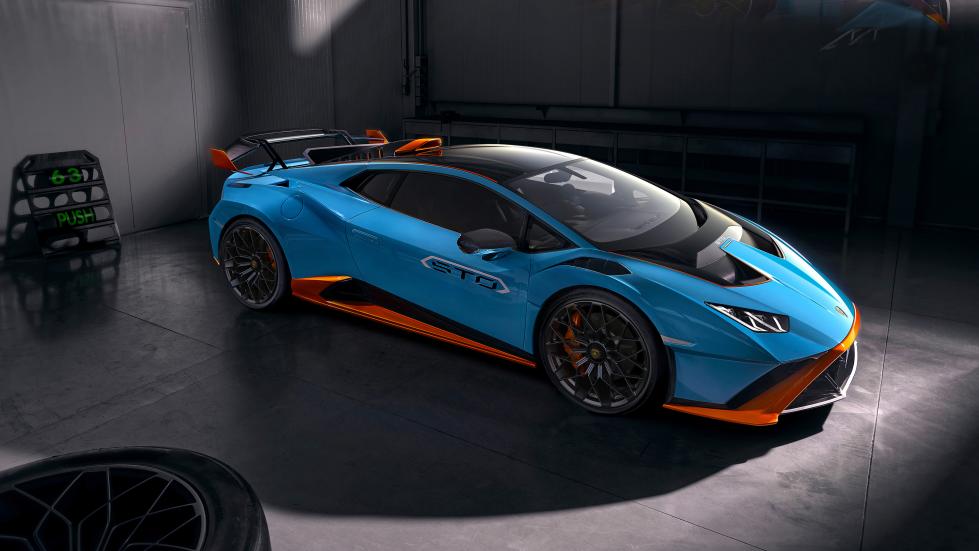 NOTE: This article first appeared on TopGear.com. Minor edits have been made.