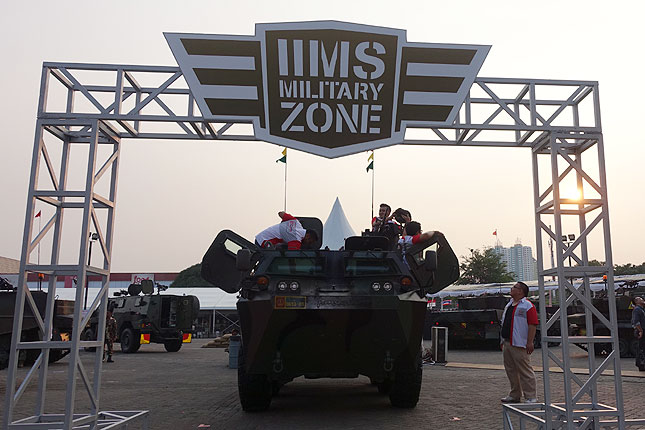 We're sorry to break this to you, Doug Kramer. Your Isuzu MU-X is, um, cute, not badass.
The most badass vehicles we've recently seen are those from the 2015 Indonesia International Motor Show's Military Zone. Introduced for the first time at the IIMS (whose last day is today, August 30), this section showcases armored personnel carriers (APCs) and tanks.
These battle-ready vehicles added a touch of toughness and belligerence to the automotive show, the same way a few G.I. Joe tanks spiced up your toy-car collection as a kid. The car exhibition already featured sophistication through luxury cars, practicality through the daily drivers, and sleekness through supercars. Outside the air-conditioned halls sat these mean toys--some of them in 6x6, 13,600kg guise.
Issued to Indonesia's Special Forces, the vehicles on display are the real deal. Their sergeants from Kodam Jaya and Kopassus were on standby and were looking after the APCs. Also on-site were the tanks' commanders, who reviewed and approved every action that involved the tanks. For one, we couldn't have gotten inside one of the tanks had we not asked permission from its commander.
Here they are, then: the Anoa 6x6, the Bushmaster 4x4 and the Leopard 2A4.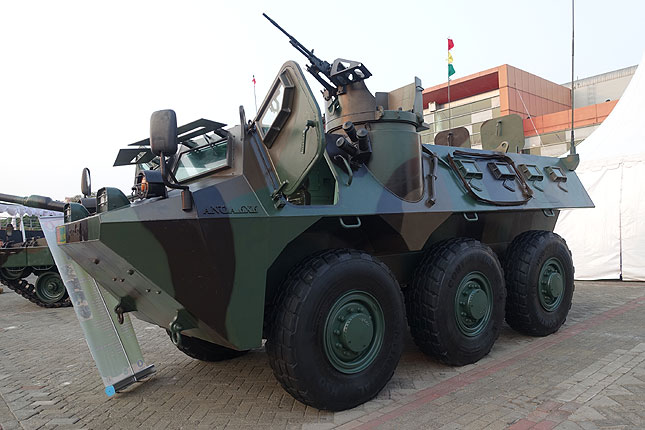 Continue reading below ↓
Recommended Videos
ANOA 6x6
PT Pindad, a state-owned company that makes weapons, assembled this $800,000 (about P37.4 million) carrier powered by a Renault engine from France and a transmission imported from Germany. The Kodam Jaya infantry unit has about 1,000 of this APC for use in recovery operations.
Getting in and out of the 2,170mm-tall APC is no easy feat if you have a knee injury. The lean and fit members of Indonesia's infantry don't seem to mind the lack of stepboards. The 6,000mm-long body can seat 13 passengers, including the driver and the leader, who rides shotgun.
We got the chance to take the seat of the leader, who takes charge of navigation and other fancy features including the smoke grenade. We didn't dare touch any switches and buttons, however tempting it was to tinker with one and see what it did. The Anoa has air-conditioning to keep its passengers comfortable, but it's also armed with other knickknacks (for towing and other operations) like ropes. And an APC can't be badass without guns and armored protection. This thing is equipped with 7.62mm-caliber and 40mm-caliber guns, and it can shield its passengers even against antitank mines.
Having six wheels and approach/departure angles of 45 degrees, the Anoa is undaunted by steep obstacles and can drive through heaps of soil and rock. Too bad we didn't get to drive it over the sacks of sand at the venue.
Named after an Indonesian buffalo, the Anoa has an in-line-six turbocharged Euro 3 diesel engine mated to an automatic transmission. The 13,600kg automotive beast has a top speed of 90kph and a fuel consumption of 1-2km/L. It's one thirsty animal, for sure, but it can store 200L of fuel in the tank.
Anoa 6x6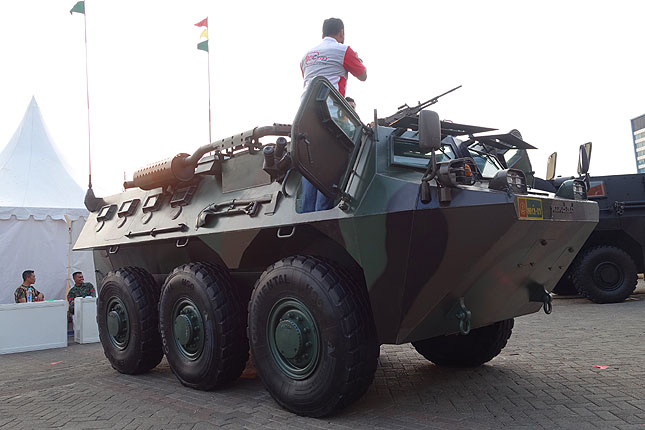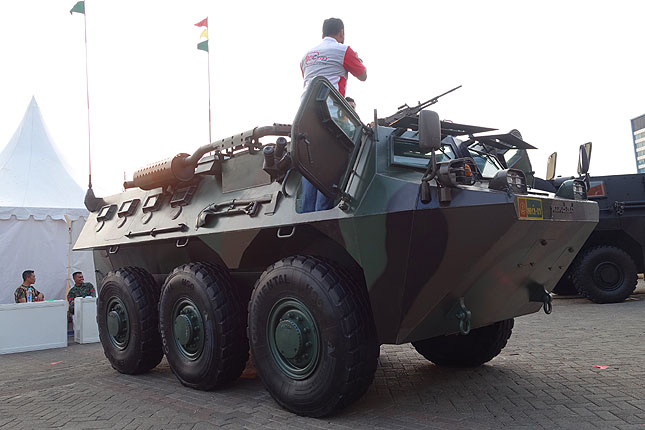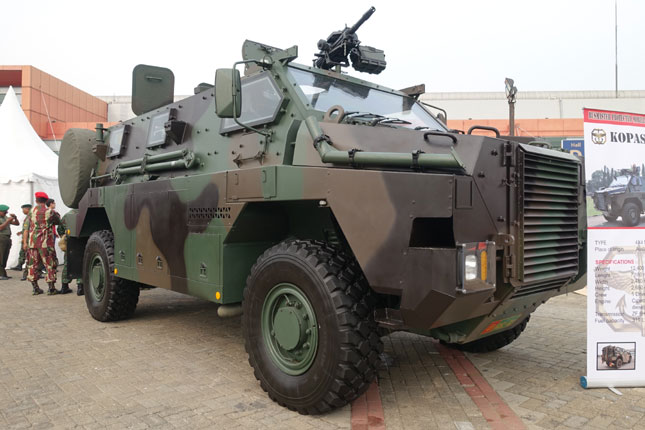 BUSHMASTER 4x4
Like the Anoa, the Bushmaster from Australia can also safely transport its passengers through terrain with antitank mines. Lighter than the Indonesian APC by more than 1,000kg and weighing only 12,400kg, this 4x4 vehicle is faster with a top speed of 120kph, according to Special Forces Agus Cahyono.
Because it's less bulky than its Indonesian counterpart, the Bushmaster is not as thirsty, sipping 1-4km/L of fuel. The Australian armored vehicle also has a bigger fuel tank capacity of 319L. A 7.2-liter Caterpillar 3126 turbocharged diesel engine powers the Bushmaster, which also has harnesses for towing cables and special compartments for weapons.
"Each member of the Special Forces unit should know how to drive and operate our armored vehicles," Cahyono said through an interpreter. Acquired in 2013, the 10-passenger Bushmaster has features suitable for urban firing and urban warfare. "It's used by the counter-terrorism division."
We got inside the armored vehicle. Unlike the Anoa, which has benches for its passengers, the Bushmaster has individual seats for its occupants. A blue light is used whenever the vehicle is in combat zone, most probably to keep it in stealth mode. A normal light may be used when the vehicle is just on display at a motor show.
Bushmaster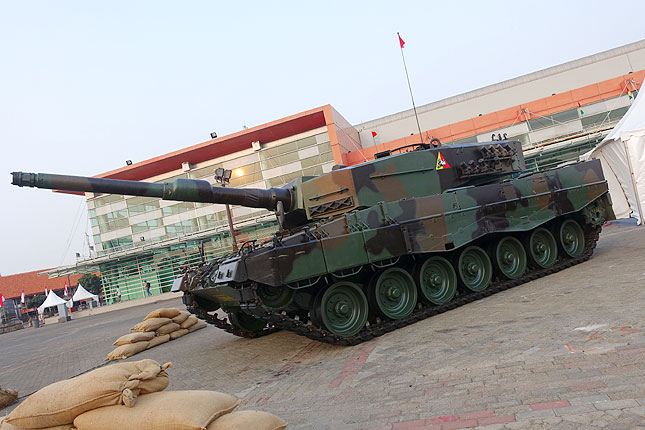 LEOPARD 2A4
Before we could even conduct an interview to learn more about this tank, 2nd Lieutenant Cavalry Corps Derry Harnada, the tank's commander, had to give his approval. And thanks to the young lieutenant, he also allowed us to get inside the 1,479hp Leopard 2A4, a battle tank imported from Germany and acquired by Indonesia in November 2013. "We've been using this tank for training and war demonstrations," Harnada said.
Unlike the Anoa and the Bushmaster which have seats for the entire barkada and A/C to keep them comfortable, this tank only seats four. Each passenger also has a designated job: driver, gunner, commander and loader. Oh, and it doesn't have air-conditioning. According to Harnada, it could get hot inside, but they're allowed to bring in food and drink inside the tank, in case you're wondering.
The gunner is responsible for firing the 120mm-caliber smoothbore weapon of the tank. The driver takes orders from the commander as to where to take the vehicle. The commander, on the other hand, does the navigation and gives the order to the tank's crew by communicating to them through radios attached to their helmets. He is also the only passenger who may communicate with other people outside the confines of their battle tank.
The tank's MTU 12-cylinder MB 873-Ka 501 diesel engine consumes 3L of fuel for every 1km. It sports 14 bogie wheels with four chain wheels. The Leopard has 16 smoke grenades (eight each on the left and right) that can be fired to cloak the tank as it makes an escape.
Maybe it's time for our government to invest in these vehicles and to deploy them on EDSA (wink, wink) when needed.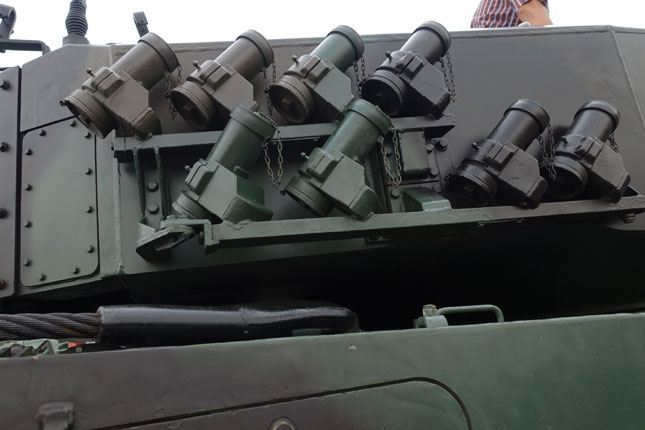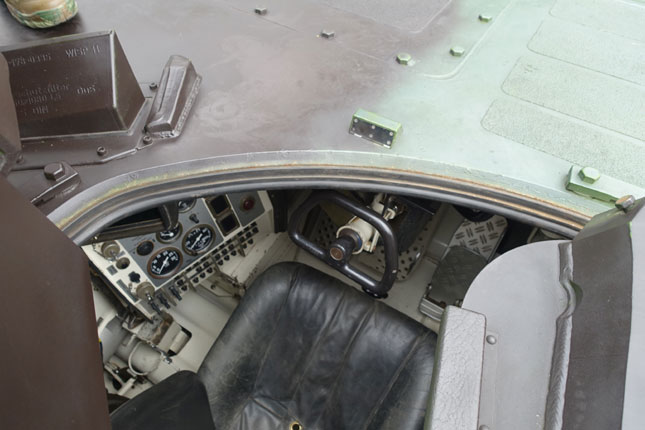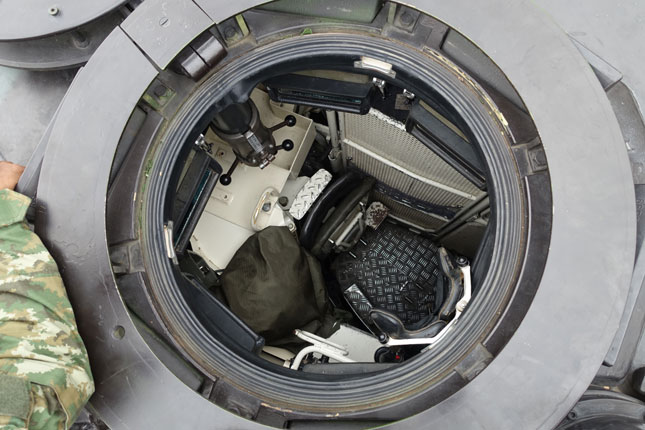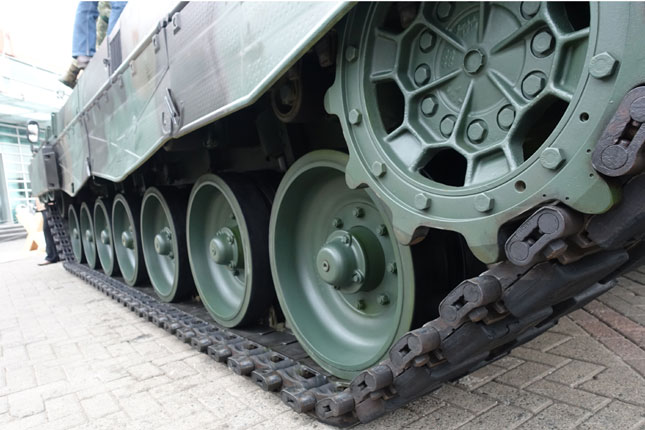 Photos by Tracy Carpena