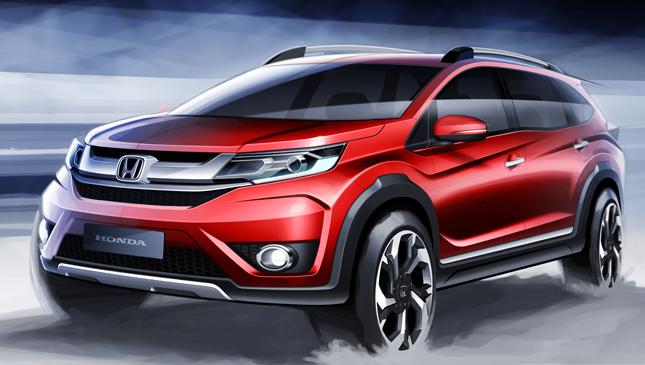 It all began with the Honda CR-V. First seen in the mid-'90s, the Comfortable Runabout Vehicle, along with the Toyota RAV4, changed the automotive landscape by offering car-like driving mixed with all-weather capability. These were soon followed by the HR-V, a smaller yet still capable urban SUV that likewise gave buyers a tall-riding car for both the weekday commute and the weekend getaway.
After almost two decades, it seems that Honda is once again set to shake up the industry by introducing yet another variant of its "runabout vehicle" lineup. Known as the BR-V, this soon-to-be-unveiled crossover promises even more versatility in a bold, unique package.
The Honda BR-V Prototype (which stands for Bold Runabout Vehicle) is a joint venture between Honda's Thailand-based R&D Asia Pacific arm and P.T. R&D Holdings of Indonesia. From the initial sketches, it can be seen that this BR-V is a mix between a CR-V and the smaller HR-V, albeit with a funkier vibe.
ADVERTISEMENT - CONTINUE READING BELOW ↓
Honda says that this model has been developed primarily for the Indonesian and Asian markets to address the growing demand for this type of vehicle. It will be powered by the Japanese carmaker's 1.5-liter four-cylinder engine--the same one used in the City and the Jazz--which will be paired with two cutting-edge transmission options. The seven-seater cabin boasts a three-row seating configuration and flexible cargo capacity. All this will be wrapped in a bold and stylish exterior shell that will set it apart from the competition.
While no other details have been revealed ahead of its debut, it seems that the new BR-V will once again change the way Asians move around. As previously mentioned, the CR-V was a game-changer when it first came out, and it looks like this new model will likewise do the same.
The Honda BR-V will make its official debut at the upcoming Gaikindo Indonesian International Auto Show this coming August 20-30. As for our market, we're still not sure if this car will make it here. But as with the CR-V and the HR-V, Honda might just pull a surprise and come up with a left-hand-drive version to suit our neck of the world. Stay tuned.
ADVERTISEMENT - CONTINUE READING BELOW ↓
Recommended Videos