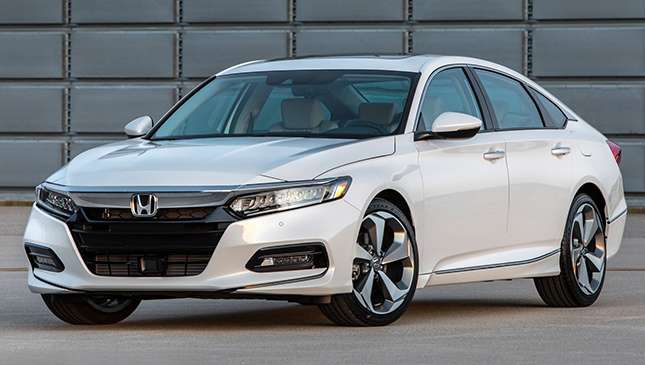 The all-new Honda Accord has been unveiled. The Japanese carmaker revealed the 10th-generation midsize sedan in Detroit, in what it calls a 'redefining' moment for one of the best-selling cars in the US.
With its new look, Honda turned to the fundamentals of design and proportion to come up with the Accord's athletic stance. It's low and wide, which the company says provides better visibility and seating position for the driver. The wheelbase has been extended by 55mm, but the overall length is cut by 10mm. You can choose between 17- or 18-inch alloys.
A larger chrome wing front-grille and air intake drop all the way down the bolder front fascia, and the long, low hood provides a sporty appearance. Lighting the way are sleek, swept back nine-lamp LED headlights. The roof arches and merges seamlessly with the sides and rear, too. At the back are futuristic taillights and dual chrome exhausts. The overall design is very angular, modern, and premium.
Inside, the Accord gets more space and tech to go along with the cabin's premium vibe. The trim and dash materials are soft to the touch, Honda says, and the driver's side features a 'sport-inspired' steering wheel. The seats are equipped with improved padding as well.
While the eight-inch infotainment screen is new, the center console still features physical dials and buttons for better tactile feel. Aside from Bluetooth capability, it provides 4G in-car WiFi, and Apple CarPlay and Android Auto compatibility. New tech features include stolen vehicle tracking, remote diagnostics, and speed tracking among others.
The big changes come with the Accord's chassis and drivetrain. The former is lighter and more rigid thanks to ultra-high-strength steel which makes up more than 54% of the vehicle. Total weight is cut by between 50 and 80kg, depending on the trim. Torsional and bending rigidity have been dramatically improved, resulting in better ride quality and NVH levels.
You can choose between three new engines: a 1.5-liter turbo DOHC (192hp, 260Nm), a 2.0-liter turbo DOHC (252hp, 370Nm), and a 2.0-liter hybrid (no specs yet). What's more, the 2.0-liter turbo variant is available with Honda's revolutionary new 10-speed transmission—a first for a FWD car.
Hopefully Honda Cars Philippines brings in the 10th-gen Accord into the market before (if ever) the automotive excise tax hike hits. Keep your fingers crossed, guys.