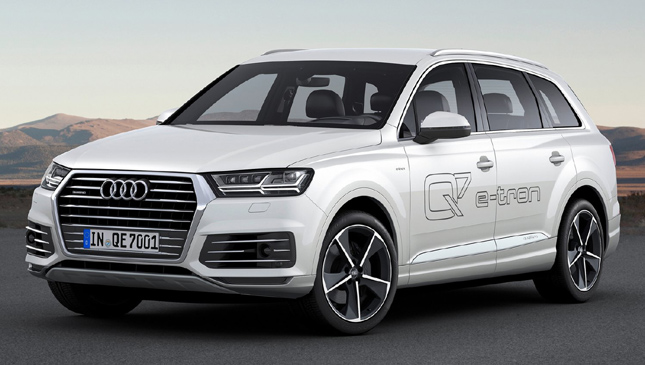 Leave it to Audi to always be at the forefront of vehicle technology. The German premium car brand is at the top of the heap when it comes to all-wheel-drive innovation with its Quattro system. Then there's the vaunted Audi Spaceframe technology. And lately, it has been lighting the way with laser headlights.
Yet the most cutting-edge innovation from the carmaker has to be the e-Tron electric hybrid vehicle, particularly the new Q7 e-Tron 3.0 TDI Quattro. As the name implies, this flagship SUV employs a 3.0-liter turbo direct-injection V6 diesel engine together with an electric motor, and a 17.3kW lithium-ion battery. This combo gives the newest Q7 a total system output of 373hp and a robust 700Nm. What's more amazing is that this diesel hybrid 4x4 SUV consumes just 1.8L per 100km, and can run on pure electricity up to an estimated 56km--more than enough for an efficient and clean commute to and from work.
Speaking of driving fun, the Q7 e-Tron 3.0 TDI Quattro promises this with a claimed 0-100kph sprint time of just 6.2 seconds. And thanks to Quattro all-wheel drive, owners can count on surefooted grip and a dynamic drive both on and off the beaten track. Moreover, the system features a new thermal management system for improved operating efficiency in all conditions.
When it comes to charging, the new SUV is packed with a charging cable for filling up at public stations, along with connectors for both domestic and industrial sockets. The multiport connection also features a graphic display and a two-phase charging cycle that can load up to 7.2kW in just two-and-a-half hours. Drivers can closely monitor the state of power usage and delivery via a power meter, an energy-flow meter, state of charge, and driving range--all displayed on the large high-resolution TFT screen. Other neat features are Audi Connect e-Tron services and Audi MMI Connect, which owners can use to control charging procedures and interior climate, and even to check logs of their past trips from their smartphone.
In Germany, the Audi Q7 e-Tron 3.0 TDI Quattro will be available for order beginning this month at a price of 80,500 euros (P4,135,464). Deliveries will start later this year. How we envy those lucky Germans.