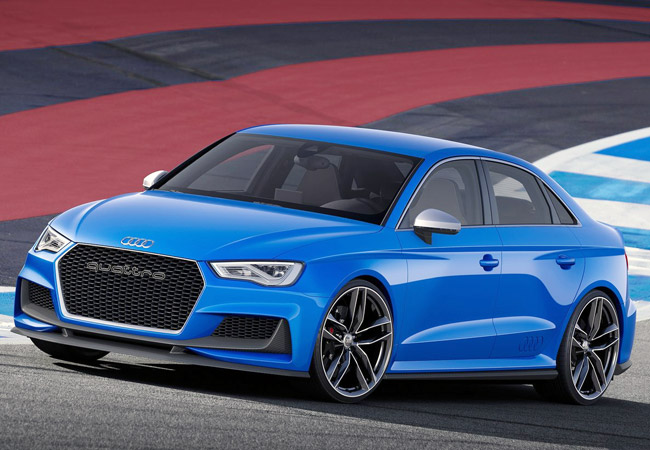 There's an annual meeting of fans of the Volkswagen Group brands (Audi, Bentley, Bugatti, Lamborghini, Porsche, Seat, Skoda and VW) held in Germany called Worthersee Meeting. This year's event will be held in Reifnitz on May 28-31, and Audi is displaying the A3 Clubsport Quattro concept there.
The concept car is based on the S3 sedan and features a 2.5-liter TFSI five-cylinder engine that produces 525hp and 600Nm. Audi claims this 1,527kg thing goes from zero to 100kph in 3.6 seconds before reaching a top speed of 307kph.
"The Audi A3 Clubsport Quattro concept shows our fans at the Worthersee just how much sporty potential there is in the A3 family and in our top-of-the-line engines such as the 2.5 TFSI," said Volkswagen Group board member Prof. Dr. Ulrich Hackenberg. "We have pushed the limits in every respect with this show car: power, dynamics, sound, design. The powerful five-cylinder TFSI engine is already available in the first ever SUV to wear the renowned RS badge--the RS Q3. The turbocharged engine with direct injection boasts an impressive CV: Since 2010, it has been voted International Engine of the Year in its category four times in succession."
The A3 Clubsport Quattro concept is equipped with a seven-speed S Tronic transmission with a compact three-shaft layout. The "tall seventh gear reduces fuel consumption, and the final gear ratio has been modified accordingly," the press statement said.
Continue reading below ↓
Recommended Videos
The concept car has been given 21-inch alloy wheels wrapped in 275/25 tires. The internally vented front brake discs, meanwhile, measure 370mm in diameter. All four discs are made of carbon-fiber ceramic.
The A3 Clubsport Quattro concept is said to be based on the modular transverse matrix, which "enables a low center of gravity and a finely balanced distribution of axle loads, which is a prerequisite for the car's handling ability. Hot-shaped steel components in the floor of the passenger cell form a strong structure. The extreme strength of the steel allows for thin walls and thus very low weights."