Numbers first, because the Bentley Mulliner Bacalar is not about numbers—it's about details. So we'll concentrate on the details, and get the figures out the way right now.
An uprated bi-turbo W12 engine developing 650hp and 904Nm. A top speed of over 320kph. Huge 22-inch wheels sitting 20mm further apart than on a Bentley Continental GT. Two seats. Only 12 to be built. And a price tag, before taxes, of £1.5 millon (P97 million). Which didn't put anyone off—each Bacalar is already spoken for.
So, what is this car? Another garage queen for the hyper-rich? Bentley insists it's a much more important machine. This car is a launchpad for its bespoke division, Mulliner, to cater to the most rarefied, expensive tastes in the car world.
Continue reading below ↓
Recommended Videos
If you want to say something about how well you've done, you can buy a Bentley. But if you want your Bentley to really say something about you, go to Mulliner, and get something tailored. This is the first of many Mulliners, the carmaker hopes. And this one's done rather handsome business.
At £1.5 million each, the whole project will bring Bentley £18 million (over P1.1 billion), before it's paid for the new carbon-fiber front and rear wings, the new lights, the fresh wheels, and so on. Now, the chassis, engine, and running gear is based on the Continental GTC's, which sells for around £150,000 (P9.7 million).
So, to justify the extra zero on the sticker, the Bacalar—named after a Mexican lake whose unusually blue hue is reflected in the car's digital dial display—has to ramp up the attention to detail. Why not, after all, just buy a Continental GTC?
Take the bespoke paint. It's called Yellow Flame, and it's extremely metallic. Not thanks to flecks of glitter, but ash from rice husks that create a 90% pure silicon-dioxide pigment platelet. We didn't pay enough attention in chemistry to understand the method, but we can report the finish is stunning, with purple highlights buried in the paint. Plus, it's a more sustainable, eco-friendly process. Not to mention frightfully pricey...
The front and rear wings are carbon fiber, allowing creases and lines that wouldn't be possible with metal. The main hard points they're fixed to are all Continental GT, but check out those bespoke front and rear lights, and the new bumpers with their aggressive, almost BMW M-like grilles, vents, and diffuser. A few of those details come from concepts like Bentley's EXP 100GT, or the older Speed 12. Some seem to ape Ferrari-style aero aggression. This is a Bentley with attitude outside, and supreme class inside.
Can an open car with no provision for any kind of roof at all have an 'inside'? Hmm. Anyway, to the cockpit. It all looks very familiar and Continental GT, but there are many new details here. The center console has been raised, to create a cocooning, single-seater feel. The round vents have been swapped for open grilles. There's cavernous depths behind each seat, to hold the bespoke Bacalar luggage. But really, this thing is a one-stop show-off shop for improbable materials.
See the wood trim? Giant cuts of veneer are always impressive in the Bentley, but the Bacalar's is even more special. You're looking at Riverwood, and it's estimated to be over 5,000 years old.
Essentially, it's wood from trees that died millenia ago, but fell into wetlands in the east of England and were preserved in the wet earth. It's got a dark, musky tone, and had to be dried out painstakingly slowly to stop it from cracking.
This particular Bacalar's been fitted out with wool and tweed upholstery, but the 12 customer cars could be swathed in anything from moose-skin to moon-dust. Each quilted seat features precisely 148,199 stitches in its material. The texture on the controls is of a new pattern, just for these 12 cars. If you're a squillionairre miffed that the Bugatti Chiron is strictly a hard-top only, this may well be the answer to your disapproval.
If you got your deposit down in time, that is...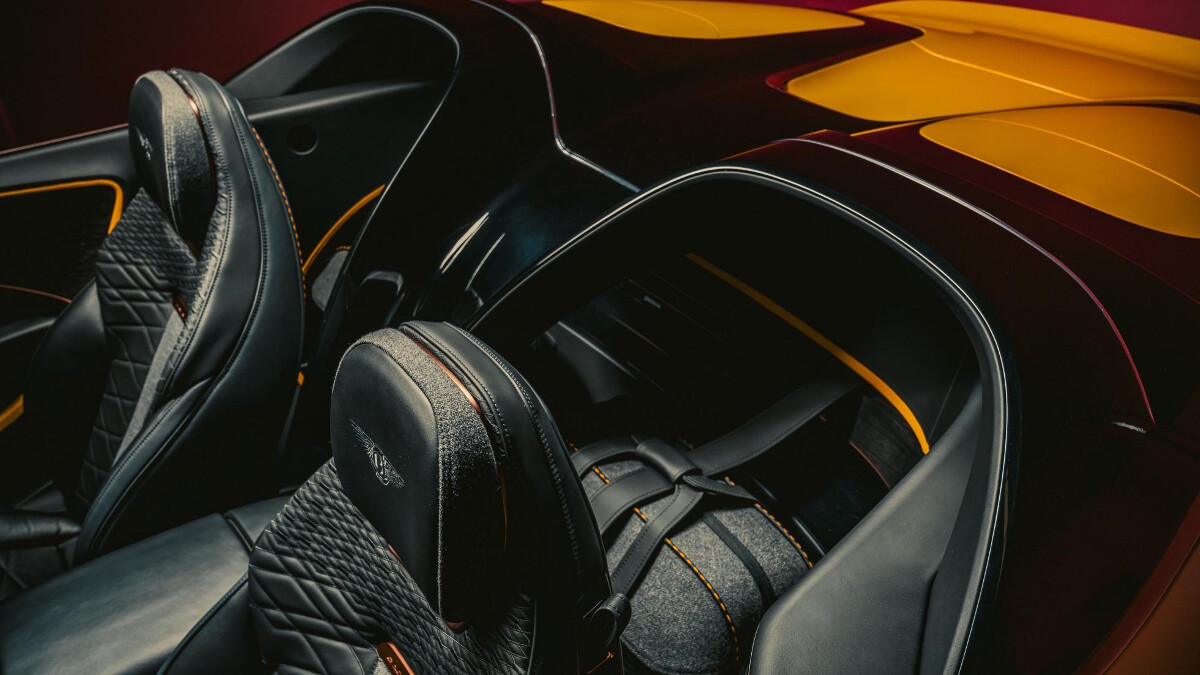 NOTE: This article first appeared on TopGear.com. Minor edits have been made.