Settle down, we've got a lot to get through here. This is the new BMW 3-Series sedan, and first of all, it has stolen Peugeot's headlights. Look! Bookending the merged kidney grilles are headlights with little notches of bodywork eating into them. Very Peugeot 3008.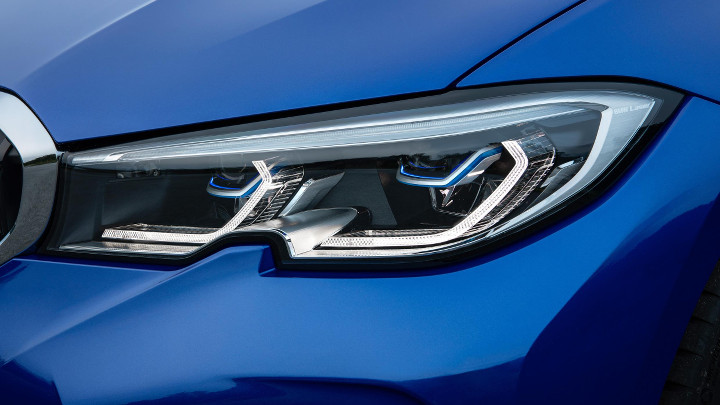 Fortunately, the headlines don't stop there. Though while we're dealing with the looks, isn't it pleasant to have a new BMW that doesn't make you want to wretch in the design studio's face? Take note, X2, X3, X4, X5, iNext, 6GT…
The agreeable styling is draped over a body that's 85mm longer and 16mm wider than the previous model. The unhelpful bloat disguises a 41mm longer wheelbase, which liberates the most cabin space of any 3-Series to date.
And yet, this XXL seventh-gen version is said to be 55kg lighter than its predecessor. A whole 15kg of that comes from fitting an aluminum hood and front wings. Using aluminum for the front suspension struts and the engine subframe has cut 7.5kg. Meanwhile, structural rigidity is up between 25% and 50% across the car. Because a stiff chassis means more ultimate driving machine, ja?
ADVERTISEMENT - CONTINUE READING BELOW ↓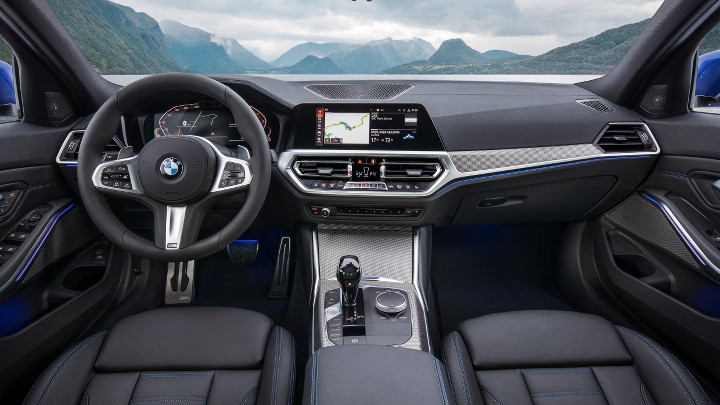 Inside, BMW has finally stopped fiddling with its '90s design themes and gone chasing after Audi's and Mercedes' modern-cool ambience. We've got a 12.3in digital instrument display that lies flush with a widescreen iDrive console. Metal buttons add a touch of class to fiddling with the air-conditioning. There's ambient lighting and more sculpture to the shapes and surfaces, and the center console's been thoroughly reimagined.
Down between the seats, next to the stubby new gear lever, is the new home for the engine-start button, and individual mode buttons for the different driver settings. Right next to the auto hill-hold switch, too. Good luck hitting the right toggle when you arrive on a twisty B-road and fancy indulging the trademark 50:50 weight balance and rear-drive chassis…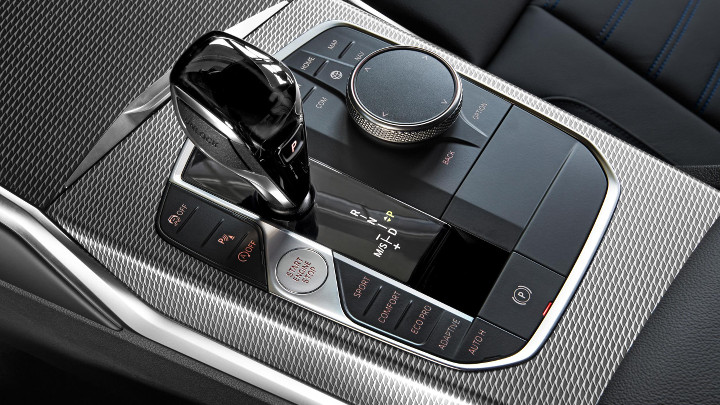 ADVERTISEMENT - CONTINUE READING BELOW ↓
Recommended Videos
Oh, and this is the first 3-Series to ditch a manual handbrake. Like most cars nowadays, it's got a switch instead, freeing more space for your giant smartphone to live instead, we suppose.
Adaptive suspension is optional, as is xDrive all-wheel drive. At launch, you've got a choice of a 320d diesel with 187hp and 400Nm, good for 0-100kph in 6.8sec if you spec the eight-speed Steptronic gearbox, or 7.1sec if you stick with the (all-new) six-speed manual. The 320d xDrive is slightly slower on paper, but is quicker on snow and ice, if you catch our, um, drift.
Petrol duties are handled by the four-cylinder turbo 330i with 254hp and a 5.8sec 0-100kph sprint. It returns a claimed 20.7km/L and 132g/km, to the diesel's 28.6km/L and 110g/km. The initial lineup also includes two lower-spec engines: the 181hp 320i and the 148hp 318d. Later on, there'll be a plug-in 330e hybrid to make the company car-fleet manager's choice a little easier (and diesel's job tougher still).
Basically, the new 3 is a big collection of numbers, all of which are quantifiably better than the last one. The trunk is 36 liters bigger. There's 11mm more rear legroom. Optional laser headlights can peer 350m into the gloom. The standard stereo offers 100 watts; the cost-extra Harman Kardon hi-fi ups that to 464 watts.
And, instead of a dizzying array of optional trims and configurations, there are now merely six option packs and 10 single options for the car. That's BMW following suit with Audi and Mercedes, but it makes sense when these cars depend so heavily on which tech boxes you tick. Before any are selected, the new 3 starts at £33,610 (P2.4 million here, before duties and taxes).
ADVERTISEMENT - CONTINUE READING BELOW ↓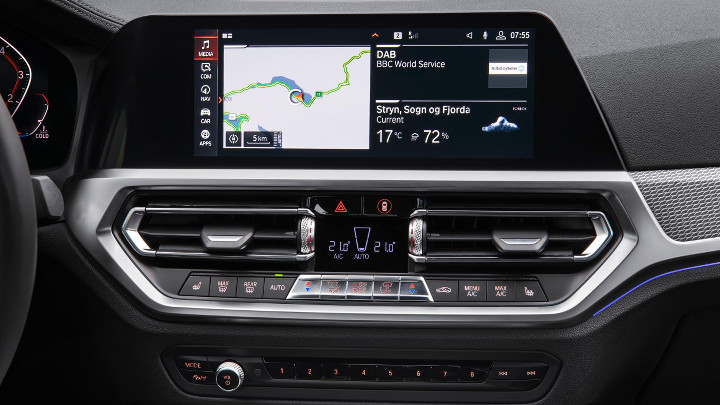 BMW has also followed Mercedes into the 'say hey' game with a new Siri-like voice assistant that's ready and waiting to do your bidding as soon as you utter 'Hey BMW.' The company says "BMW's Intelligent Personal Assistant learns routines and habits, and is subsequently able to apply them in the appropriate context. The system helps the driver, learns their preferences and is familiar with their favored settings—for example, for the seat heating or the places they drive to frequently using the navigation system." Very clever. And somehow terrifying.
Plus, there's remote driverless parking, you can unlock the car with a smartphone app (so long as you own a Samsung Galaxy model), and BMW says its utterly pointless gesture control has learned two new gesticulations. The mind boggles to what they could be.
So, you're up to speed on the new BMW 3-Series. Now, go. Lie down in a darkened room and contemplate how many of these things you'll clap eyes on in the next seven years. All with Peugeot headlights you can't unsee…
Note: This article first appeared on TopGear.com. Minor edits have been made.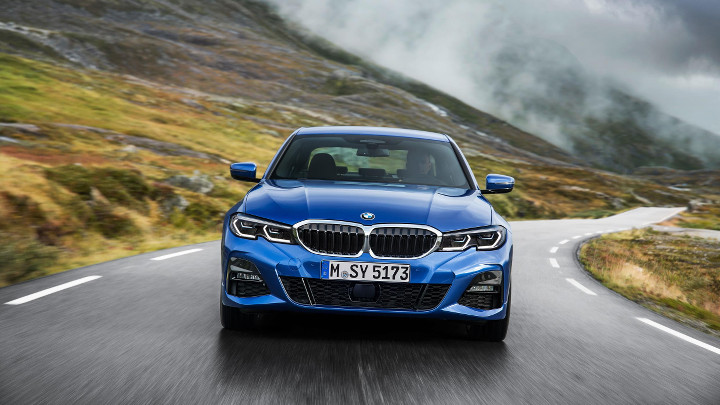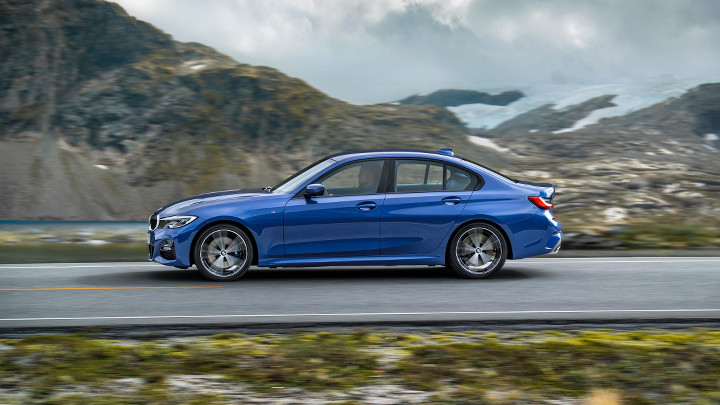 ADVERTISEMENT - CONTINUE READING BELOW ↓