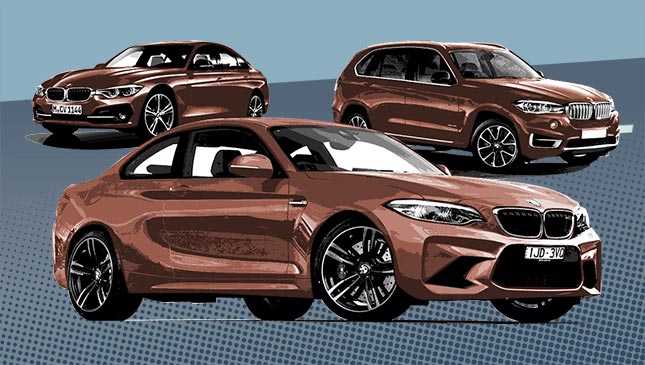 BMW's official Philippine distributor has released its 2018 price list update. You're either going to be ecstatic or bummed depending on which model you've been eyeing.
If you're a fan of the German carmaker's sportier models, read carefully. While cars such as the 2-Series Grand Tourer may have seen a price drop (from P2,950,000 to P2,790,000), favorites like the 320d M Sport saw a price increase. The more energetic version of the 3-Series now costs P4,090,000 compared to P3,990,000 the year prior.
On the other hand, the M2 Coupé has gone from P6,890,000 in 2017, to just 5,590,000. Sad news if you wanted its larger brother, because the M3 sedan went from P8,580,000 to P9,690,000. As for its bigger lineup, the X1 goes from P3,590,000 to P3,690,000, and the X3 xDrive20d xLine from P4,400,000 to P4,390,000. And yes, that's the price of the upcoming X3 to be launched next week.
Continue reading below ↓
Recommended Videos
We'll update this story with a full comparison against the company's 2017 prices as soon as possible. For now, check BMW's new rates and lineup below. So, did any of your dream cars take a hit from the Tax Reform for Acceleration and Inclusion law?
BMW
MODEL
2018 PRICE (PESO)
1-Series
118i M Sport
2,690,000
2-Series
218i Gran Tourer
2,790,000
3-Series
318d Luxury
3,550,000
320d M Sport
4,090,000
320d Gran Turismo Luxury
4,290,000
4-Series
420d Gran Coupé Luxury
4,590,000
5-Series
520d Luxury
4,950,000
520d M Sport
5,390,000
530d Luxury
7,390,000
7-Series
730Li Pure Excellence
8,990,000
740Li Pure Excellence
10,490,000
X1
X1 xDrive20d xLine
3,690,000
X3
X3 xDrive20d xLine
4,390,000
X3 xDrive20d M Sport
4,590,000
X4
X4 xDrive20d M Sport
4,890,000
X5
X5 xDrive25d
5,590,000
X5 xDrive30d M Sport
7,890,000
X6
X6 xDrive30d M Sport
8,490,000
M Cars
M2 Coupé
5,590,000
M3 Sedan
9,690,000
M4 Coupé
9,790,000
X5 M
12,590,000
X6 M
13,190,000