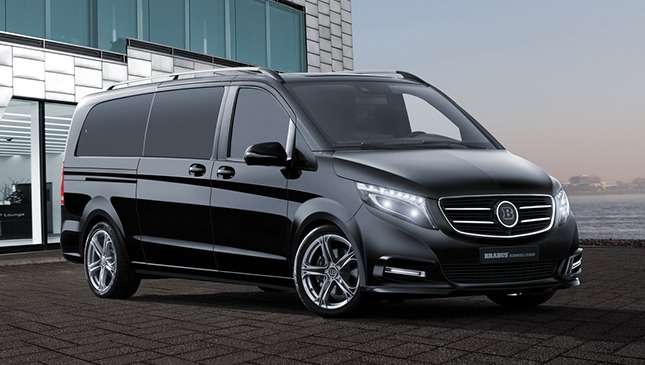 Remember Pimp My Ride? If there's one thing we picked up from watching the boys at West Coast Customs work their magic, it's that a car can never have too many screens. One problem was more often than not, they went overboard. Because if hooking-up a Mercury Cougar with a 32-foot projector screen isn't, then we don't know what is.
Want to see in-car entertainment done right? Check out what Brabus did when it got its hands on a Mercedes-Benz V-Class. The Brabus Business Lounge features a 40-inch TV screen that can be raised or lowered with the partition separating driver and passenger. The feature is powered by the Brabus Media Center and Brabus Cloud through a touchscreen in the center console, allowing occupants to play videos, music and presentations from their devices through the aforementioned screen and custom HiFi sound system. By the way, you can set up a PS4 Pro inside, a la West Coast Customs.
Continue reading below ↓
Recommended Videos
VIP Business Seats with power-extendable footrests that can be adjusted to a full sleeping position allows passengers to enjoy the state-of-the-art entertainment system in as comfortable a manner as possible. They're heated and feature a massage function as well as adjustable lumbar support. The interior is lined with fine leather and Alcantara and wood or carbon fiber elements.
Other niceties include an integrated fridge, a coffeemaker, a bar compartment and high-speed LTE router. For privacy, the Brabus Business Lounge gets the company's Magic Glass, allowing passengers to adjust window opacity with the touch of a button, and an electronic safe.
Outside, the car gets 19-inch Monoblock alloy wheels, four stainless steel sports exhausts, side air intakes and a front spoiler. The van packs an enhanced four-cylinder turbo diesel engine capable of 235hp and 510Nm of torque with a top speed of up to 210kph. All in all, the whole package will set you back around €298,000 (P15.8 million). Wow.
Frankly, this van would put any of Xzibit's creations to shame. Want to see more of the Brabus Business Lounge? The vehicle will be making its debut at the upcoming 2017 Geneva International Motor Show.