Where the Bugatti Chiron Sport 300+ blitzed the top-speed run—and broke records and the hearts of rivals in the process—so this new Chiron is built for blitzing corners. It is officially called the Bugatti Chiron Pur Sport, and you must officially ready your finest driving gloves.
Let's start from the bottom. Bugatti's engineers stiffened up the front springs by 65% and the rear springs by 33%, as well as tweaking the adaptive dampers for better performance. 
They also added carbon-fiber stabilizers all around, and fitted new, rather special 16kg lighter wheels (wrapped in special Michelins), 2kg lighter titanium brake-pad base panels, and 1kg lighter titanium discs.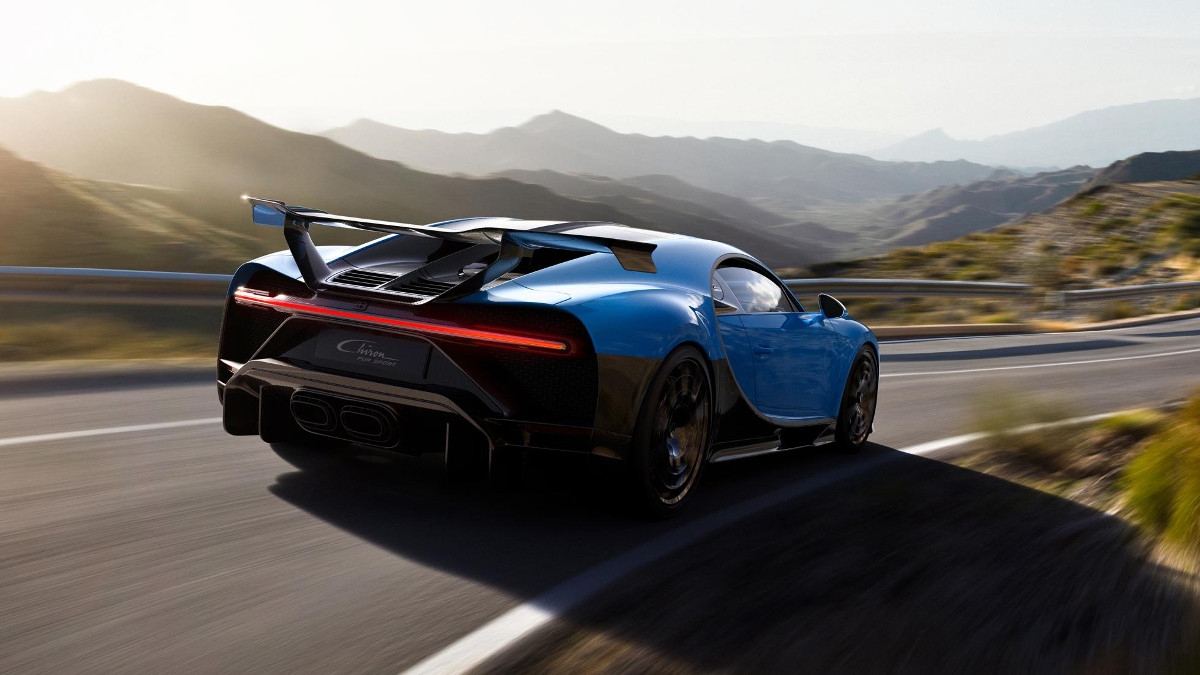 Continue reading below ↓
Recommended Videos
All in, we're told this sharper, corner-hungry Chiron is 50kg lighter in total than the 'regular' Chiron, and steers "more directly and accurately through bends." Consider you've got a 1,479hp 8.0-liter W16 engine lurking behind you, and that's a lot of speed to carry through said bends.
There's an additional Sport+ drive mode that delays the deployment of traction control on a dry track, so get as lairy as you like. Indeed, the 1,479hp is unchanged from the standard car, but that quad-turbo W16 redlines 200rpm higher (at 6,900rpm), and is attached to a revised seven-speed gearbox with closer ratios.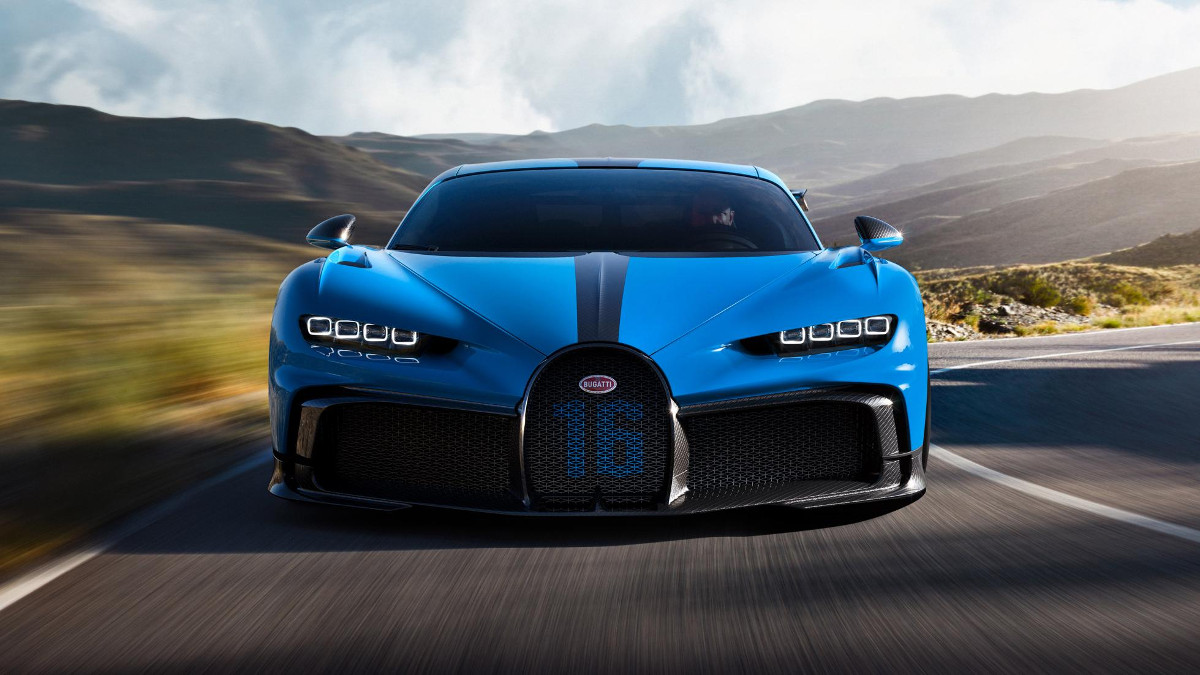 Yes, top speed has been reduced to 350kph because of downforce, but it'll go from 60kph to 120kph two seconds faster than before. And anyway, 350ph is really quite fast enough already, thank you.
Oh, yeah—downforce. The car has sprouted a new rear diffuser, but something bigger is at play here. Literally bigger: Out goes the hydraulically extending spoiler (saving 10kg), and in comes a 1.9-meter-wide fixed rear spoiler pinched from the pages of science fiction. No, really: Bugatti says the 'X' wing mounts that attach said scaffolding to Chiron is inspired by "science fiction and motorsport." More of that, please, Bugatti.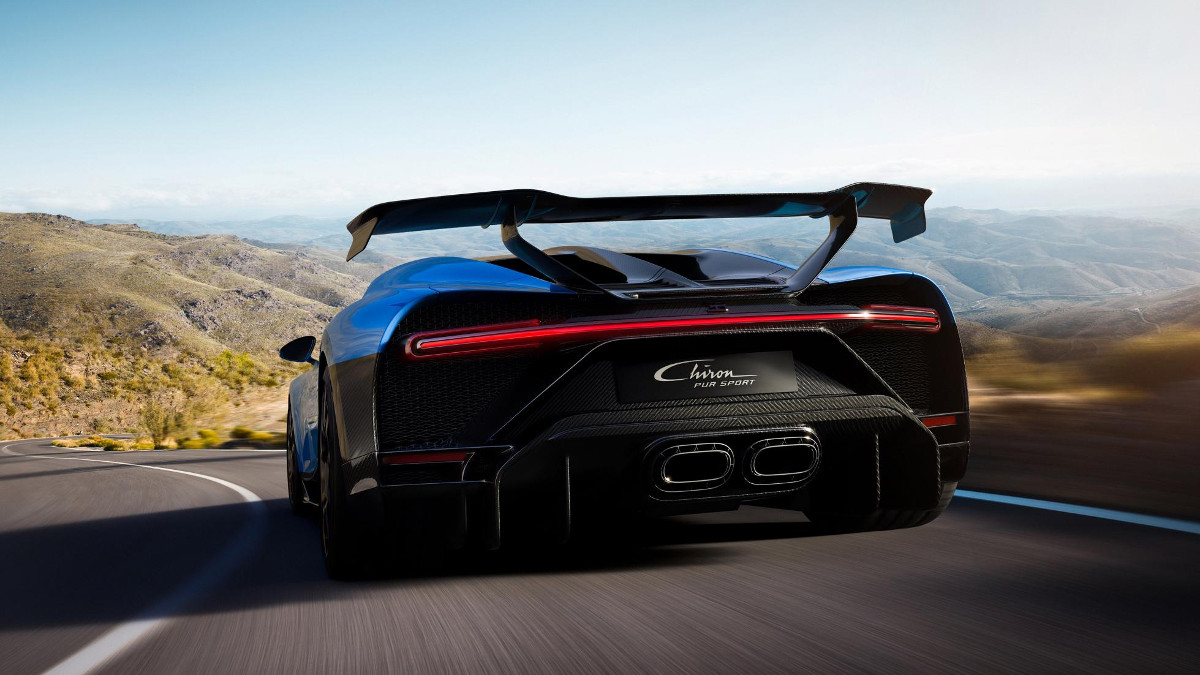 The lightweight exhaust has been 3D-printed from titanium, and will no doubt make that W16 sing just a little louder. Elsewhere on the body, you'll spot wider front air inlets, a larger horseshoe panel, and a monster front splitter. The bottom of the Pur Sport features exposed carbon fiber, too, the reason being...it just looks fantastic, all right?
There's lots of alcantara inside, lasered patterns on the door trim panels, and everything is either black, anodized aluminum, or titanium.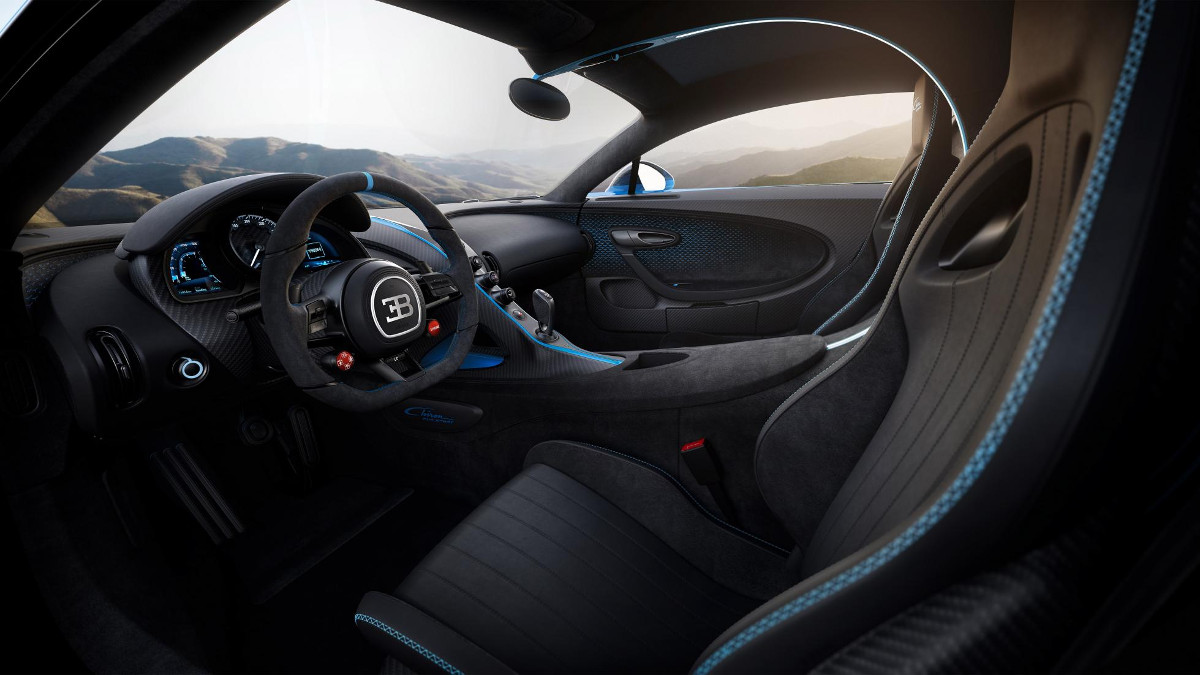 "We spoke to customers and realized they wanted a vehicle that is geared even more towards agility and dynamic cornering," explains Bugatti boss Stephan Winkelmann. "A hypersports car that yearns for country roads with as many bends as possible."
Just 60 will be built, with each one costing €3 million (around P170.3 million) plus local taxes. "We have come full circle, back to the good, old Bugatti tradition," Winkelmann says. Circle, yes, but also corners. Like we said, warm up those driving gloves...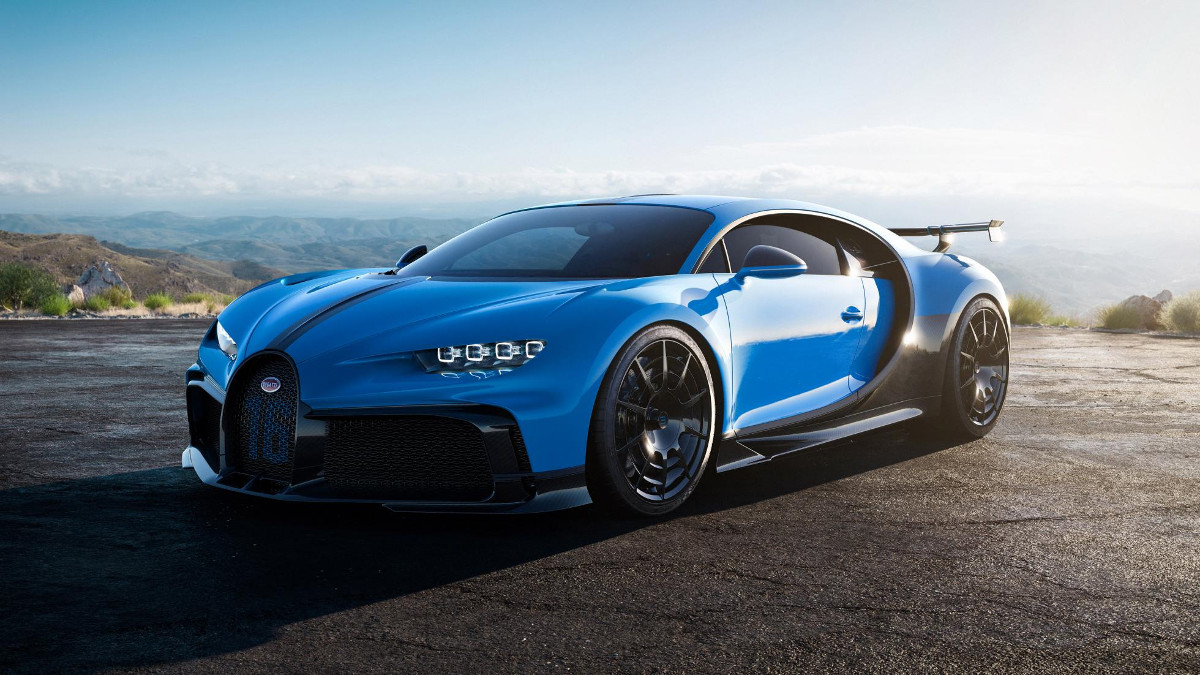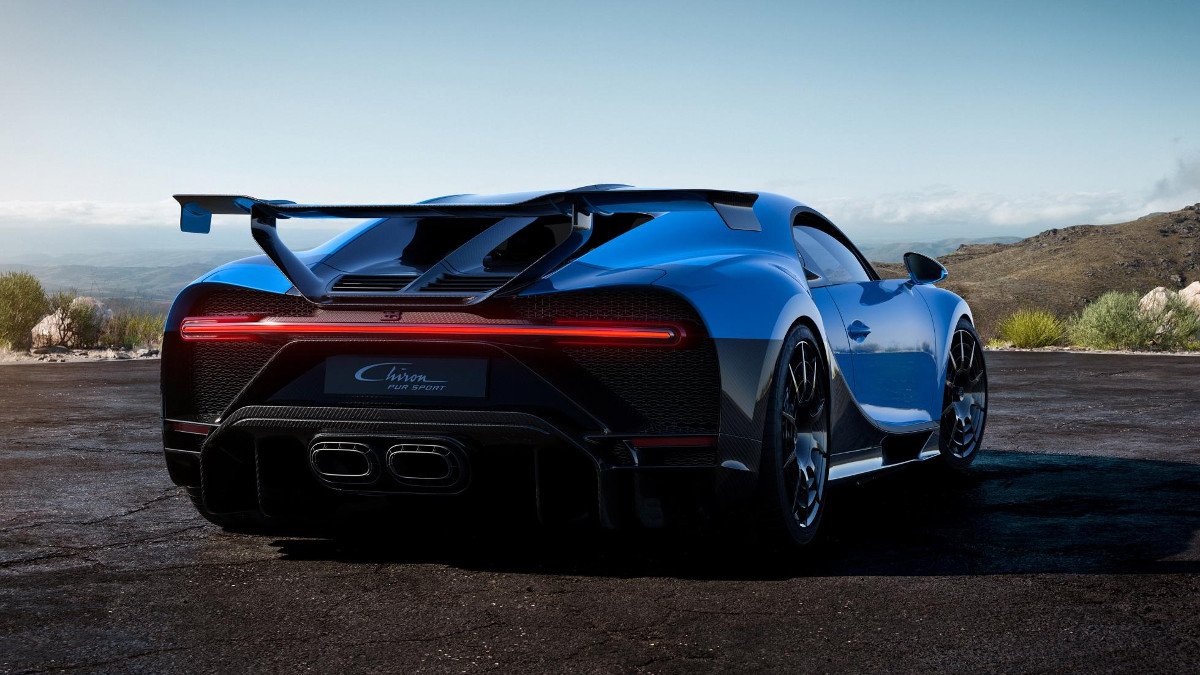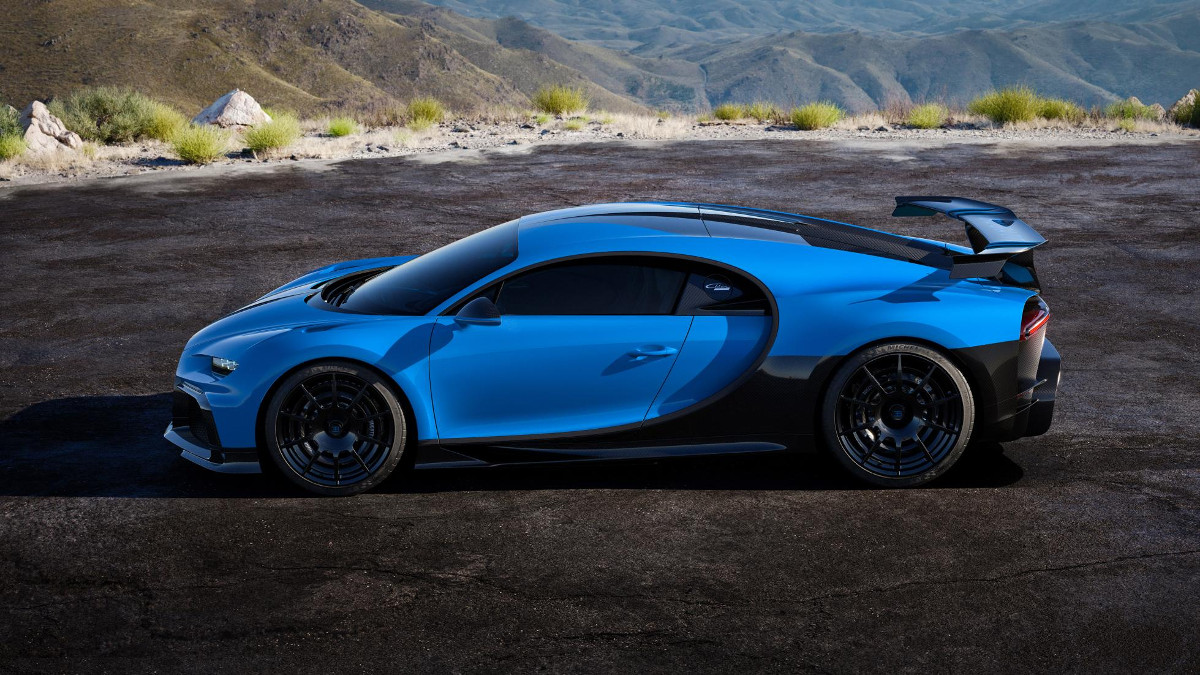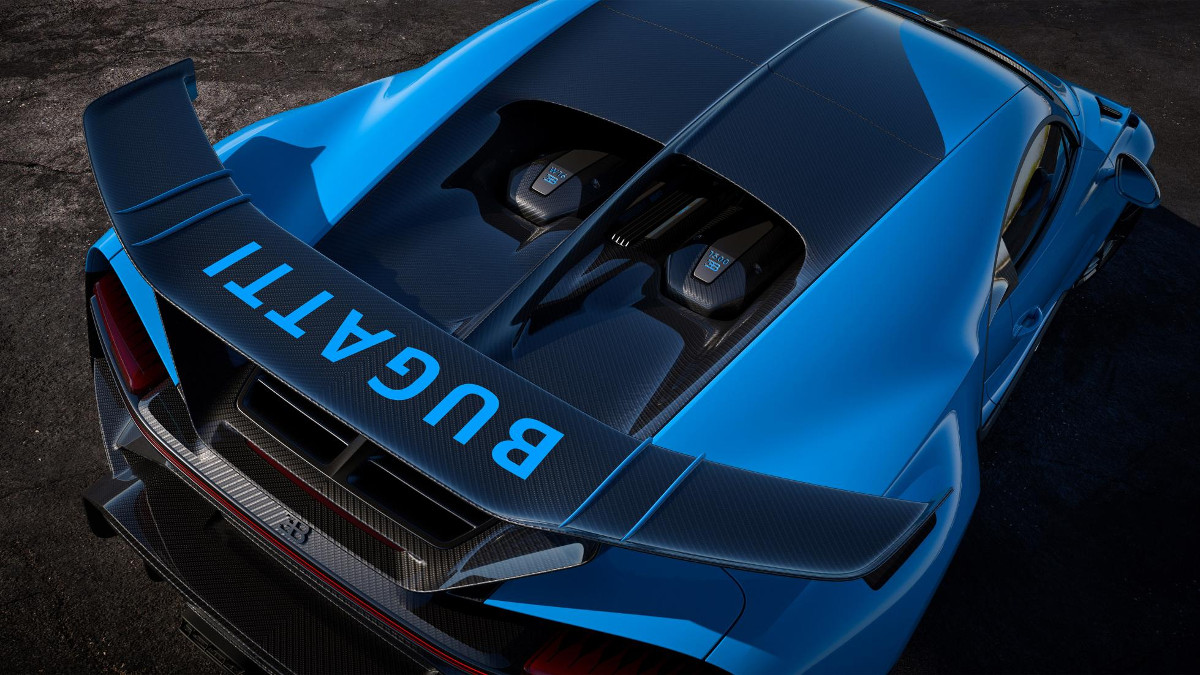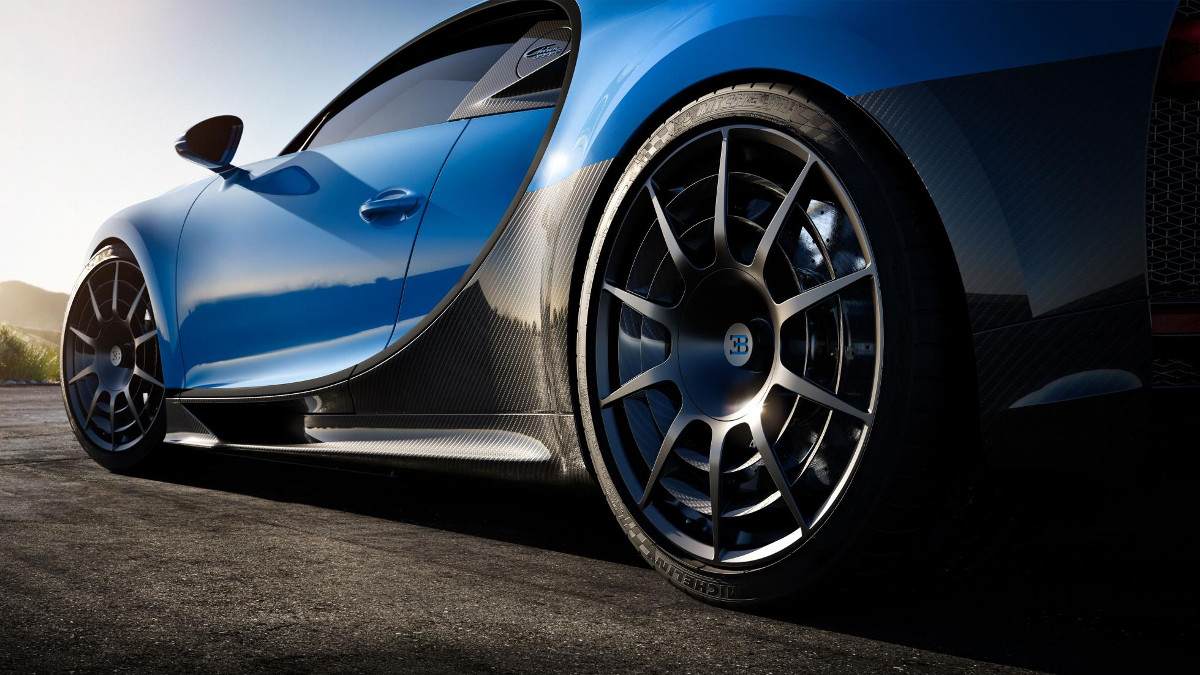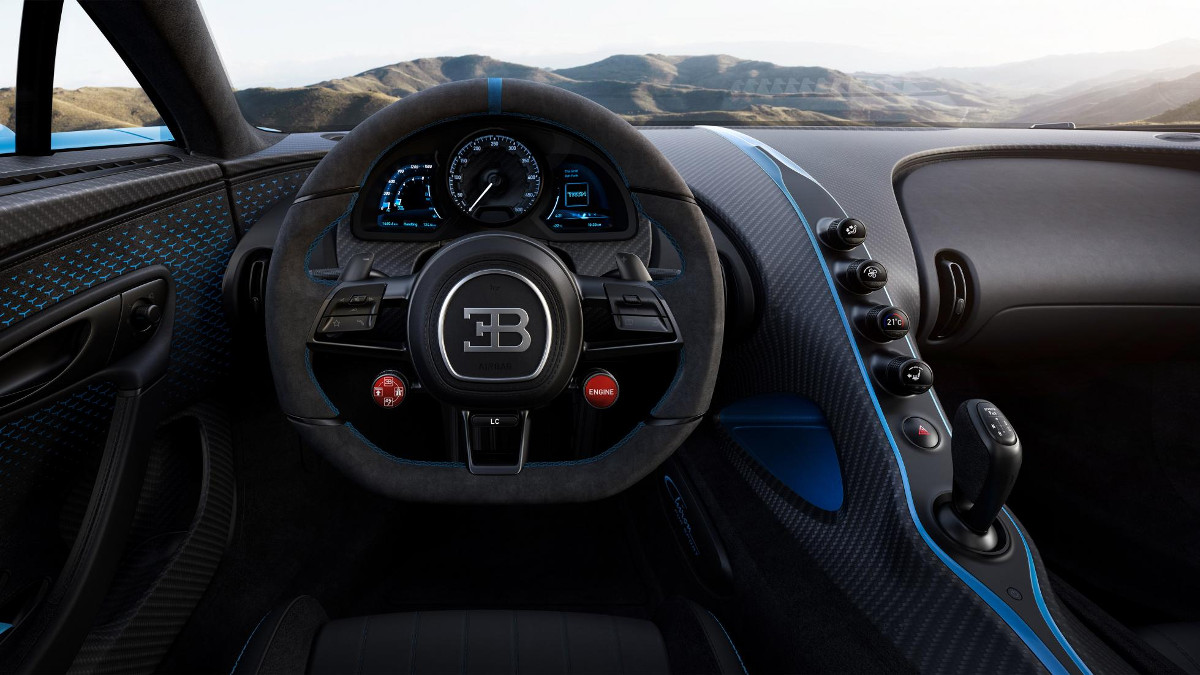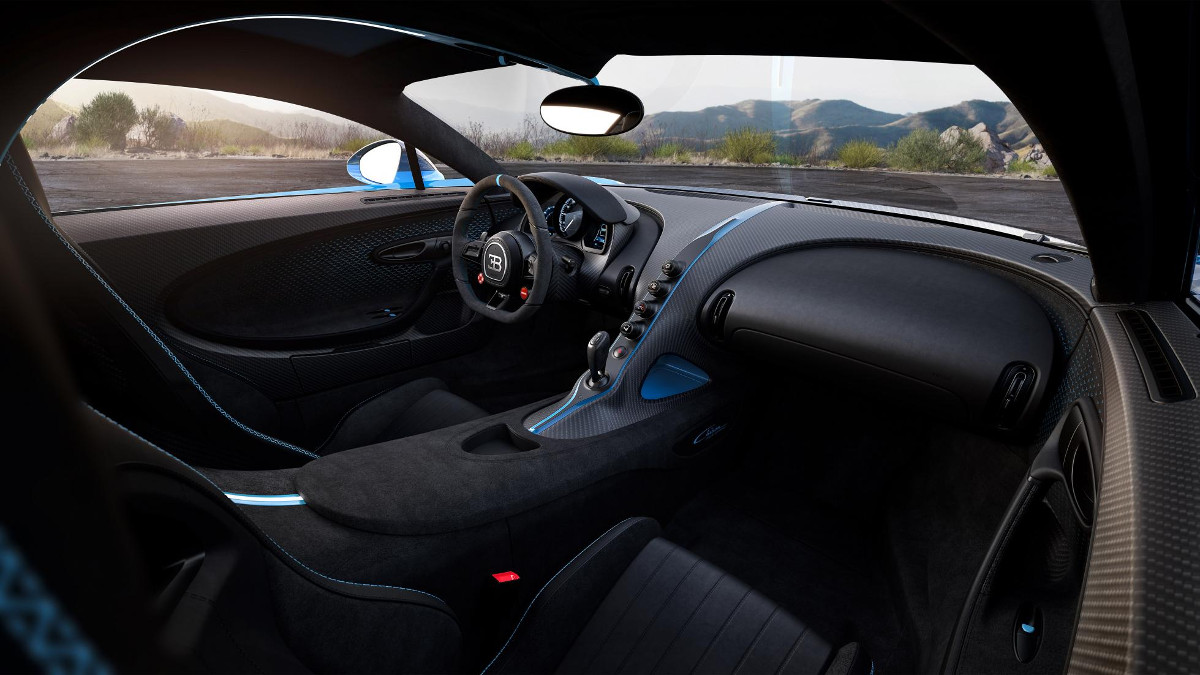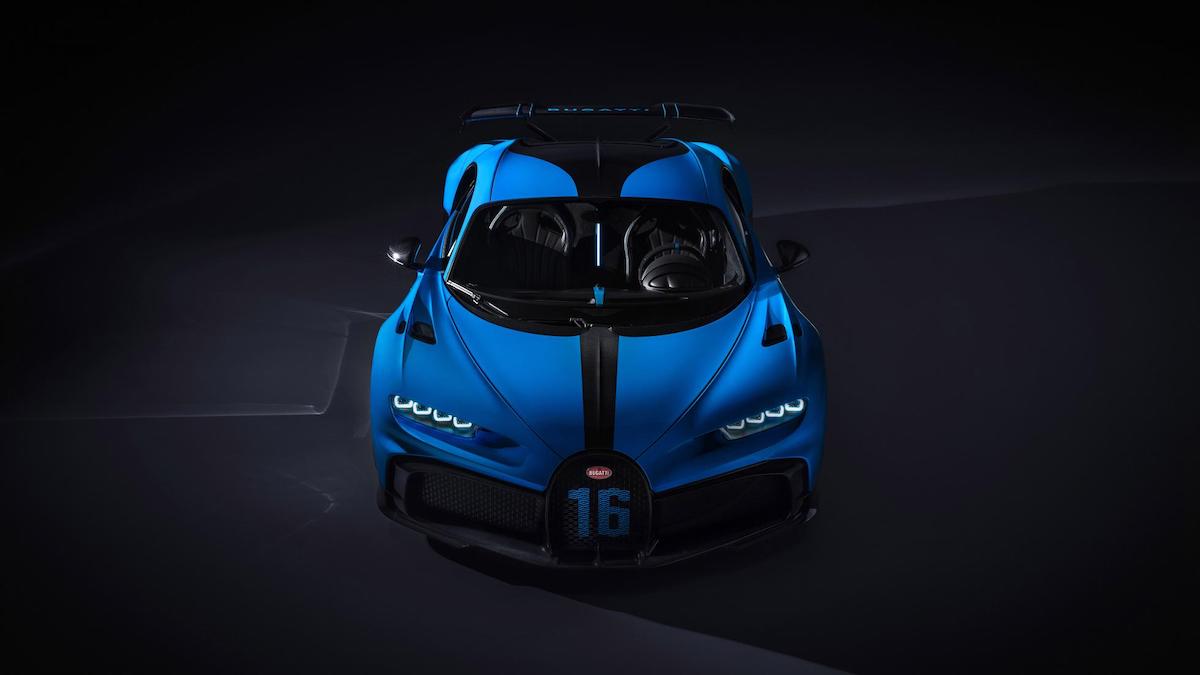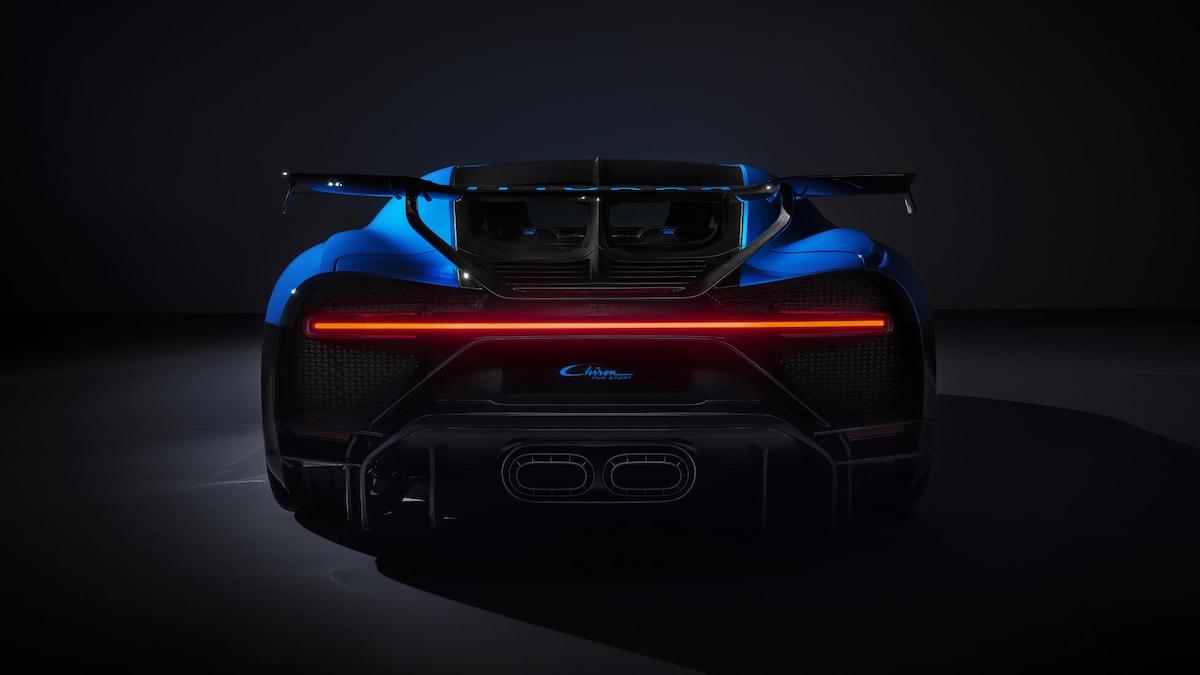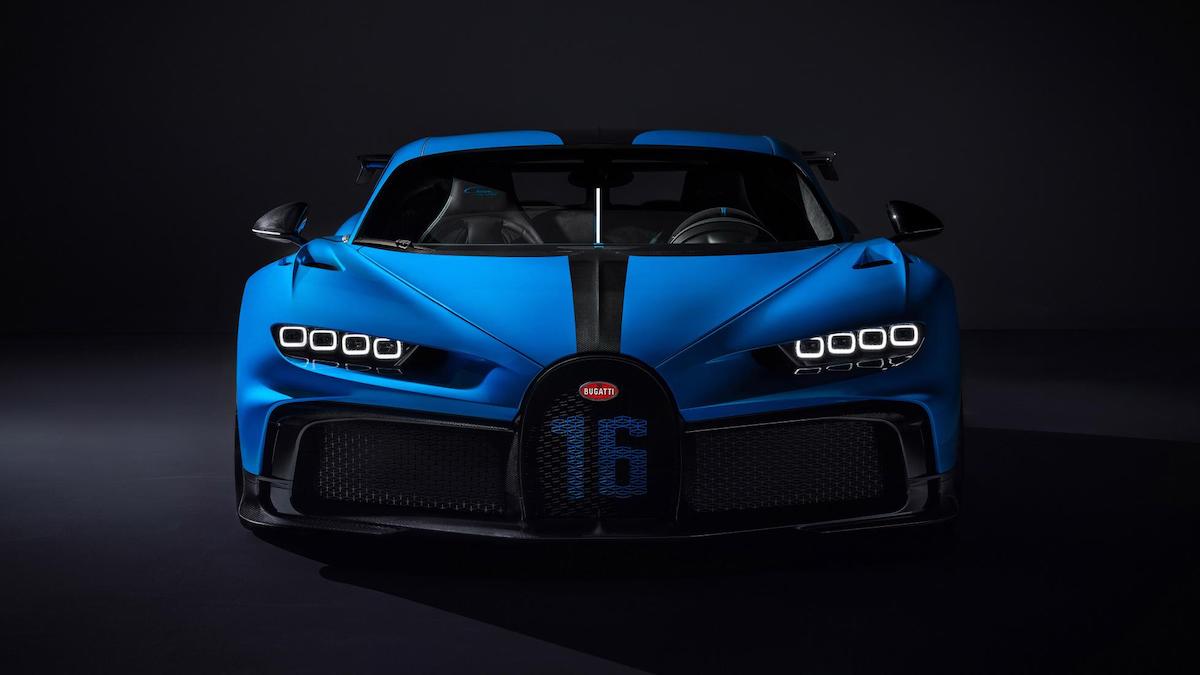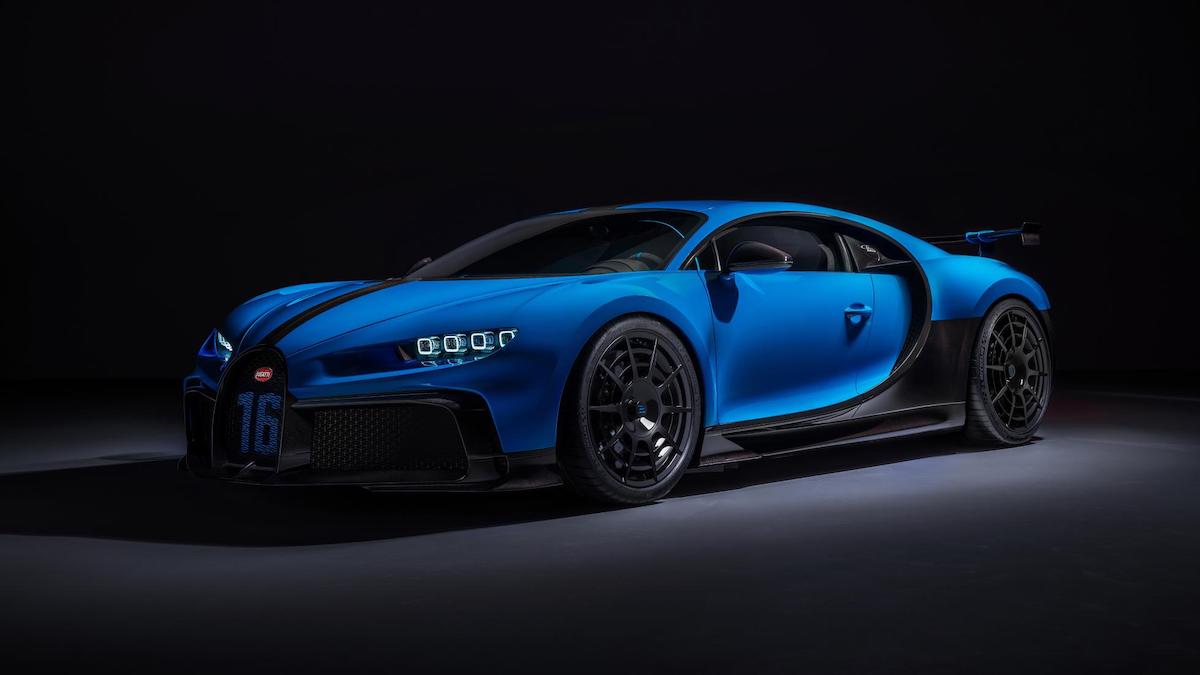 NOTE: This article first appeared on TopGear.com. Minor edits have been made.