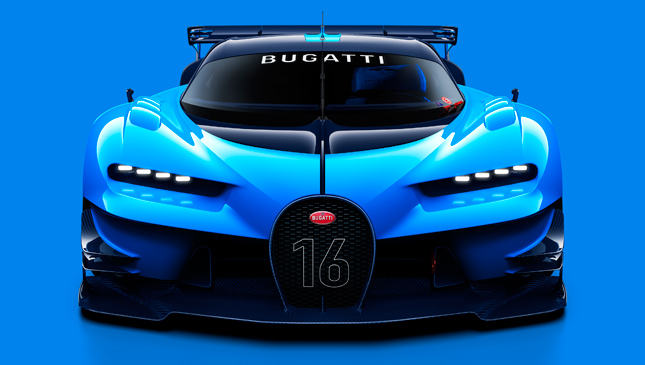 If you dream about automobiles, chances are one of your fantasies is imagining what motoring will look like decades from now. There are lucky dudes, however, who are given the chance to showcase their imagination via a real show car--just like the men who penned the Bugatti Vision Gran Turismo.
This virtual race car was developed in cooperation with Polyphony Digital, creators of the hugely popular video game Gran Turismo. Now, the car will be transformed into a real vehicle that will be on display at this year's Frankfurt Motor Show. This, Bugatti says, is specifically for fans, gamers and automobile aficionados all over.
The Bugatti Vision Gran Turismo takes its design cues from the Bugatti racing cars of the '20s and the '30s--the brand's heyday in the world of motorsports. The designers took particular inspiration from the Bugatti Type 57 Tank that had a slew of victories in the 24 Hours of Le Mans. Keen observers will note that the Bugatti Vision Gran Turismo is even finished in the same two-tone blue hue as the Type 57 G Tank. The color, by the way, has also been the signature shade of the French carmaker since then.
This Vision Gran Turismo is also noteworthy because it is the first time that Bugatti has designed something for the fans, by the fans. The brand has always been rather exclusive, catering only to a select few.
Continue reading below ↓
Recommended Videos
"The Bugatti design team normally works only for the exclusive and very distinguished circle of the brand's customers," says Bugatti design head Achim Anscheidt. "Now, the Bugatti Vision Gran Turismo has given us the opportunity, for the first time, to do something special for our fans as well."
In coming up with the look of the car, Bugatti only had two simple instructions: retain their core values of "Art, Form and Technique," and every element of the vehicle must be functional. It seems the company has succeeded with its goals, what with the car possessing notable elements that are in tune with the styling brief. The trademark Bugatti line, for instance, can be seen on the side profile. Then there's the center fin, which was made famous by the Type 57 Atlantic of 1936.
Speaking of aero efficiency, the car is also fitted with a NACA air intake on top. Set in a contrasting blue finish, it helps make the Bugatti a tad more slippery, not to mention cool-looking. Finally, the strong trailing edge contributes to better heat dissipation, drawing hot air away from the engine bay. And of course, it gives the car a mean yet purposeful stance.
The Bugatti Vision Gran Turismo will be on display in the metal at the Frankfurt Motor Show from September 17 to 27. If you love video games or simply want to be awed, this is one car you should check out. As for us, we'll just stare at these photos for now.