"The cost of the look: P1,780,888. In terms of pricing, this puts the Phoenix just above the Trailblazer's LT automatic variant, which goes for P1,708,888.
"Powering the Trailblazer Phoenix is the standard 2.8-liter Duramax turbodiesel with 200hp and 500Nm on tap, paired to a six-speed automatic transmission and a rear-wheel drivetrain. Additional features include a seven-inch MyLink touchscreen infotainment system equipped with Apple CarPlay and Andriod Auto."
ADVERTISEMENT - CONTINUE READING BELOW ↓
"The good news is that it's going to be cheaper than the top V8 variants of its main rival, the Ford Mustang. The Camaro will be sold in the Philippines for P3,298,888. This makes it around P200,000 cheaper than the 5.0 GT Fastback.
"The catch? Well, the new PH-spec Camaro Turbo 3LT RS won't come with a big-displacement V-type engine. Instead, it gets a 2.0-liter turbo with 275hp and 398Nm, mated to an eight-speed paddle-shift automatic."
"The GT edition was designed exclusively for the Asian market. It was done in collaboration with engineering company Giken and Masahiko 'Jack' Kobayashi, Subaru's former chief designer whose resume includes the WRX STI.
"The exterior add-ons include a new front bumper lip extension with integrated canards, new sides skirts, a longer roof spoiler, an extension on the rear bumper, and bespoke 18-inch wheels. Inside, the cabin gets leather seats akin to those found in European grand tourers. The GT also boasts a dual sideview monitor system for easier parking.  Under the hood, the 2.0-liter boxer engine with 154hp and 196Nm remains."
ADVERTISEMENT - CONTINUE READING BELOW ↓
Recommended Videos
"The Kona, as you might know, is already being sold here as a regular gasoline-powered crossover. In EV form, the crossover looks a lot more futuristic. The grille is almost nonexistent, blending into the rest of the front fascia. On top is a slim chrome strip with complementing thin LED lights. The roof and the pillars are rounder compared with those on the gasoline version, with deeply etched character lines to finish off the look.
"The electric Kona runs on a permanent magnet synchronous motor that produces 201hp and 395Nm. It will retail in our market for P2,388,000."
ADVERTISEMENT - CONTINUE READING BELOW ↓
"Given its price of P3,240,000, the seven-seater SUV will cater to the premium market. Up front, it has an imposing hexagonal chrome grille flanked by thin LED headlamps and beefy rectangular foglights. The sides feature more chrome, and underneath are 20-inch alloy wheels.
"The PH-spec Palisade is powered by a 2.2-liter turbodiesel engine with 197hp and 441Nm, mated to an eight-speed automatic transmission. It runs on all-wheel-drive, and comes with Multi-Terrain Control, which is adjustable via a dial. Available driving modes are Eco, Smart, Sport, and Comfort."
"Engine options for the Stinger in the US include a 3.3-liter twin-turbo V6 with 365hp, and a 2.0-liter turbo with 255hp. All-wheel drive is an option in that market. Kia hasn't revealed a local price for the Stinger yet, but according to a salesperson on the show floor, it's expected to retail at P3,235,000."
"Yes, the Forte is back. It was launched alongside the Stinger at the 2019 Manila International Auto Show earlier today. The unit displayed at MIAS, a white GT variant, flaunts sportier looks and a much more muscular stance compared to the generation we last had available in the Philippines."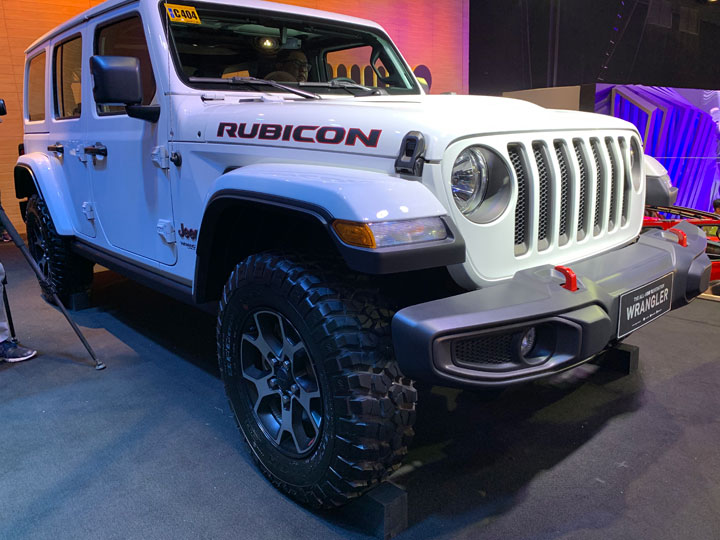 ADVERTISEMENT - CONTINUE READING BELOW ↓
"Potential buyers have two engines to choose from: a 2.0-liter in-line turbocharged four-cylinder gasoline engine (268hp, 400Nm), and a 3.6-liter Pentastar V6 gasoline (286hp, 353Nm). Both powerpants get an eight-speed automatic transmission. Based on those specs alone, it's clear that turbocharging is indeed the future. We'd gladly sacrifice (well, not gladly) 20hp in exchange for 47Nm of torque."
"The SUV's interior is dark and utilitarian, and components like the instrument cluster, shift knob and door panels feature red stitching and accents to match the car's exterior. Overall, it has a spartan vibe that complements the brand's go-anywhere foundations.
"Again, no official specs. But the display unit packs a 2.4-liter MultiAir engine with an output of 180hp at 6,400rpm and 237Nm of torque at 3,900rpm. It also comes with an off-road suspension, as well as a ton of advanced safety features like brake assist, adaptive cruise control, and rear park assist."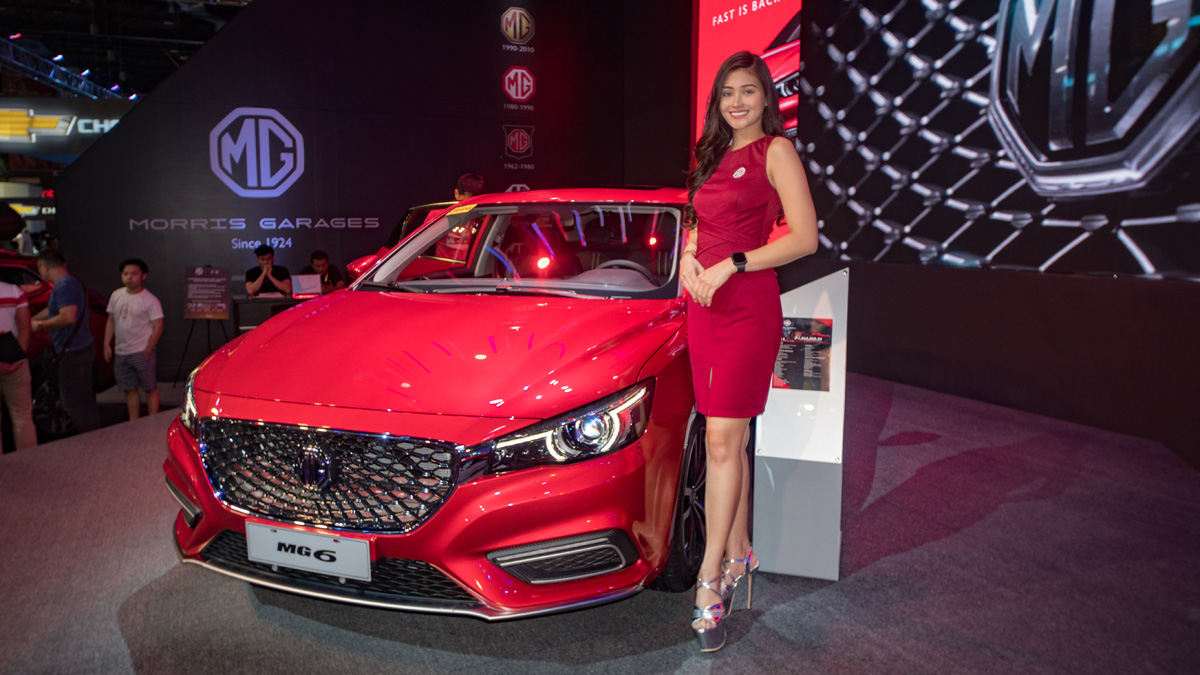 "The MG 6 flaunts a presence that's a mix of both professional and sporty. Up front, you have a large, intricate grille design capping off a long hood, flanked by a pair of large angry headlights. The fastback silhouette jives particularly well with a red paint finish, and lends the vehicle an energetic demeanor, we think.
"Meanwhile, the interior's a little busier and more playful than the outside of the car suggests. There's nice leather covering the dashboard, plus aluminum pedals, carbon-fiber bits, and even a sunroof. Also worth noting is the eight-inch touchscreen infotainment system, which features Apple CarPlay and Android Auto.
"Underneath the hood of the MG 6 is a 1.5-liter turbocharged engine capable of 164hp and a juicy 250Nm of torque. This will come mated only to a seven-speed automatic transmission."
ADVERTISEMENT - CONTINUE READING BELOW ↓