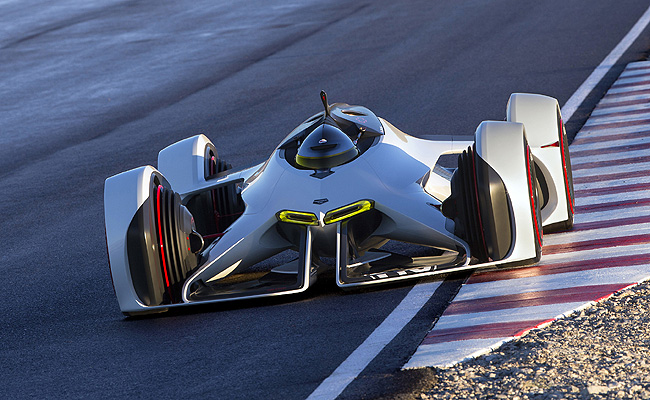 Chevrolet has finally revealed the Chaparral 2X Vision Gran Turismo concept, its interpretation of the ultimate race car for the Gran Turismo 6.
Developed as part of the Vision Gran Turismo project, which celebrates the future of automotive design and innovation, the Chaparral 2X Vision Gran Turismo concept is inspired by the innovative race cars Chaparral Racing and Chevrolet partnered on more than 45 years ago.
"This concept is an audacious and ambitious vision--and one that demonstrates to a new audience how Chevy's engineering and design teams challenge norms and explore the technologies of tomorrow," said Chevrolet's executive director of advanced design, Clay Dean. "It's also an ode to a unique partnership that pioneered groundbreaking technologies that are used today on the track and the street."
The Chaparral 2X Vision Gran Turismo concept is powered by a mid-mounted laser-beamed energy propulsion system, which supposedly pulses beams of light that focus in a shroud to create shock waves that generate 900hp worth of thrust in the lightweight race car. This system propels the vehicle to a 386kph top speed with a 0-to-100kph acceleration time of 1.5 seconds.
Helping to reduce the vehicle's overall mass is the driver-enabled aerodynamics, which eliminates the need for large, conventional wings and similar aero devices used to generate downforce. Additionally, lightweight chassis components reduce the weight of the race car, enabling it to provide tremendous cornering grip with a relatively small footprint.
Continue reading below ↓
Recommended Videos
The Chaparral 2X Vision Gran Turismo concept will be available "this holiday season by downloading an online update for Gran Turismo 6."