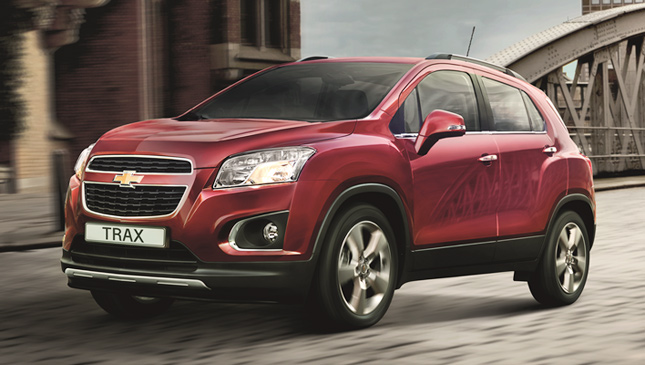 As the 2015 Manila International Auto Show draws near, it's only natural that the carmakers participating in it are now starting to reveal their display vehicles so that people have something to look forward to. It's Chevrolet's turn now to tease you.
According to Chevrolet Philippines senior vice president for marketing Lyn Buena, the centerpiece of the American car brand's booth at this year's MIAS will be the Trax small SUV. Buena, however, was quick to caution that this is only a "preview" and not an actual product launch. She did admit to TopGear.com.ph that her company is bent on bringing the model in, and that there's even a possibility that it could get launched in the Philippines within the year. All she can offer for now is: "More details about the Trax will be announced by Chevrolet Philippines in the coming months."
You will recall that in late 2013, we published a story saying "Chevrolet will not bring the Trax to the ASEAN region." At the time, we quoted General Motors Southeast Asia communications director Laurent Berthet as saying: "As much as I personally would like for us to bring it in, it's not in our plans. Our Rayong (Thailand) plant is already working at full capacity, manufacturing six different vehicles and body styles. We simply can't squeeze it in, and it will become too expensive if we ship it in."
Continue reading below ↓
Recommended Videos
Well, it looks like something has changed. Either GM has found a way to build the Trax in the region, or the carmaker has finally realized that serious money is now in the subcompact crossover segment. According to Chevrolet Philippines, "the Trax will be available in 140 countries in the Americas, Europe and Asia."
A press statement sent by Buena says that the Trax is "the first small sport-utility vehicle from the General Motors Global Vehicle Program developed to combine style and a design language that is unmistakably Chevrolet."
Buena also told us that they will use the MIAS display to gauge market reception of the Trax. Obviously, the more positive feedback they get from show visitors, the harder they will push for the model's launch in our market. Our advice? If you like this vehicle, make sure you go to MIAS on April 9-12 at World Trade Center in Pasay City, and swing by the Chevrolet booth. And then tell the Chevy folks how much you'd love to see the Trax in local showrooms soon. Extra points if you tell them you'd buy one.