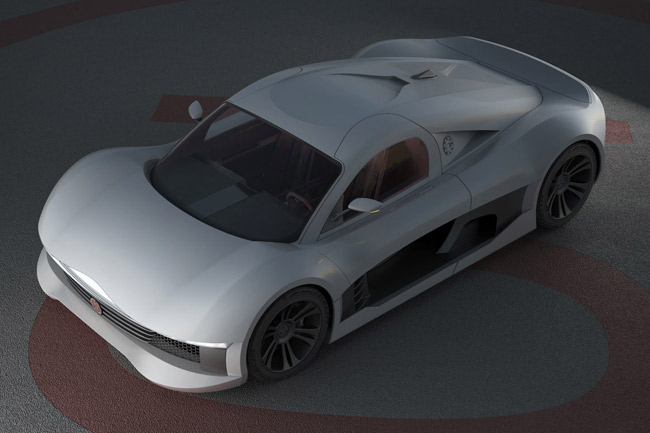 Before Mercedes-Benz and BMW, before Bentley and Rolls-Royce, and most definitely before Lexus and Acura, the world knew one luxury car brand: Minerva. Founded in 1897 by Dutchman Sylvain de Jong, Minerva started out selling bicycles with small clip-on engines, basically an early kind of motorcycle.
In 1902, de Jong expanded his product line to automobiles. Dealerships around the world were set up: the Middle East, South America, the US, Australia, Sweden, Norway, Hungary and Russia among others. One dealer of Minerva automobiles in England was one Charles Rolls (yes, of Rolls-Royce fame).
Thanks to their smooth engines and regal bodies, Minerva vehicles had royalty, politicians and movie stars as their clients. Success continued until the late '30s, when a financial crisis forced the company to restructure. By the time World War II hit, it was too late.
This year, Minerva is staging its comeback with the announcement of a sports car: the JM Brabazon.
A bit of back history: The name of the new car is based on John Moore Brabazon, a friend of Charles Rolls. Brabazon became a racing driver for Minerva during the British Tourist Trophy in the Isle of Man, upon the recommendation of Rolls. The former also became the first English aviator, which made him an aviation pioneer.
Continue reading below ↓
Recommended Videos
Obviously, the modern Minerva named after Brabazon is a far cry from the elegant coaches built a century ago. It's a speed monster that comes in two trims: Royal and Excellence. Under its skin lies a twin-turbo V12 that revs up to 10,000rpm and generates a Bugatti-level 1,000hp.
But like modern hypercars like the McLaren P1 and the Porsche 918, the JM Brabazon is a hybrid. It has no fewer than three electric motors that generate more than 200hp. There are two motors for each front wheel, and one more in the rear.
Minerva believes its car can reach a maximum of 400kph, and sprint from zero to 100kph in just 2.1 seconds. That acceleration, if made possible, will make the JM Brabazon faster than any stock car in the world. Active aerodynamics should help manage all that raw power.
The difference between the trims is that the Royal is luxury-oriented, with the dashboard done in gold, platinum and carbon (they didn't say carbon fiber, just carbon), and trim of leather and alcantara. The Excellence trim is for purists, with a stripped-down interior and the inclusion of racing helmets, fire-retardant underwear (that's what they said), driving gloves, and racing shoes.
For now, all we know of the Minerva JM Brabazon are potential performance figures and renderings. We're curious about the real thing, and you'll read about it here should we receive further information.