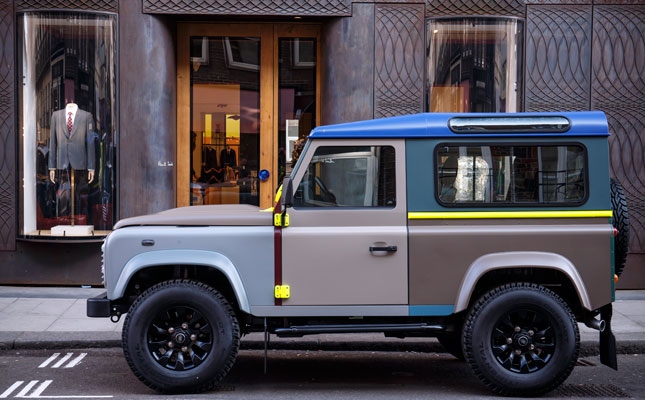 To many car enthusiasts, leaving a car stock just won't cut it. A change of wheels and tires is usually a good start. Some will play around with the interior and change the sound system. Others will add a bodykit or change the panels to transform their ride into a totally different animal altogether. Of course, engine mods are the way to go for a true tuner project.
But for designer Paul Smith, customizing his ride meant no less than collaborating with the manufacturer to create a one-off special. Being a designer, the British gentleman made use of his talents by having a say in the design of his special-edition Land Rover Defender, which was built together with Land Rover's Special Vehicle Operations (SVO) design division. The vehicle was unveiled at Paul Smith's shop at No. 9 Albemarle Street in the high-end Mayfair district of London.
The special-edition Defender is differentiated by a mix of special exterior colors. Smith wanted to use colors that depict the various hues of the British countryside, as well as colors used by the British Armed Forces. No fewer than 27 different colors were used on this one-off Defender to give it that truly personal touch. Smith even gave the SVO team special Pantone color swatches, which they mixed just for this project.
Continue reading below ↓
Recommended Videos
As if that wasn't bespoke enough, the interior was turned into a work of art by both Smith and the SVO team. While the Defender's exterior flanks exude ruggedness, its interior is the total opposite--it oozes ultra-luxury. The seats, for instance, are a mix of leather and fabric upholstery. The fabric, in particular, is the same material Smith uses for the American upholstery firm Maharam.
The black interior features blue stitching for that playful vibe. Closer inspection reveals a lot of hidden artwork scattered throughout the cabin. A painted image of a set of keys is printed in the glovebox, while an image of a bee has been painted on the roof. All these depict the countryside, as well as the rugged nature that the Defender has been known for since it was first released in 1983 as the Land Rover Ninety and the Land Rover One Ten.
Paul Smith has been a long-time fan of the Land Rover Defender. He finds it very useful, especially when he takes a trip to his countryside home in Italy. Of course, being a designer has helped him create the perfect vehicle that has his very own signature style.
Now, wouldn't you want a one-off creation for your everyday ride?