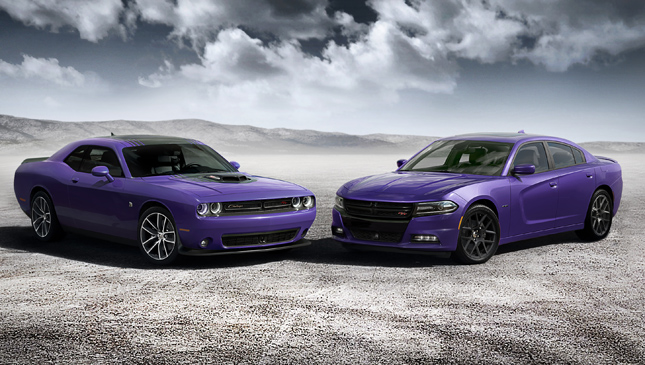 There are some colors that just go well with a car--any car. Black always speaks the language of timeless, quiet elegance. On the other hand, you can never go wrong with a shade of white. And red just brings out the fun side of the vehicle and the person driving it.
For the more adventurous types, choosing more playful shades such as blue, yellow or green not only makes their ride more exciting, it likewise gives the car a unique appeal. But if you really want to stand out from the crowd, how about something like a plum hue? This is exactly what Dodge offers in no less than its very own, in-your-face duo of muscle cars: the Challenger and the Charger, finished in the brand's signature Plum Crazy paint job.
A signature color since 1970, Plum Crazy isn't just a shade that will make you stand out in a parking lot--it will practically bring out the true character of these badass American muscle cars. You can choose from the Challenger SXT Plus, with its 3.6-liter Pentastar V6 with 305hp; both the 392 Hemi Scat Pack Shaker and the SRT 392 Shaker (with 485hp 6.6-liter V8 engines); or the ultimate Challenger SRT Hellcat with a supercharged 707hp 6.2-liter V8.
Continue reading below ↓
Recommended Videos
If the Charger is more to your taste, you might want something along the lines of the Charger SXT with a 300hp 3.6-liter Pentastar V6; the Charger R/T and R/T Road and Track with a 370hp 5.7-liter Hemi V8; the Charger R/T Scat Pack and SRT 392 with 485hp 6.4-liter Hemi V8s; or the top-dog Charger SRT Hellcat with a 707hp 6.2-liter supercharged Hemi V8.
Whichever model you choose, rest assured that the Plum Crazy hue is part of a limited-production run, just as it has always been throughout its 46-year history. This conveys to buyers that they will have a unique color that is considered a collectible even while still brand-new. In fact, the shade is so special that it will make its debut at the prestigious Woodward Dream Cruise car show at Royal Oak, Michigan, this weekend.
Dodge dealers will begin offering the Charger and the Challenger in this special color this September, with deliveries arriving in November. So maybe you can ask your local Dodge dealer about indent orders. Better hurry, however, as these will only be limited to a few hundred units. Let's get Plum Crazy!