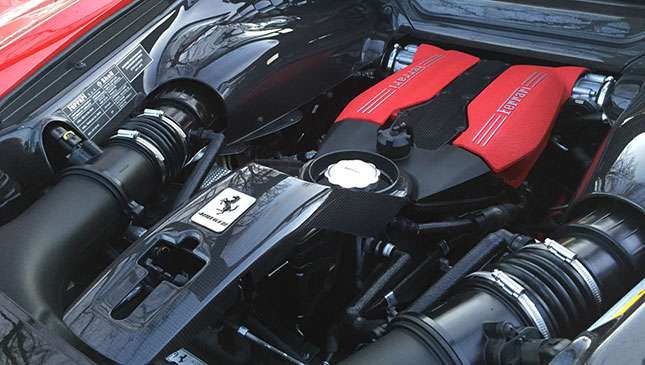 Ferrari is once again king under the hood. The results of the 2017 International Engine of the Year awards have finally been released, and the Italian supercar maker nabs top honors for the second year in a row with its 660hp 3.9-liter biturbo V8. It's the same one found inside the Ferrari 488 GTB and Spider.
ADVERTISEMENT - CONTINUE READING BELOW ↓
The same Ferrari engine also managed to receive Best Performance Engine (a repeat of last year) and Best 3.0-liter to 4.0-liter Engine, too. In total, the mill has won seven Engine of the Year categories since it came out. So yeah, if these awards are anything to go by, then opting for turbo hasn't taken anything away from the Prancing Horse.
Best New Engine honors goes to the 559hp Honda 3.5-liter V6 electric-gasoline hybrid powering the Acura NSX, while Best Sub 1.0-liter Engine goes to the 123hp Ford 999cc three-cylinder turbo inside the Fiesta, Focus and EcoSport. You can check out the rest of the winners and their categories in the very, very long list below:
2017 INTERNATIONAL ENGINE OF THE YEAR
Winner - Ferrari 3.9-liter biturbo V8 (Ferrari 488 GTB/Spider), 251 points
Runners-up - Porsche 3.0-liter six-cylinder turbo (Porsche 911 Carrera, 911 Carrera 4, 911 Carrera S, 911 Carrera 4S, Carrera GTS), 216 points; BMW 1.5-liter three-cylinder electric-gasoline hybrid (BMW i8), 151 points; Audi 2.5-liter five-cylinder turbo (Audi RS3, TT RS), 139 points; Ford 999cc three-cylinder turbo (Ford Fiesta, B-Max, Focus, C-Max, Grand C-Max, Mondeo, EcoSport),136 points; Tesla full-electric powertrain (Tesla Model S, Model X), 135 points; PSA Peugeot Citroen 1.2-liter three-cylinder turbo (Peugeot 208, 308, 2008, 3008, 5008, Citroen C3, C3 Picasso, C4, C4 Cactus, C4 Picasso / Grand Picasso, DS3, DS4), 131 points; Porsche 2.0-liter turbo (Porsche 718 Boxster, 718 Cayman), 128 points; Ferrari 6.3-liter V12 (Ferrari F12, F12 tdf), 113 points
ADVERTISEMENT - CONTINUE READING BELOW ↓
Recommended Videos
BEST NEW ENGINE
Winner - Honda 3.5-liter V6 electric-gasoline hybrid (Honda / Acura NSX), 143 points
Runners-up - Mercedes-Benz 2.0-liter diesel (Mercedes-Benz E-Class), 116 points; Fiat Chrysler 2.9-liter V6 twin-turbo (Alfa Romeo Giulia Quadrifoglio), 115 points; BMW 3.0-liter twin-turbo six-cylinder (BMW 1-Series, 2-Series, 3-Series, 4-Series, 5-Series, 7-Series), 91 points; Volkswagen 1.5 TSI Evo (Volkswagen Golf, Seat Ibiza), 75 points; Aston Martin 5.2-liter V12 twin-turbo (Aston Martin DB11), 65 points
BEST PERFORMANCE ENGINE
Winner - Ferrari 3.9-liter biturbo V8 (Ferrari 488 GTB/Spider), 247 points
Runners-up - Porsche 4.0-liter boxer (Porsche 911 GT3, GT3 RS, 911 R), 159 points; Mercedes-AMG 4.0-liter biturbo V8 (Mercedes-AMG GT, GT S, Mercedes-Benz C63 AMG, C63 S AMG, E63 AMG, E63 S AMG, Mercedes-Benz G550), 85 points; Ferrari 6.3-liter V12 (Ferrari F12, F12 tdf), 69 points; Fiat Chrysler 2.9-liter V6 twin-turbo (Alfa Romeo Giulia Quadrifoglio), 61 points; Tesla full-electric powertrain (Tesla Model S, Model X), 48 points
ADVERTISEMENT - CONTINUE READING BELOW ↓
BEST SUB 1.0-LITER ENGINE
Winner - Ford 999cc three-cylinder turbo (Ford Fiesta, B-Max, Focus, C-Max, Grand C-Max, Mondeo, EcoSport), 254 points
Runners-up - Volkswagen 999cc three-cylinder turbo (Audi A1, Q2, Seat Ateca, Leon, Ibiza, Volkswagen Golf, Up, Polo), 241 points; BMW 647cc two-cylinder electric-gasoline range-extender (BMW i3), 123 points; Honda 988cc three-cylinder turbo (Honda Civic), 81 points; General Motors 999cc three-cylinder turbo (Opel Adam, Corsa, Astra), 68 points; Renault / Nissan 898cc three-cylinder turbo (Renault Clio, Captur, Twingo, Dacia Sandero, Logan MCV, Smart Fortwo, Smart Forfour, Fourtwo Nissan Micra), 62 points
BEST 1.0-LITER TO 1.4-LITER ENGINE
Winner - PSA Peugeot Citroen 1.2-liter three-cylinder turbo (Peugeot 208, 308, 2008, 3008, 5008, Citroen C3, C3 Picasso, C4, C4 Cactus, C4 Picasso / Grand Picasso, DS3, DS4), 239 points
Runners-up - BMW 1.2-liter three-cylinder turbo (Mini One), 154 points; Volkswagen 1.4-liter TFSI ACT (Volkswagen Golf, Polo, Tiguan, Audi A3, Q2, Seat Leon), 115 points; Volkswagen 1.4-liter TFSI (Volkswagen Golf, Beetle, Tiguan, Touran, Sharan, Passat, Scirocco, Jetta, Audi A1, A3, A4, Q3, Seat Ateca, Ibiza, Leon, Alhambra, Skoda Kodiaq, Rapid, Yeti, Octavia, Superb), 106 points; Fiat Chrysler 1.4-liter MultiAir turbo (Fiat 500, 500L, 500X, 124 Spider, Alfa Romeo Mito, Giulietta, Dodge Dart, Jeep Renegade), 80 points; Volkswagen 1.4-liter TFSI electric-gasoline hybrid (Volkswagen Golf GTE, Volkswagen Passat GTE, Audi A3 e-tron), 75 points
ADVERTISEMENT - CONTINUE READING BELOW ↓
BEST 1.4-LITER TO 1.8-LITER ENGINE
Winner - BMW 1.5-liter three-cylinder electric-gasoline hybrid (BMW i8), 157 points
Runners-up - BMW 1.5-liter three-cylinder turbo (BMW 1 Series, 2 Series, 3 Series, X1, Mini Cooper, Clubman Cooper, Clubman One, Countryman), 128 points; Audi 1.8-liter TFSI (Volkswagen Jetta, Polo GTI, Beetle, Passat, Golf, Audi A3), 103 points; Volkswagen 1.5 TSI Evo (Volkswagen Golf, Seat Ibiza), 100 points; BMW/PSA Peugeot Citroen 1.6-liter turbo (Mini Countryman, Countryman S, Paceman, Paceman S, Countryman Cooper Works, Paceman Cooper Works, Peugeot 208, 308, 3008, 208 GTI, 308 GTI, Citroen DS3, DS3 Racing, DS4, DS5), 80 points; BMW 1.5-liter three-cylinder diesel (BMW 1 Series, 2 Series, Mini One D, Cooper D, Clubman One D), 60 points
BEST 1.8-LITER TO 2.0-LITER ENGINE
Winner - Porsche 2.0-liter turbo (Porsche 718 Boxster, 718 Cayman), 182 points
Runners-up - Mercedes-AMG 2.0-liter turbo (Mercedes-Benz A45 AMG, CLA45 AMG, GLA45 AMG), 176 points; Audi 2.0-liter four-cylinder TFSI (Audi TT, TT S, S1, S3, A4, A5, A6, Q2, Q3, Q5, Seat Leon Cupra, Skoda Octavia vRS, Superb, Volkswagen Golf GTi, GTi Clubsport, Golf R, Jetta, Passat, CC, Beetle, Scirocco, Scirocco R, Tiguan), 164 points; Volvo 2.0-liter turbocharger supercharger electric-gasoline hybrid (Volvo XC90, S90, V90), 129 points; BMW 2.0-liter twin-turbo four-cylinder (BMW 1 Series, 2 Series, 3 Series, 4 Series, 5 Series, Z4, X1, X3, X4), 82 points; Volvo 2.0-liter turbocharger supercharger four-cylinder (Volvo S60, S90, V60 Polestar, V90, XC60, XC90), 80 points
ADVERTISEMENT - CONTINUE READING BELOW ↓
BEST 2.0-LITER TO 2.5-LITER ENGINE
Winner - Audi 2.5-liter five-cylinder turbo (Audi RS3, TT RS), 357 points
Runners-up - Porsche 2.5-liter turbo (Porsche 718 Boxster S, 718 Cayman S), 276 points; Ford 2.3-liter turbo (Ford Focus RS), 172 points; Mercedes-Benz 2.1-liter CDI (Mercedes-Benz A-Class, CLA, B-Class, E-Class, GLA, C-Class, CLS, GLC, SLC, GLE, Infiniti Q30, Q50), 93 points; Mazda 2.2-liter diesel (Mazda 3 / Axela, 6 / Atenza, CX-5), 38 points; Toyota / Lexus 2.4-liter electric-gasoline hybrid (Toyota Rav4 Hybrid, Camry Hybrid, Avalon Hybrid, Lexus IS Hybrid, ES Hybrid, GS Hybrid, RC Hybrid, NX Hybrid), 60 points
BEST 2.5-LITER TO 3.0-LITER ENGINE
Winner - Porsche 3.0-liter six-cylinder turbo (Porsche 911 Carrera, 911 Carrera 4, 911 Carrera S, 911 Carrera 4S, Carrera GTS), 310 points
Runners-up - BMW M 3.0-liter twin-turbo six-cylinder (BMW M3, M4), 135 points; Fiat Chrysler 2.9-liter V6 twin-turbo (Alfa Romeo Giulia Quadrifoglio ), 114 points; BMW M Performance 3.0-liter quad-turbo diesel six-cylinder (BMW 5 Series, 7 Series), 83 points; Mercedes-AMG 3.0-liter V6 twin-turbo (Mercedes-Benz C43 AMG, E43 AMG, GLC43 AMG, GLE43 AMG, SLC43 AMG ), 74 points; BMW 3.0-liter twin-turbo six-cylinder (BMW 1-Series, 2-Series, 3-Series, 4-Series, 5-Series, 7-Series), 62 points
ADVERTISEMENT - CONTINUE READING BELOW ↓
BEST 3.0-LITER TO 4.0-LITER ENGINE
Winner - Ferrari 3.9-liter biturbo V8 (Ferrari 488 GTB/Spider), 345 points
Runners-up - Mercedes-AMG 4.0-liter biturbo V8 (Mercedes-AMG GT, GT S, Mercedes-Benz C63 AMG, C63 S AMG, E63 AMG, E63 S AMG, Mercedes-Benz G550), 204 points; Porsche 4.0-liter boxer (Porsche 911 GT3, GT3 RS, 911 R), 174 points; Porsche 3.8-liter boxer turbo (Porsche 911 Turbo, 911 Turbo S ), 92 points; McLaren 3.8-liter twin-turbo V8 (McLaren 675LT), 75 points; Honda 3.5-liter V6 electric-gasoline hybrid (Honda / Acura NSX), 68 points
BEST ABOVE 4.0-LITER ENGINE
Winner - Ferrari 6.3-liter V12 (Ferrari F12, F12 tdf), 203 points
Runners-up - Audi 5.2-liter V10 (Audi R8, Lamborghini Huracan), 153 points; Lamborghini 6.5-liter V12 (Lamborghini Aventador), 75 points; Ford 5.2-liter V8 (Ford Mustang Shelby GT350R), 74 points; BMW M 4.4-liter twin-turbo V8 (BMW M6, X5M, X6M), 72 points; Jaguar Land Rover 5.0-liter V8 supercharged (Jaguar F-Type, XJ, Range Rover, Range Rover Sport), 63 points
ADVERTISEMENT - CONTINUE READING BELOW ↓
BEST GREEN ENGINE
Winner - Tesla full-electric powertrain (Tesla Model S, Model X), 202 points; BMW 1.5-liter three-cylinder electric-gasoline hybrid (BMW i8), 143 points; General Motors full-electric powertrain (Chevrolet Bolt), 105 points; BMW full-electric powertrain (BMW i3), 84 points; BMW 647cc two-cylinder electric-gasoline range-extender (BMW i3), 75 points; Volvo 2.0-liter turbocharger supercharger electric-gasoline hybrid (Volvo XC90, S90, V90), 60 points