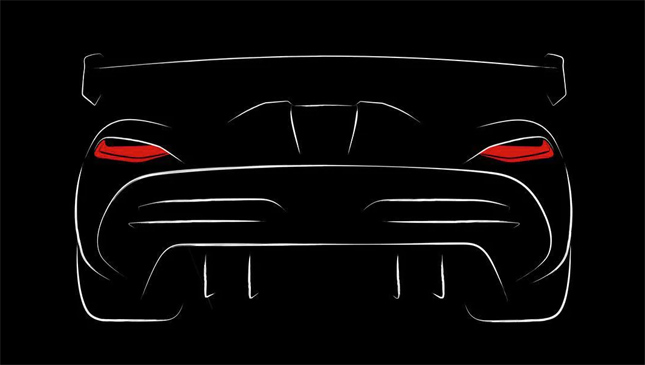 Koenigsegg's new hypercar is T-minus eight months from being revealed at the 2019 Geneva International Motor Show. Let the teaser pictures commence.
Here's the first clue to how the new Agera-replacing Swedish hypercar will look. This collection of Marbella henna tattoo lines tells us the new car will have a giant wing, an enormous diffuser, lots of cooling vents and massive tires. So far, so Koenigsegg, then.
When Top Gear exclusively revealed details of Koenigsegg's Agera successor back in March at the 2018 Geneva International Motor Show, company boss-man and benevolent evil genius Christian von Koenigsegg disclosed a few details about what spec we can expect from the world's fastest car-elect.
We know the new model will stick with the Agera's template of a mid-mounted bi-turbo V8, with no hybrid assistance, driving the rear wheels via a paddleshift gearbox. The drivetrain itself will be a development of the 1,300hp monsters we've seen setting records in the Agera and One:1, with more power:
ADVERTISEMENT - CONTINUE READING BELOW ↓
"We're refining it, making it a little bit lighter, a little bit stronger… the thing with that engine is that there's seemingly no end to what we can do with it. We polish it out, we open it up, and suddenly we have 20 or 30 more horsepower, and it's even stronger and more reliable. It's fascinating how capable the structure is. We're going to raise the bar a little bit," he continued. "[It'll do] 8,800rpm, and it'll be 20kg lighter--all billet [aluminum]."
The car will be built around a carbon tub panel with all-new carbon panels, and maintain its targa-roof silhouette.
Christian promises that his new hypercar is an 'extreme' creation, standing apart from the more refined, GT-focused Regera. He told Top Gear: "The replacement for the Agera, Agera RS and One:1 is not a hyper-GT. It's more race-like. It's even more capable than the Agera RS."
Gulp.
Now, anyone got any suggestions for a suitably menacing name?
ADVERTISEMENT - CONTINUE READING BELOW ↓
Recommended Videos