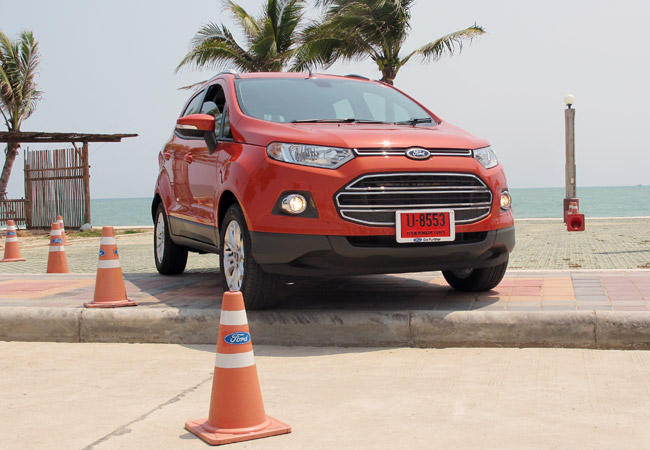 You already know that the new Ford EcoSport is based on the Fiesta platform, which essentially makes it a raised subcompact hatchback. Now, if you're thinking that the EcoSport is nothing more than a glorified (and elevated) Fiesta, Ford would like to enlighten you. When the American carmaker says the EcoSport is a small crossover SUV, the company means exactly that. Which means this baby sport-ute has a taller ride height and better wading capability than your ordinary passenger car. Which should make it more attractive in a country where floods and potholes are as common as corrupt politicians.
To be exact, Ford says the EcoSport has a ground clearance of 200mm and a wading depth of 550mm. For a really small vehicle, that's pretty amazing even when compared to the Ranger Wildtrak's ground clearance (223mm) and fording depth (800mm). What's more, the EcoSport boasts an approach angle of 25 degrees and a departure angle of 35 degrees.
During our test drive of the vehicle last weekend in Thailand, Ford performed a demonstration to show us that the EcoSport could indeed rush in where hatchbacks fear to tread. No, they didn't make the EcoSport cross some pool of water, although that would have been more convincing. Instead, Ford drove its latest star down a tall sidewalk (trust us, it's taller than the photos suggest).
Continue reading below ↓
Recommended Videos
Was it enough to convince us that the EcoSport is blessed with the same go-anywhere genes of its off-road siblings? Well, the demo didn't give us illusions this mini SUV can conquer the boondocks--especially since the Philippine-market EcoSports are front-wheel-driven--but the demo did tell us its passengers will be in a much better situation than those of a regular passenger car in the event of a sudden, heavy downpour.
We imagine that's good enough for the EcoSport's target market.
Photos by Vernon B. Sarne